Healthy Ranch Dressing Recipe – 2 Points +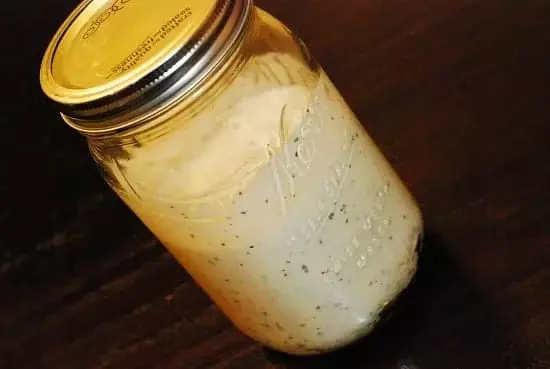 If you are like me, and believe that the the mere "2 tbsp" suggested serving size of ranch dressing is typically what to use on two baby carrots, then today's Healthy Ranch Dressing Recipe is for you. With just a few ingredients, you can make your own ranch dressing for a TON less calories and fat than the pre-made kind you buy. I simply used Greek yogurt instead of sour cream. The uses for Greek yogurt, are really endless. I seriously need to buy that stuff in bulk! By doing that, I cut out a ton of fat while still keeping great flavor and texture, and added a LOT of protein. I also used an organic ranch dresing mix
to keep this recipe a lot healthier and eliminate preservatives. For just 2 Points +, you get a 1/3 cup serving of ranch dressing…now that's what I'm talking 'bout. Pour it over a salad, use it as a dip for veggies or pretzels, slather it over a baked potato….I'm getting really hungry now just thinking about all the ways to use it! Ranch lovers – you now have a go to healthy dressing recipe that can let you indulge while still keeping you on track to reach your Weight Watchers goals. Enjoy!
Healthy Ranch Dressing Recipe
A super easy and healthy ranch dressing mix that lets you really indulge. Just 2 Points + for a nice 1/3 cup of dressing makes this low calorie ranch salad dressing recipe a real treat.
Ingredients
1 cup plain, nonfat Greek yogurt
1 packet dry ranch dressing mix
1/2 cup reduced fat milk
Instructions
Whisk all ingredients together and let chill for at least 2 hours before servings
Preparation time: 2 minute(s)
Cooking time:
Diet type: Vegetarian
Diet tags: Low calorie, Reduced fat, Reduced carbohydrate, High protein
Number of servings (yield): 4
Culinary tradition: USA (Traditional)
Entire recipe makes 4 servings
Serving size is about 1/3 cup
Each serving = 2 Points +
PER SERVING: 87 calories; 1g fat; 7g carbohydrates; 11g protein; 0g fiber