As part of our interview and a recipe series, this week we were able to interview Eating Bird Food's Brittany Mullins. Eating Bird Food is a lifestyle blog with healthy, wholesome recipes and lots of great health and fitness tips.
Mullins has given us a bit of her story towards a healthy lifestyle and tips, as well as a very yummy Fall Harvest Quinoa Spinach Salad.
INTERVIEW:
In your blog, you mention growing up with a high-fat Southern style diet. So, how did you go from that to a healthy, whole foods lifestyle?
"When I went away to college I was so scared of gaining the "freshman 15." I began working out daily and eating healthier. When I say working out daily, this means moderate exercise every day, such as running or walking 30 minutes on the treadmill/elliptical and doing a bit of strength training (most commonly arms and abs).  And instead of gaining 15 pounds my freshman year, I lost about 20. I finally came to the realization that the foods I was eating before were weighing me down. Having a ton of healthy options at school and not eating fast food really helped. It didn't hurt that I went to the gym often, had to take 3 flights of stairs to get to my dorm room and did a lot of walking all over campus for classes.
Since my college days, I've made even more tweaks to my diet and now eat a pescatarian diet that focuses on whole foods. This is what makes my body feel best, plus I get to eat the foods I enjoy, so it works for me!"
So, now your cooking repertoire includes a lot more than classic southern or American food! How did you learn to cook such a variety without having grown up that way? Did you take classes or go to any cooking schools?
"When I became interested in eating healthier my freshman year of college I started reading everything I could on the subject. This was long before I knew about blogs so most of my knowledge came from health/fitness magazines and cookbooks.  Once I started cooking more, I used the basic cooking knowledge my mom had taught me, while making simple tweaks to make my favorite disheses healthier."
Do you work in addition to maintaining your blog? If so, how do you balance cooking and eating healthy foods, exercise and the daily grind of work, while still maintaining a social life too?

"In addition to blogging and health coaching, I work full-time for an online grocery store called Relay Foods. I'm not perfect and sometimes it's a challenge to keep up with everything going on in life without getting stressed or letting my healthy habits slip to the back burner. I find that being prepared is the key! On Sundays I like to plan out what days/times I'll be able to workout and prepare some healthy options that I can throw together for fast meals throughout the week. This includes making a big batch of quinoa, hard boiling eggs, marinating tofu, chopping veggies and prepping a few salads — this salad in a jar idea is perfect for lunch on a busy day."
What are you favorite foods or recipes?
"I love food and have so many favorites! Currently I'm obessed with green leafy vegetables (like bok choy, kale and spinach), almond butter, sweet potatoes, butternut squash, oatmeal and eggs. Oh and pumpkin!
I go through phases with recipes but at the moment I'm hooked on No Mayo Sweet Potato Tuna Salad, Garlicky Kale Salad, Tofu and Bok Choy Stir-Fry, Kale Granola and these Mini Vegan Pumpkin Muffins."
What does your typical workout look like these days and how often do you exercise?
"I tend to swtich up my routine regularly, as I like to keep my body guessing, but I typically always get in some sort of workout 5-6 days a week. Right now I'm doing 3-4 days of stength training (with weights), 1-2 days of functional training (body weight exercises in a circuit style) and 4 days of cardio. For the carido, I run, walk, or cycle — two days of interval training and two days of steady state. I'm actually training for the Runner's World 10K at the moment so almost all my cariod has been running lately. I also love yoga and try to squeeze in yoga at least once a week."
Do you have any tips to give our readers for developing realistic goals and losing weight?
"Setting small, obtainable goals (with planned actions to reach the goals) is the best way to get started. Often times we want to change everything at once, which can work for some people but it can also lead to burn-out and reduced success. I'm a big fan of making healthy modifications you're able to stick with for the long run, not just following a strict diet for short period of time. I've realized that quick, fast diets have their place (prepping for a big event or breaking through a plateau) but if you want long lasting results it takes making lifestyle changes.

I also think it's important not to focus on the scale to measure your success. Weight fluctuates all the time (this is especially true for women) and often times the number doesn't tell the full story.  I've found there are better ways to track progress (i.e. before and after photos and body measurements)."
RECIPE: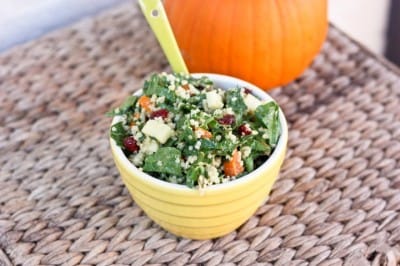 Fall Harvest Quinoa Spinach Salad-8 Points+
Ingredients
– 4 cups fresh baby spinach, chopped
-1½ cups cooked quinoa (cooked according to package directions)
-¾ cup butternut squash, chopped
-1 medium apple, peeled and chopped
-1/2 cup pepitas (pumpkin seeds)
-3 Tablespoons dried cranberries
-2 Tablespoons tahini
-2 Tablespoons apple cider vinegar (or water)
-2 Tablespoons lemon juice
-2 Tablespoons Bragg's liquid aminos (tamari or soy sauce would work too)
-4 Tablespoons nutritional yeast
-2 teaspoons minced garlic (1 – 2 cloves of garlic)
-2 teaspoons maple syrup
Instructions
Prepare the squash by peeling it, cutting it in half and scraping out the seeds.
Cut the squash into ½ inch cubes, place on a lightly oiled baking sheet and roast at 400° for 30-40 minutes, turning once or twice, until all the pieces are tender and have a few small brown spots.
While roasting the squash, toss together spinach, cooked quinoa, apple, pepitas and cranberries in a large salad bowl.
Prepare dressing by placing all remaining ingredients (tahini through maple syrup) in a blender and blend until smooth.
Once the butternut squash is done roasting, allow it to cool and then place into the salad bowl with the other ingredients. Pour the dressing over the salad and toss to coat. Serve immediately.
Entire recipe makes 6 servings
Serving size is about 154 grams (about ¾ cup)
Each serving = 8 Points +
PER SERVING: 302 calories; 10.9g fat; 41.3g carbohydrates; 13.9 protein; 7.1g fiber