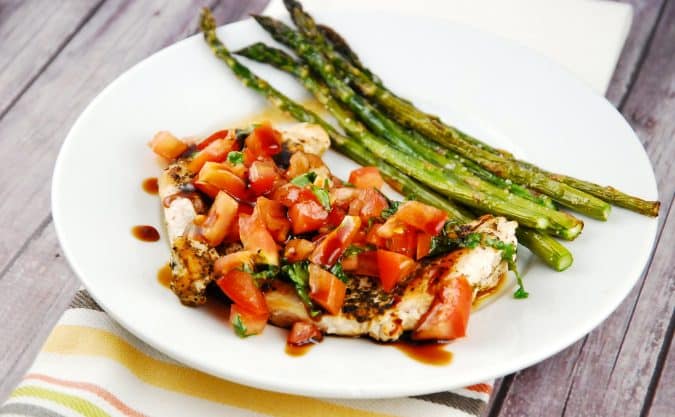 Now that temperatures are starting to heat up here in California (sorry, East Coast), I've been craving meals that are fresh and light, as opposed to rich and comforting. One that I tried recently was this delicious Italian Chicken Bruschetta. Bruschetta, if you've never had it, is kinda like Italian salsa. It's a simple blend of fresh tomatoes, basil and garlic. It is incredibly easy to make, but the flavor is wonderfully bright and complex. I decided to use it on top of some simple grilled chicken breasts, and the result was divine! You can grill your chicken, roast it, or pan fry it — whichever you prefer. The fresh bruschetta on top is the perfect complement. This is also magnificent as a sandwich with some fresh Italian bread and some creamy goat cheese – one of my most favorite sandwiches ever! The flavors are so bold and mouthwateringly good. So grab some tomatoes and basil, and give this chicken bruschetta recipe a try….you'll be so glad you did!
Cut chicken breasts into 4 equally sized fillets. Season each side of the chicken with the parsley, oregano, and salt & pepper.

Heat 1 tsp olive oil over medium high heat in a medium sized, nonstick skillet. When the oil is hot, add chicken, and cook for about 4-5 minutes on each side, or until chicken is browned and entirely cooked through. Remove from heat, cover with a lid, and allow to sit for about 5 minutes to rest.

Meanwhile, make bruschetta by combining tomatoes, basil, olive oil, garlic, balsamic vinegar, and salt & pepper in a medium sized bowl.

Plate chicken breasts, and top each with about 1/4 cup of the bruschetta. Drizzle on some extra balsamic, if desired.
Entire recipe makes 4 servings
Serving size is 1 chicken breast with 1/4 cup bruschetta
Each serving = 3 Smart Points
PER SERVING: 175 calories; 9g fat; 2g saturated fat; 0g carbohydrates; 0g fiber; 0g sugar; 28g protein