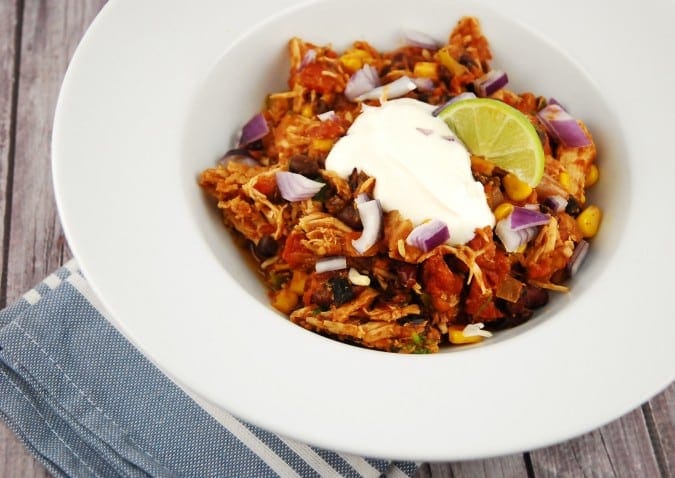 Well, my favorite team didn't make it to the Super Bowl (so close, though!), but that doesn't mean I won't partake in Super Bowl festivities! And where there's a Super Bowl party, there's food…lots of yummy food. To keep myself on track, I like to bring along a big pot of this delicious Crock Pot Chicken Taco Chili to share. It is SO good, and always a hit on game day. When I take it to a party, I bring along a bag of tortilla chips with it, along with diced onions, avocados, shredded cheese, and sliced jalapeños…some of my favorite taco toppings. This give people the option of dipping the chips in it, or just eating it like a traditional chili – straight out of the bowl. And everyone LOVES it! It's a Weight Watchers Super Bowl recipe that is super easy to make, freezes wonderfully, and tastes incredible. If you want to feel like you are indulging without actually indulging, this Crock Pot Chicken Taco Chili Recipe will do the trick. It'll definitely be on our game day menu this year!
Combine onion, garlic, beans, bell pepper, corn, diced tomatoes, diced chilis, chicken broth, cumin, chili powder, onion powder, oregano, paprika, and salt and pepper in a crock pot. Mix well.

Add in chicken breasts, and spoon chili over the chicken to make sure it's fully covered. Cover and cook on low for 8-10 hours or high for 4-6 hours.

Using two forks, shred chicken, and stir. Add in cilantro and serve.
Entire recipe makes 8 servings
Serving size is about 1 1/2 cup
Each serving = 8 Smart Points
PER SERVING: 320 calories; 5.5g fat; 1.5g saturated fat; 45g carbohydrates; 8g fiber; 6.5g sugar; 29g protein