Yogurt is SUCH a great dieting snack…it's loaded with calcium, protein and lots of healthy bacteria. And though I prefer my yogurt frozen and slathered with hot fudge and Snickers pieces, that's really not the best diet option.
So to keep it healthy, I stick to the traditional version. But there are somany yogurts out there….which one do I choose?
As I'm sure you've all seen in the grocery store, there are a gazillion different options….so many tempting flavors, so many low calorie options! And now there are all these different yogurts that aid in digestion or that come in smoothie form so you can drink it. With all these different choices, it's easy to feel overwhelmed. But which is the BEST one?
Well, after LOTS of yogurt sampling, I've finally found that yogurt that makes my tastebuds and my waistline happy!! Which one is it, you ask….?
Hands down, the BEST yogurt I've found is Horizon's Organic Fat Free Yogurt.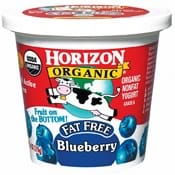 I based my decision on taste, nutritional statistics and total Weight Watchers Points value.
To start with, this yogurt has fantastic nutritional values. Though the flavors can vary slightly in their nutritional stats, my favorite is the Raspberry, clocking in at 140 calories, 0 grams of fat, and 2 grams of fiber, making that 2 Weight Watchers Points for 6oz of yogurt.
This brand comes in a variety of flavors like Strawberry, Peach, Vanilla, Raspberry and Blueberry….granted these aren't the cool, dessert like flavors that other brands offer, BUT….and here's the BEST part…they have real fruit on the bottom!!! I am so in love with fruit on the bottom yogurts, but most of those are much higher in calories and fat. Not only does this have the yummy fruit that you can mix in, but the taste is INCREDIBLE!! It's really hard to believe that it has only 2 Weight Watchers Points.
Another thing I really love about it is that there is no fake, chemical taste….this yogurt is all natural. That's the one thing that I really dislike about most of the diet yogurts on the market…they all have that artificial, chemical taste. But Horizon's brand tastes wonderfully natural and delicious!
I know it's easy to be tempted by other brands boasting delicious flavors like Boston Creme Pie or Strawberry Shortcake for just 100 calories, but that option's got nothin' on Horizon's Fat Free line. Horizon…you ROCK my yogurt lovin' world!!!
Horizon Organic Fat Free Yogurt (Raspberry flavor)
1 serving = 6 oz
Each serving = 2 Weight watchers Points