Always on the lookout for healthy, Weight Watchers friendly snacks, I'm sharing one of my new, FAVORITE crackers for today's Fabulous Food Find Fridays post. I recently came across Van's Natural Foods Multigrain Gluten Free Crackers on the shelf at my local Target, and grabbed a couple of boxes to take home. First of all, each 30 cracker serving is just 4 Points, making them a wonderful Weight Watchers snack to have on hand. But, these whole grain, gluten free goodies are also minimally processed and made from fresh ingredients. Plus, did I mention they taste fantastic? Crispy, crunchy and delicious, they are loaded with 16g of whole grains including oats, quinoa and amaranth. After enjoying them with some of my cauliflower hummus, I got the idea to utilize them in an old recipe I grew up with that was in need of a healthy makeover…my mom's Vegetable Cheese Casserole. Keep reading to get the recipe!
Growing up, I always remember the Vegetable Cheese Casserole being served at every family holiday meal. If you don't know the popular dish I'm referring to, it's the one that smothers some veggies in a ton of Velveeta cheese, and then topping it all with some butter and crumbled Ritz crackers. Covering veggies in cheese and crisp, buttery crackers is practically a fail proof way to get just about anyone to eat some vegetables. But when broken down, this comfort food recipe is actually a whole lot of fat, calories and garbage. It may have been tasty, but it was definitely not a healthy option. Determined to recreate a better-for-you version, I toyed around a bit in the kitchen, and came up with this tasty version! I used a reduced fat American cheese instead of Velveeta. And I topped the dish with Van's Natural Foods Multigrain Gluten Free Crackers and a light misting of olive oil instead of a ton of butter. It turned out fantastically good! And each serving came out to just 4 Points! I'm so happy to have found a way to enjoy a traditional recipe from my childhood without drowning in guilt! This one is a must try.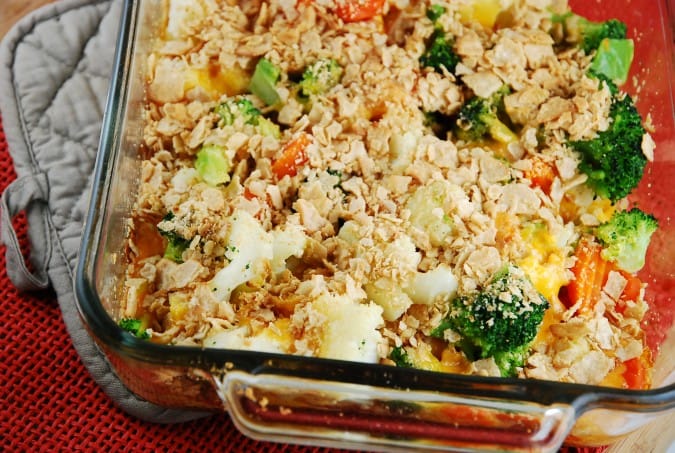 Vegetable Cheese Casserole
A classic comfort food recipe made healthy, using Van's Natural Foods Multigrain Gluten Free Crackers! Tender, cheese covered vegetables, topped with a crispy cracker crumble, this dish will melt in your mouth.
Ingredients
1 lb California-blend Mixed Veggies (broccoli, cauliflower, carrots), frozen
4 oz (6 slices) reduced fat American cheese
2 servings (60 crackers) of Van's Multigrain Gluten Free Crackers
Instructions
Preheat oven to 325 degrees and lightly mist a 9" x 9" baking dish with cooking spray or an olive oil mister.
Bring a large pot of water to a boil. Add in the frozen veggies, and cook for about 5-10 minutes, until the veggies just become tender. Drain and place in baking dish.
Remove all the wrappers from the cheese slices and stack on top of each other. Then cut into cubes. Place cheese in baking dish with the vegetables, trying place it evenly throughout the dish.
Place crackers into a plastic zipper bag, seal, and squeeze the bag with your hands to crush the crackers into crumbs. Sprinkle the crackers evenly over the top of the vegetables. Then, lightly mist the top of the crackers with cooking spray or an olive oil mister.
Place in the oven and bake for about 25 minutes, or until all the cheese is melted well, and crackers begin to turn golden brown.
Preparation time: 10 minute(s)
Cooking time: 30 minute(s)
Diet type: Vegetarian
Diet tags: Low calorie, Reduced fat, Reduced carbohydrate, Gluten free
Number of servings (yield): 4
Culinary tradition: USA (Traditional)
Calories: 177
Fat: 6g
Protein: 8.5
Entire recipe makes 4 servings
Serving size is about 1 cup
Each serving = 5 Smart Points/4 Points
PER SERVING: 150calories; 5g fat; 3g saturated fat; 18g carbohydrate; 2g sugar; 9g protein; 5g fiber
Nutritional stats for Van's Natural Foods Multigrain Gluten Free Crackers:
Serving size is 30g (about 30 crackers)
Each serving = 4 Points
PER SERVING: 140 calories; 4,5g fat; 21g carbohydrates; 3g protein; 2g fiber