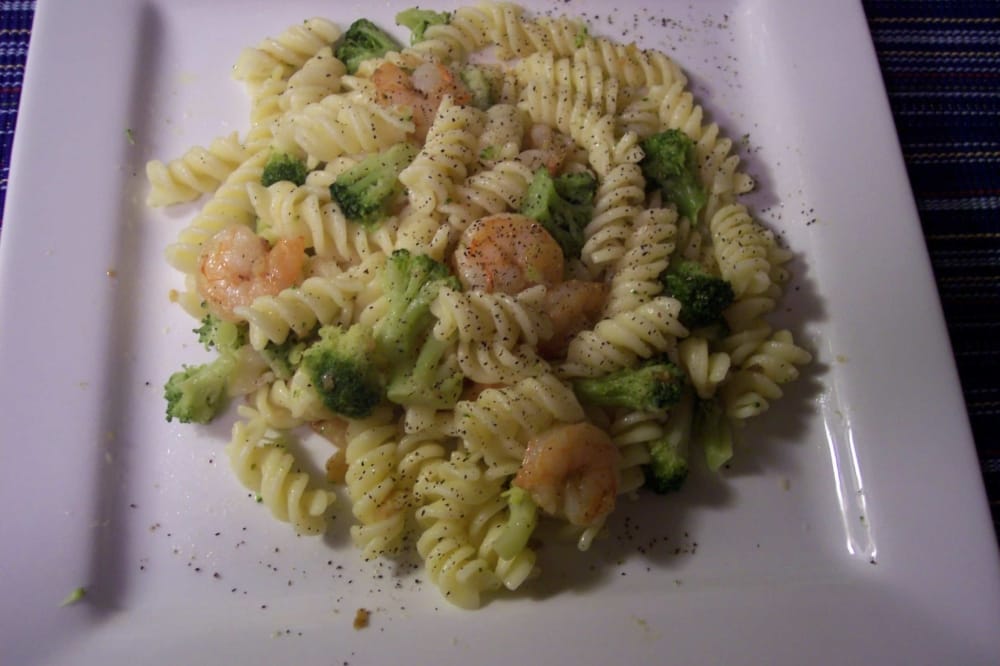 Scampi does not have be heavy on oil and butter. In fact, this alternative recipe is very satisfying and makes a great main meal. A healthy pasta is used along with broccoli which adds a nice touch to this Italian favorite. A family member who loves a local restaurant's version was open to trying a healthier version and loved it. She commented on how there was not a plateful of oil at the bottom and she loved the broccoli that was added. Without the heavy oil you can really appreciate and taste the other ingredients which is was makes this dish so good.

Broccoli and Shrimp Scampi – 7 Points
Ingredients
1/2 box of Dreamfields Rotini Pasta
2 Tbsp Extra Virgin Olive Oil
3Tbsp Butter (Horizon's Organic Salted Butter is used)
1 cup chopped frozen Broccoli (Fresh can be used instead)
3 Tbsp minced garlic (if preferred can decrease the garlic to 1 tbsp)
16 large cooked shrimp (de-veined, tail removed, halved)
Instructions
In a large sauce pan cook pasta per directions on the box and do not rinse after draining. Once the pasta is drained, put pasta into a large bowl.
In a large skillet or frying pan add Extra Virgin Olive Oil and butter over medium heat.
Add minced garlic and lightly brown (do not overcook).
Add shrimp, and toss frequently until them over heat for 3 to 5 minutes, or until the shrimp have turned opaque and pink or orange.
You can cook shrimp on a medium –high heat but overcooking the shrimp can result in the shrimp being dry.
Next, add broccoli and continue to cook on medium or medium-high for 5 more minutes, stirring occasionally.
Reduce heat to low and let simmer for 10-12 minutes while continuing to stir.
Pour mixture over pasta and toss until mixed completely. Serve immediately.
Preparation time: 25 minute(s)
Cooking time:
Diet tags: Low calorie, Reduced fat, Reduced carbohydrate
Number of servings (yield): 6
Culinary tradition: Italian
Entire recipe makes 1 serving
Serving size is about 1 3/4 cups
Each serving = 7 Points
PER SERVING: 238 calories; 11.3g fat; 30.3g carbohydrates; 7.8g protein; 4.9g fiber