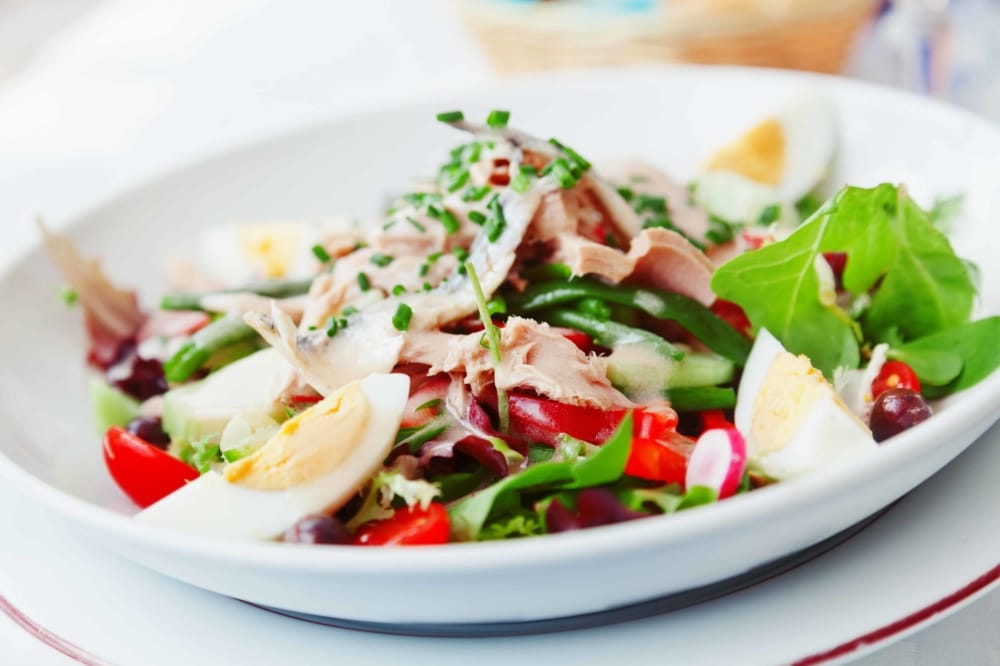 This salad is a classic French salad, but this takes less than 30 minutes start to finish – it's perfect for an elegant meal on a busy night. The trick to making this salad quick and easy is to cook the green beans and potatoes together. The fresh beans and lettuce that are available right now make this a delicious treat, since there's nothing quite like fresh salad from the garden. Use tuna canned in water to cut down on the oil in the salad. You'll have a refreshing and delicious salad in no time.
A simple, delicious and refreshing salad with fresh garden vegetables and lean protein.
Ingredients
1 lb red potatoes, cubed
1/4 lb fresh green beans, trimmed
1/2 cup oil and vinegar dressing
1/2 tsp grated lemon peel
1/4 tsp fresh ground pepper
6 cups romaine, torn
4 hard cooked eggs, sliced
8 oz tuna, in water, drained
2 medium tomatoes, chopped
Instructions
In a large saucepan, cook the potatoes for 6 minutes.
Add the green beans and cook for another 2 – 3 minutes.
Drain the potatoes and green beans and then immediately place in ice water to stop the cooking process. Drain.
Mix together the salad dressing, lemon peel and pepper.
Evenly divide the lettuce between 4 plates, top with the potatoes, green beans, eggs, tuna and tomatoes.
Drizzle on the dressing.
Serve immediately.
Preparation time: 15 minute(s)
Cooking time: 20 minute(s)
Diet tags: High protein, Gluten free
Number of servings (yield): 4
Culinary tradition: French
Calories: 327
Fat: 15
Protein: 21
Entire serving makes 4 servings.
Serving size is 2 cups.
Each serving = 10 Smart Points/8 Points
PER SERVING: 327 calories; 15g fat; 4.9g saturated fat; 27g carbohydrates; 2.6g sugar; 21g protein; 5g fiber