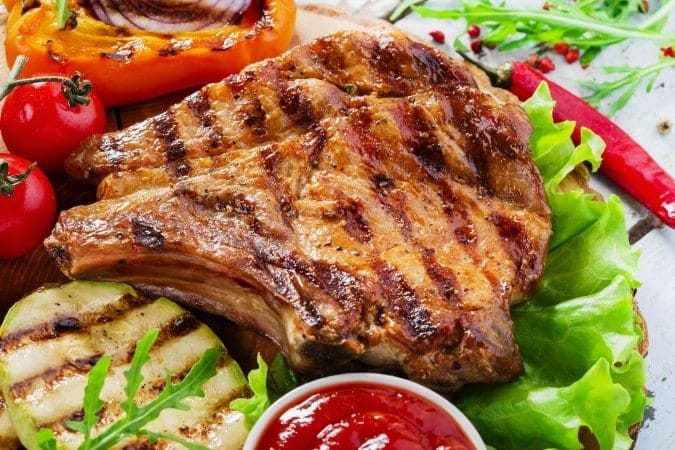 Summer is a great time to grill, and these pork chops are delightful. They have a glaze, so there's not need to marinate the pork chops. Just whip up the glaze, brush it on the pork chops and grill. The glaze has a little sweet marmalade, lime and spicy jalapeno. It's a perfect combination. Since you're already grilling, add some seasoned vegetables in aluminum foil and ears of sweet corn. You'll have a whole meal ready to serve in no time!
Simple, spicy and citrus flavored pork chops are perfect for a quick and easy dinner. Add a simple salad or grilled vegetables to round out the meal.
Ingredients
1/3 cup orange marmalade
1 jalapeno pepper, seeded and finely chopped
2 Tbsp lime juice
1 tsp fresh grated ginger
4 bone in pork chops
Lime wedges, for garnish, optional
Instructions
Combine the marmalade, jalapeno, lime juice and ginger in a small saucepan.
Cook over medium heat for 4 – 5 minutes, or until the marmalade is melted.
Grill or broil the pork chops for 6 – 8 minutes on each side.
Brush each side of the pork chop with the glaze 3 minutes before turning.
Let the pork chops rest for 5 minutes.
Serve hot, garnished with lime wedges, if desired.
Preparation time: 10 minute(s)
Cooking time: 15 minute(s)
Diet tags: Low calorie, High protein, Gluten free
Number of servings (yield): 4
Culinary tradition: USA (General)
Calories: 178
Fat: 8
Protein: 20
Entire recipe makes 4 servings
Serving size is about 1 pork chop.
Each serving = 6 Smart Points/6 Points
PER SERVING: 178 calories; 8g fat; 3.8g saturated fat; 18g carbohydrates; 14.4g sugar; 20g protein; .5g fiber