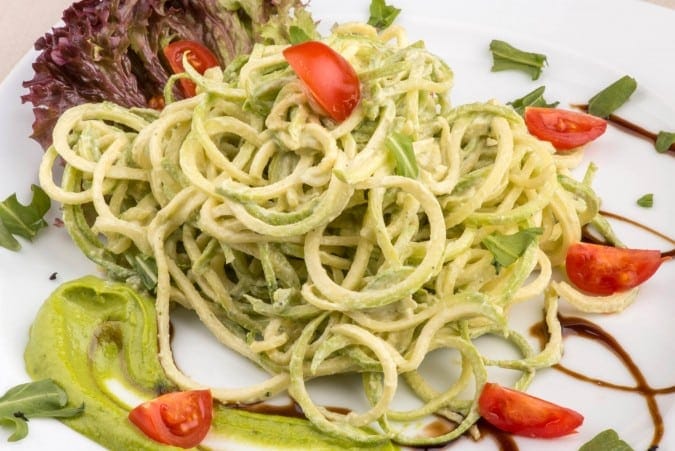 I really enjoy Italian food. There is a wonderful flavor that comes from all of those fresh onions, tomatoes, herbs and garlic. One of the foods that's always a little bittersweet for me is fettuccine alfredo. It's wonderful – don't get me wrong. But it's so high in calories (not to mention the fat!) that it's hard to really enjoy it. I searched for weight watchers alfredo, but the first one I found was one that had been altered to be healthier – and it was still 12 points +! That was never going to work, so I came up with this one instead. It's still rich and delicious, but it's got a little twist. Instead of noodles (which are so high in carbohydrates that everything else pretty much doesn't count), I used a spiralizer to slice zucchini noodles. If you don't have a spiralizer, just thinly slice zucchini into fettuccine sized pieces. I was pleasantly surprised that this alfredo makeover tasted really delicious.
A "makeover" Alfredo using zucchini noodles and a lightened Alfredo sauce that is still rich and delicious.
Ingredients
1 Tbsp olive oil
2 cloves garlic, minced
1 Tbsp sage
2 Tbsp flour
1 cup chicken broth
1/2 cup half and half
1/4 tsp pepper
1 pinch ground nutmeg
1/2 cup grated Parmesan
2 zucchini, spiral cut into noodles
Instructions
Saute the garlic and sage in the olive oil for 1 – 2 minutes over medium heat.
Whisk in the flour and cook, stirring frequently, for 2 minutes.
Add the chicken broth, half and half, pepper and nutmeg.
Bring the sauce to a low boil, stirring continuously.
Lower the heat to a simmer.
Stir in the cheese and zucchini noodles.
Cook for 2 minutes (don't overcook the zucchini noodles).
Season to taste with salt and pepper.
Serve hot, garnished with additional thyme leaves and Parmesan cheese (if desired).
Preparation time: 10 minute(s)
Cooking time: 10 minute(s)
Diet type: Vegetarian
Diet tags: Low calorie
Number of servings (yield): 4
Culinary tradition: Italian
Calories: 173
Fat: 11.7
Protein: 8.8
Entire recipe makes 4 servings
Serving size is about 1 cup (half a zucchini with sauce).
Each serving = 5 Smart Points/5 Points
PER SERVING: 173 calories; 8g fat; 5.3g saturated fat; 18g carbohydrates; 4.5g sugar; 20g protein; .5g fiber