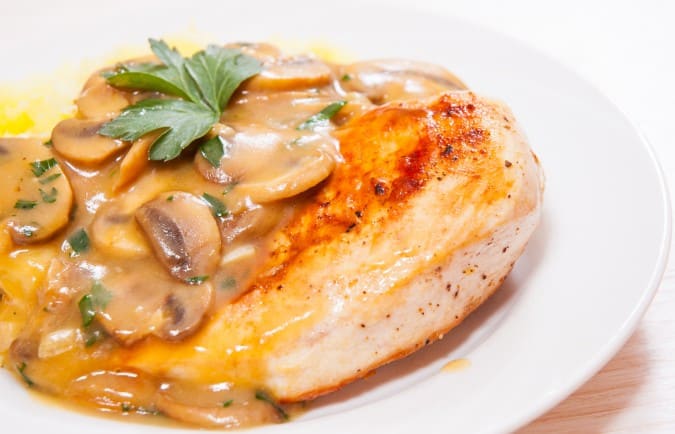 Mushrooms in wine sauce are a fabulous way to really spruce up your meat. It makes it look like you put a lot of time and effort into making a really fancy dish, when in reality, you just spent five minutes tossing it all in a pan. I love recipes like that. They are perfect for dinner parties, date nights, or just adding a little bit of class to dinner. This mushroom in wine sauce recipe uses white wine, but if you're nonalcoholic, you can use chicken broth or vegetable broth just as easily. The sage and taragon add a wonderful woodsy flavor to the sauce. It's perfect on chicken breast or pork chops, or you can easy put it over steamed rice. It uses dried herbs, but I added a 1/2 tsp of chopped parsley when I garnished mine – just to make it look pretty.
A delicious, elegant mushroom and garlic sauce in white wine. It can be served over chicken breast or pork chops – a perfect way to dress up your dish.
Ingredients
1 cup mushrooms, sliced (any variety)
3 cloves garlic, minced
1 Tbsp butter
1 Tbsp flour
1/4 tsp dried taragon, crushed
1/4 tsp dried sage, ground
1/4 tsp salt
1/4 tsp pepper
3/4 cup dry white wine
Instructions
In a large skillet, sauce the mushrooms and garlic in the butter over medium heat for 3 – 5 minutes.
Add the flour, spices, salt and pepper. Mix well to coat the mushrooms with flour.
Stir in wine and continue to cook for 10 minutes, stirring frequently.
Serve hot over meat of choice.
Preparation time: 5 minute(s)
Cooking time: 15 minute(s)
Diet type: Vegan
Diet tags: Low calorie, Gluten free
Number of servings (yield): 2
Culinary tradition: USA (General)
Calories: 156
Fat: 6
Protein: 2.5
Entire recipe makes 2 servings
Serving size is about ½ cup.
Each serving = 6 Smart Points/3 Points
PER SERVING: 156 calories; 6g fat; 3.7g saturated fat; 8g carbohydrates; .7g sugar; 2.5g protein; .8g fiber