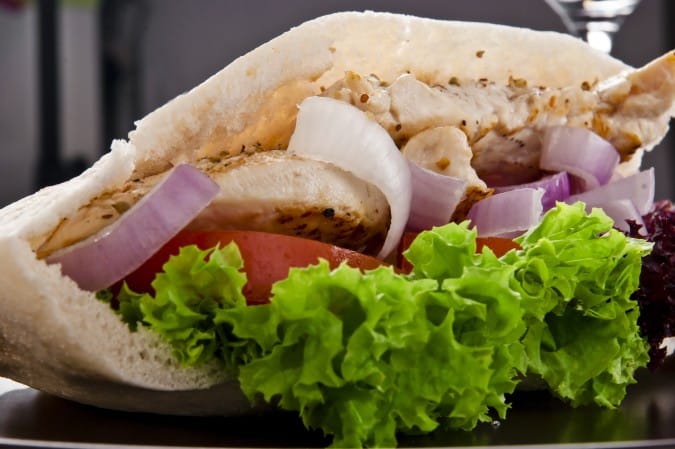 I love quick and simple meals that look beautiful and taste great. I also love meals that make use of foods that you can make ahead of time. Take the chicken breast in this pita, for example. You can grill a couple of extra chicken breasts one night and have lunch for the next couple of days. Or, just use leftover chopped chicken from a roasted chicken. It tastes the same, but make the meal that much quicker to prepare. Tzatziki sauce is a wonderful light and refreshing sauce that goes well on salads and in wraps. It's easy to make ahead of time, and it'll keep for a few days in the refrigerator. These Greek Chicken Pitas are wonderful for a weekday lunch or a quick supper. And they're so tasty and beautiful – it's a no brainer for your next meal.
A delicious, simple and refreshing grilled chicken breast in a whole wheat pita with tzatziki sauce.
Ingredients
2 boneless skinless chicken breasts (or 4 halves)
1 small red onion, sliced
1 medium tomato, sliced
4 whole wheat pita pockets
4 leaves lettuce
½ cup feta cheese, crumbled
Sauce:
½ cup cucumber, seeded and chopped
1/3 cup fat free plain Greek yogurt
1 Tbsp fresh chopped dill
1 clove garlic
¼ tsp table salt
Instructions
In a food processor, puree the sauce ingredients (cucumber, yogurt, dill, garlic and salt).
Refrigerate until serving.
Grill the chicken breasts until the meat is white throughout and the juices are clear.
In each pita, layer a lettuce leaf, two slices of tomato, slice of red onion and a chicken breast half.
Evenly divide the sauce among the pitas and top each one with 2 Tbsp of feta.
Serve immediately.
Preparation time: 5 minute(s)
Cooking time: 15 minute(s)
Number of servings (yield): 4
Culinary tradition: Mexican
Calories: 311
Fat: 11
Protein: 31
Entire recipe makes 4 servings
Serving size is 1 pita (including 1/2 chicken breast, two slices tomato, 2 Tbsp feta and 2 Tbsp sauce).
Each serving = 8 Smart Points/8 Points
PER SERVING: 311 calories; 11g fat; 3.8g saturated fat; 27g carbohydrates; 1.6g sugar; 31g protein; 4g fiber