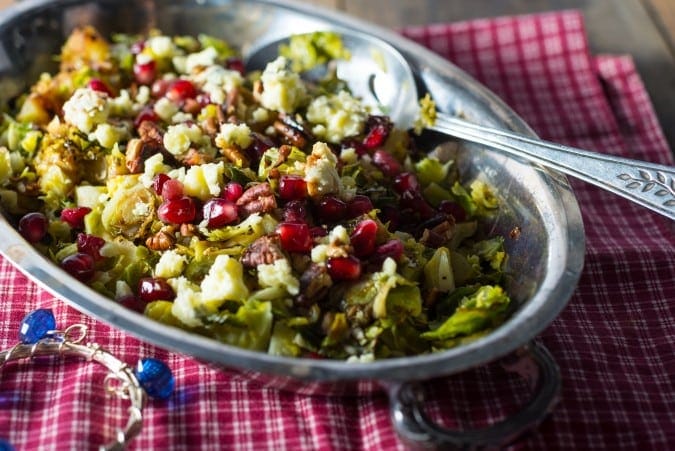 It's so easy to get stuck in a rut when it comes to vegetables. Whether it's having the same vegetables over and over, or fixing them the same way every time. These Brussels sprouts are definitely different and delicious. They are lightly roasted, just enough to be tender, and then tossed with pomegranate seeds and walnuts. If you like a little more pomegranate flavor, you can add 3 tablespoons of pomegranate syrup to the salad. It makes it even more delicious, but the syrup can be a little difficult to find. Don't worry, it's still incredible as it is. This is a salad that's perfect for a side dish. It's easy and beautiful, but without too many points. It's also great for someone who is watching their carb intake, since it's so low in carbohydrates but high in fiber. All in all, it's a delicious combination – tasty and healthy!
Roasted Brussels Sprouts with Pomegranate & Walnuts
Give your meal a twist tonight by adding a side of these roasted Brussels sprouts! The pomegranate seeds help to add color and texture as well as just a little sweet to the salad. It's so low in carbs and high in fiber that it's a perfect addition to your meal.
Ingredients
2 lbs Brussels sprouts, chopped
2 Tbsp olive oil
Salt & Pepper
1/2 cup pomegranate seeds
1/2 cup walnuts, finely chopped
Zest & juice of 2 limes
Instructions
Preheat the oven to 400 degrees F.
Toss the Brussels sprouts with the olive oil and salt and pepper to taste.
Spread the Brussels sprouts on a baking sheet and bake for 30-35 minutes, or until tender. Stir occasionally to avoid burning.
In a large bowl, toss the Brussels spouts, pomegranate seeds, walnuts and lime juice and zest. Mix until well combined.
Serve warm.
Preparation time: 10 minute(s)
Cooking time: 30 minute(s)
Diet type: Vegan
Diet tags: Low calorie, Reduced carbohydrate, Gluten free
Number of servings (yield): 8
Culinary tradition: USA (General)
Calories: 135
Fat: 9
Protein: 5
Entire recipe makes 8 servings
Serving size is about 1 cup
Each serving = 4 Smart Points/2 Points
PER SERVING: 135 calories; 9g fat; .9g saturated fat; 13g carbohydrates; 3.2g sugar; 5g protein; 5g fiber