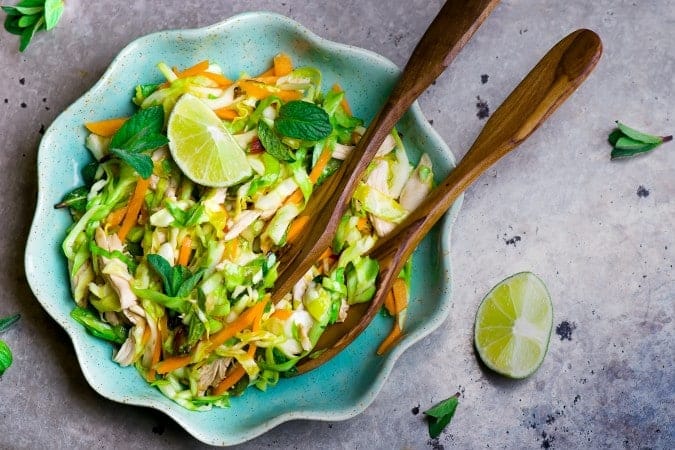 Chicken satay with peanut dipping sauce is a really delicious meal. But since it has to marinate, it's something that I'm not usually going to make. This chicken satay salad is so easy and quick, it's something that is a delight to make. I typically use smooth peanut butter, but this last time I used powdered peanut butter. I just mixed it up with water and added it like normal. It's a great way to cut calories while still enjoying peanut butter. If you're not a fan of bean sprouts, you can use a cup of shredded cabbage instead (with no significant nutritional change), or get creative and add cucumbers and bell peppers.
This salad is beautiful, fresh and tasty. The chicken satay is cooked with the peanut sauce, so it's easy to just add on top.
Ingredients
1/4 cup light coconut milk
3/4 cup chicken broth
1/2 cup powdered peanut butter (reconstituted)
1 Tbsp fish sauce
1 Tbsp soy sauce
1 Tbsp fresh ginger, peeled and grated
1 Tbsp brown sugar
1 tsp red chili flakes
4 cloves garlic, minced
1 lb chicken breasts, sliced
1 Tbsp vegetable oil
3 carrots, peeled and julienned
1 cup fresh bean sprouts, rinsed
1 head butter lettuce, chopped
Lime wedges for garnish, if desired
Instructions
Combine the coconut milk, peanut butter, fish, soy sauces, ginger, sugar, red pepper flakes and garlic in a food processor. Puree until smooth. Set aside.
Heat the oil in a large skillet or wok over medium high heat.
Cook the chicken for 4-5 minutes, or until cooked clear through.
Add the coconut milk mixture (satay sauce) and toss to coat.
Combine the lettuce, carrots and bean sprouts in a bowl. Toss to mix.
Evenly divide the lettuce mixture onto four plates.
Top with the chicken satay and serve warm or chilled.
Garnish with lime wedges before serving, if desired.
Preparation time: 15 minute(s)
Cooking time: 10 minute(s)
Diet tags: High protein, Gluten free
Number of servings (yield): 4
Culinary tradition: Indian (Southern)
Calories: 380
Fat: 17.5
Protein: 43
Entire recipe makes 4 servings
Serving size is about 2 cups with 3 oz cooked chicken
Each serving =8 Smart Points/9 Points
PER SERVING: 396 calories; 11.8g fat; 5.1g saturated fat; 13.7g carbohydrates; 2.8g sugar; 58.7g protein; 6.3g fiber