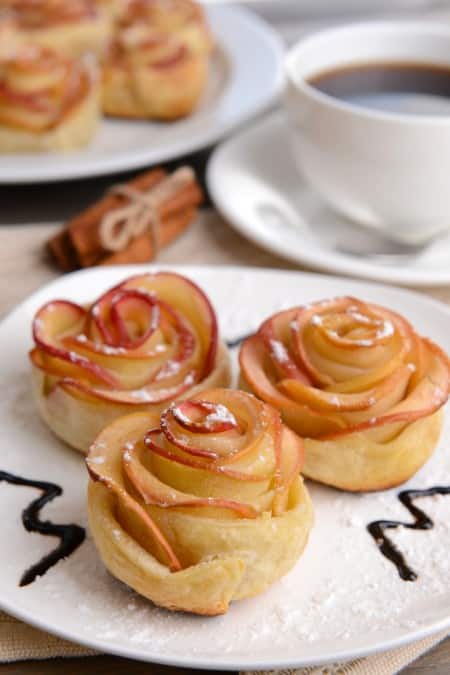 It's now apple season, so it's a perfect time to try out new apple recipes. These apple roses are just the thing. They are simple to make, especially since they use ready-to-bake puff pastry. But they turn out so beautiful every time! The bright red apple peel creates a beautiful rose but the puff pastry holds it all together. Dipping apples in lemon juice prevents them from turning brown. This works with apples or bananas, just dip them in any citrus juice (lemon, lime, orange or grapefruit works just as well). The best apples for this are slightly tart, since the apricot preserves is a little sweet so the balance is just perfect. Give these apple roses a try – they're simple and easy but beautiful and delicious.
These simple apple roses are a beautiful and delicious dessert. Made with fresh, juicy apples and puff pastry – they're a snap to make. The slightly sweet apricot preserves adds just enough sweet to counter the tart apples.
Ingredients
1 sheet puff pastry, thawed
2 large apples (any variety)
3 Tbsp lemon juice
1 Tbsp flour
3 Tbsp apricot preserves
1 tsp cinnamon
Instructions
Preheat the oven to 375 degrees F. Lightly grease a muffin tin.
Core the apples (leave the peels on) and thinly slice the apples.
Dip the apples in the lemon juice to prevent them from turning brown. Shake off any excess juice.
Place the apples in a microwave safe bowl and microwave for 2 – 3 minutes, or until the apples are slightly soft. Alternatively, simmer the apple slices until they begin to soften.
Lightly flour the counter and place the dough onto the counter.
Roll the dough until it's about 12 inches by 9 inches.
Slice the dough into six strips about 2 inches wide.
Combine the apricot preserves with 2 Tbsp of water. Mix well.
Spread the preserves onto the puff pastry.
Place the apples onto the dough. The core side of the apples will line up in the middle of the strip of puff pastry. The peel side of the apple will stick up over the puff pastry a little.
Line the apple slices so that each slice overlaps the previous one about halfway.
Sprinkle the cinnamon on the apples.
Fold the bottom half of the dough.
Roll the dough strips and press the edge together to seal it.
Place the apple roses into the prepared pan.
Bake for 40 – 45 minutes, or until golden brown.
Preparation time: 20 minute(s)
Cooking time: 45 minute(s)
Diet type: Vegetarian
Diet tags: Low calorie
Number of servings (yield): 6
Culinary tradition: USA (General)
Calories: 107
Fat: 3
Protein: 1
Entire recipe makes 6 servings
Serving size is about 1 apple rose.
Each serving = 4 Smart Points/3 Points
PER SERVING: 107 calories; 3g fat; 1.1 g saturated fat;20g carbohydrates; 8.6g sugar; 1g protein; 2g fiber