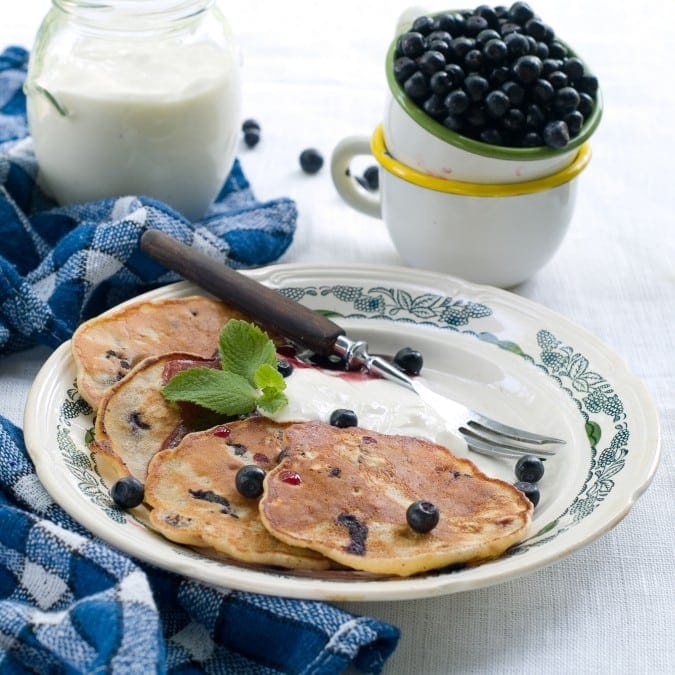 What's better on a lazy weekend that brunch with some pancakes? These blueberry pancakes hit the spot. They're simple and delicious with whole wheat flour and blueberries. You can use fresh or frozen blueberries in these pancakes – whichever you have on hand. I used frozen blueberries, so I poured each pancake onto the griddle and then dropped the blueberries into the batter. Making these pancakes with whole grain flour adds nutrients, including fiber to these pancakes. If you're not so sure about using whole wheat flour, the trick is to make sure it's finely ground. If the flour is finely ground, it won't be grainy. Some whole wheat flours are also lighter than others, so if you have a picky eater, use a lighter whole wheat flour – they'll never know! Give these delicious pancakes a try, they'll be a family favorite after the first breakfast. They're perfect with a little butter, syrup or just some plain yogurt on top.
These pancakes are a snap to whip up and so delicious! They're perfect for a lazy weekend brunch, or for a quick and easy weekday breakfast.
Ingredients
1 1/2 cups whole wheat flour
3 tsp baking powder
1 tsp salt
2 Tbsp sugar
1 1/2 cups skim milk
1 egg
2 Tbsp vegetable oil
2 cups fresh or frozen blueberries
Instructions
Sift together the dry ingredients and set aside.
In a large bowl, whisk together the milk, eggs and oil.
Add half of the flour mixture and mix well.
Add the other half of the flour mixture and mix until well combined.
Fold in the blueberries.
Preheat the griddle or pan over medium high heat. Spray with cooking pray.
Using a 1/3 cup measure, pour the batter onto the griddle or pan.
Cook until the bottom is golden brown and bubbles appear in the top.
Flip and cook until the second side is golden brown.
Preparation time: 10 minute(s)
Cooking time: 20 minute(s)
Diet type: Vegetarian
Diet tags: Low calorie, Reduced fat
Number of servings (yield): 7
Culinary tradition: USA (General)
Calories: 187
Fat: 5
Protein: 6
Entire recipe makes 7 servings
Serving size is about 2 pancakes
Each serving = 7 Smart Points/5 Points
PER SERVING: 187 calories; 5g fat; .9g saturated fat; 31g carbohydrates; 10.6g sugar; 6g protein; 4g fiber