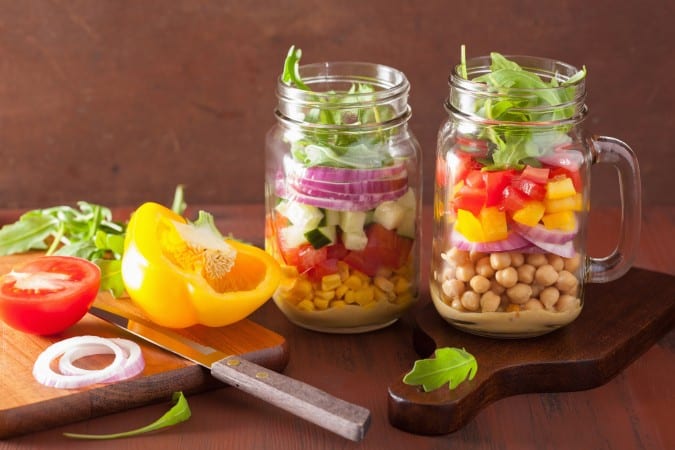 These salad in a jar recipes are becoming more and more popular – and there's a good reason. They're so easy to make and convenient to take. You can make them up with just about any combination of ingredients you'd like, and then just stick it in the fridge. They'll keep in the fridge for up to a week, so you can make the entire week's at once and then you're done. It makes a healthy and tasty lunch easy. You can make your salad in a pint jar, or a quart jar, depending on how much you want to eat. A great way to put your lunch together right now (especially since it's fall and days are a little cooler) is to have a pint jar of salad and a pint jar of soup. Just remove the lid and heat the soup in the jar. Remember, when you're making your salads, be sure to put the lettuce or anything that can get soggy on the top – well away from the dressing. There are two different salads in the picture, and I've included recipes for each one. I love these salads, they're easy, beautiful and healthy.
Salad in a jar is a simple and easy way to put together a whole week's worth of lunches. Be sure to put the lettuce on the top and the dressing on the bottom. They'll stay good in the fridge for up to a week. Just grab one and go! Shake it up and you've got lunch ready to eat.
Ingredients
1/2 cup garbanzo beans
1/2 small red onion, sliced
1 red bell pepper. chopped
1 yellow bell pepper, chopped
1 cup baby lettuce
2 Tbsp olive oil
1/4 cup rice vinegar
1/2 Tbsp minced garlic
1/2 lemon, juiced
1/2 Tbsp honey
Salt, to taste
Instructions
In a jar, combine the olive oil, vinegar, garlic, lemon juice, honey and salt. Shake to mix well.
Evenly divide between 2 jars.
Place the garbanzo beans on the bottom of the jars, then layer the remaining ingredients into the jar. Be sure to place the lettuce on top.
Secure the lid and refrigerate until serving.
To serve, shake to mix the dressing and eat from the jar, or serve on a plate.
Variations
Replace the garbanzo beans with corn, and the peppers with 1/2 a cup of chopped tomatoes and a 1/2 cup chopped cucumbers (per salad). Nutrition: 7 points +, 259 calories, 14 g fat, 33 g carbohydrate, 3 g protein, 3 g fiber
Preparation time: 10 minute(s)
Cooking time:
Diet type: Vegetarian
Diet tags: Gluten free
Number of servings (yield): 2
Culinary tradition: USA (General)
Calories: 316
Fat: 15
Protein: 5
Entire recipe makes 2 servings
Serving size is about 1 jar
Each serving = 10 Smart Points/7 Points
PER SERVING: 316 calories; 15g fat; 2g saturated fat; 41g carbohydrates; 4.8g sugars; 5g protein; 5g fiber