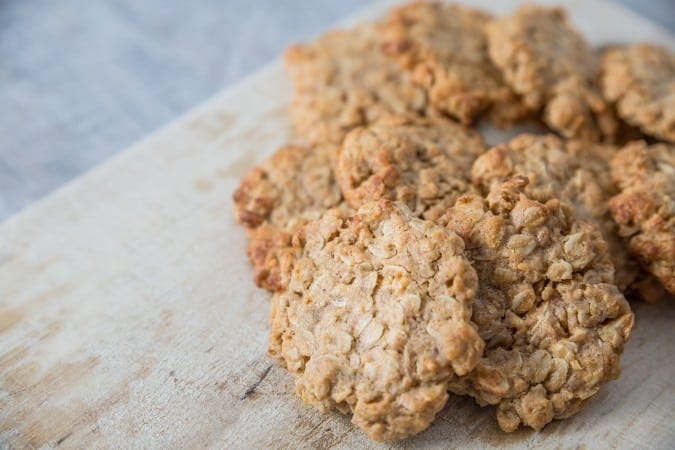 I typically don't make too many desserts, because, well, we have to eat them once they're made. Cookies are frequently the exception to that rule. With cookies, they're so easy to just keep a few out and stick the rest in the freezer. Then I can take out a cookie or two when I really need something sweet. These peanut butter cookies are just perfect for that. They've only got five ingredients, so they're made in no time. I completely forgot to make the traditional peanut butter cookie cross hatch in them before I baked them, and they still turned out fine. The baking soda and the amount of oil in the peanut butter help these cookies to spread. If you're having trouble with that though, baking soda helps cookies to spread and baking powder helps them to puff, so just add a little of whichever you need. I enjoy these cookies for a little mid afternoon pick-me-up. I'll start to get tired, and I'll get the munchies when I'm struggling to concentrate. These are just perfect, with only 2 points + per cookie, a little fiber and a little protein, they're a great snack for me without me going overboard.
These delicious cookies are a snap to make. With only five ingredients, you'll have them done in no time. With only 8 g carbohydrates per cookie, they're great for those watching carbs. They also have protein and fiber, so it's a wonderful little pick-me-up.
Ingredients
1/2 cup chunky peanut butter
1/2 cup packed brown sugar
1 large egg
1 1/4 cups quick cooking oats (or half quick and half rolled)
1/2 tsp baking soda
Instructions
Preheat the oven to 350 degrees F. Line a baking sheet with parchment paper and set aside.
In a bowl, cream together the peanut butter and brown sugar until fluffy.
Beat in the egg until well combined.
Add the oats and baking soda. Mix well.
Drop the cookies onto the prepared baking sheet by tablespoonfuls.
Press the tines of a fork into the top of each cookie to make the traditional crosshatch pattern (optional).
Bake for 6 – 9 minutes.
Cool completely on wire racks.
Store in an airtight container.
Preparation time: 10 minute(s)
Cooking time: 8 minute(s)
Diet type: Vegetarian
Diet tags: Low calorie, Reduced carbohydrate, Gluten free
Number of servings (yield): 24
Culinary tradition: USA (General)
Calories: 67
Fat: 3
Protein: 2
Entire recipe makes 24 servings
Serving size is about 1 cookie
Each serving = 3 Smart Points/2 Points
PER SERVING: 67 calories; 2.5g fat; .4g saturated fat; 8g carbohydrates; 4.8g sugar; 2g protein; 1g fiber