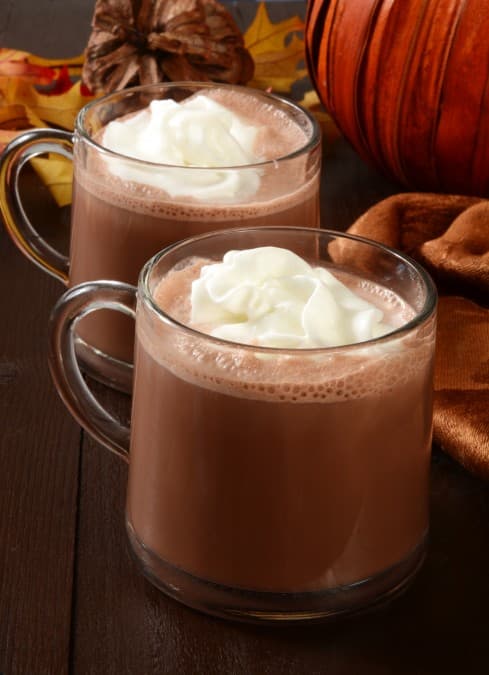 I absolutely love chocolate, but I can't drink that much milk – it makes me sick. So, I made this fabulous dark chocolate hot cocoa with almond milk. It's rich and delicious, and my favorite hot cocoa. It's made from things I always have on hand, so it's easy to throw together for a cup of hot cocoa when I need a pick-me-up on a cold fall day. I love the nutty flavor of the almond milk, and I like to top mine with a dollop of whipped coconut milk or coconut ice cream. The dry mix you can have ready to go and then just add it to almond milk to heat and serve. One cup of almond milk needs about 4 1/2 tablespoons of cocoa and sugar mix. You can also just whisk the cocoa mixture into the cold almond milk, or remove some of the hot almond milk and mix the cocoa mixture into that. It works best if you start with a little bit of almond milk to make sure you've got all the lumps out before you add it in (just like cornstarch or flour in gravy). The next cool fall day that you're craving some hot chocolate – give this simple and delicious dark chocolate hot cocoa a try.

Try this fabulous hot chocolate this fall on a cool day to warm you up. It's dairy free and delicious, made with dark chocolate cocoa powder. It's just sweet enough to make it perfect and the dash of cayenne adds spice to this traditional drink.
Ingredients
4 Tbsp sugar
1/4 cup dark chocolate cocoa powder
2 cups unsweetened almond milk
Dash cayenne pepper
Instructions
Mix together the sugar, cocoa powder and cayenne pepper.
Heat 1 1/2 cups of almond milk in a pan over medium heat.
Bring the milk to a simmer.
Whisk together the remaining almond milk and cocoa mixture.
Whisk the milk and cocoa mixture into the milk and return the milk to a simmer.
Serve hot, topped with whipped coconut cream, if desired.
Preparation time: 2 minute(s)
Cooking time: 10 minute(s)
Diet type: Vegan
Diet tags: Low calorie, Gluten free
Number of servings (yield): 2
Culinary tradition: USA (General)
Calories: 186
Fat: 4
Protein: 3
Entire recipe makes 2 servings
Serving size is about 1 cup
Each serving = 8 Smart Points/5 Points
PER SERVING: 150 calories; 4g fat; .9g saturated fat; 31.7g carbohydrates; 25g sugar; 3g protein; 4.6g fiber