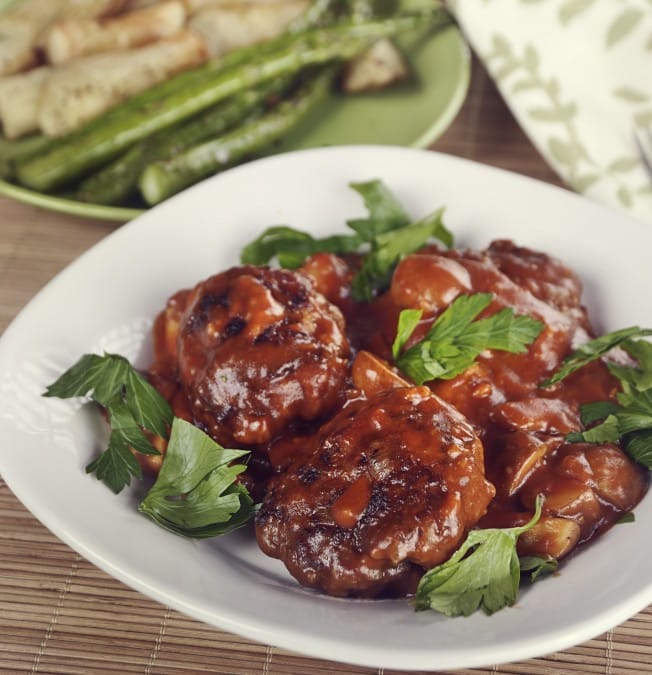 Sometimes it's really nice to just pull out an old favorite. You know it's going to be delicious every time and you know that it's simple and everyone likes it. For my family, one of those recipes is Salisbury steak. You can use the minute steak for it, or tenderized round steak, but I usually just use hamburger. It's easy and I've always got it on hand. Make up your patties and fry them in a skillet, then make up a beef gravy with onions (and mushrooms if you're so inclined) to top the patties. Serve with a side of mashed potatoes, corn and green beans and you've got a simple, delicious and well-loved meal ready to go in no time.

This simple and classic beef patty is fried and then served topped with gravy. It's perfect with a side of mashed potatoes and served along side corn and green beans.
Ingredients
1 1/2 lbs lean ground beef
1/2 cup quick oats
1 Tbsp ketchup
2 tsp dry mustard
1 tsp Worcestershire sauce
1 tsp salt
1/2 tsp pepper
Cooking Spray
Gravy:
1 whole onion, sliced
2 cups beef broth
1 Tbsp ketchup
1 tsp Worcestershire sauce
1 tsp cornstarch, optional
Salt & pepper to taste
Instructions
In a large bowl, combine the beef, oats, ketchup, mustard, Worcestershire sauce, salt and pepper.
Mix until thoroughly combined.
Form into 6 patties.
Spray a large skillet with cooking spray and preheat over medium heat.
Fry the beef patties until they are cooked through. Add extra cooking spray, or a little water to the pan to keep them from burning.
Remove the patties from the skillet and keep warm.
Remove excess grease from the skillet, leaving about 1/2 Tbsp.
Sauté the onions for 5 minutes, or until tender.
Add the beef stock, ketchup and seasoning.
Mix together the cornstarch and a little beef broth. Whisk into the sauce, if using the cornstarch.
Simmer until the sauce is reduced slightly and thickened.
Season to taste with salt and pepper.
Return the beef patties to the pan with the gravy.
Serve the beef patties topped with the gravy.
Preparation time: 10 minute(s)
Cooking time: 15 minute(s)
Diet tags: Reduced carbohydrate, High protein, Gluten free
Number of servings (yield): 6
Culinary tradition: USA (Traditional)
Calories: 233
Fat: 10
Protein: 25
Entire recipe makes 6 servings
Serving size is about 1 beef patty with gravy
Each serving = 6 Smart Points/6 Points
PER SERVING: 233 calories; 10g fat; 4g saturated fat; 9g carbohydrates; .3g sugar; 25g protein; 1g fiber