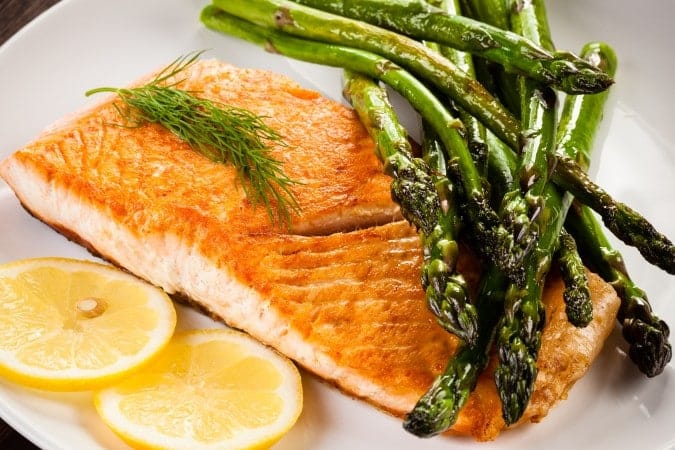 This roasted asparagus is simple and delicious. It's a great side dish to add to your meal, since it adds color, texture and nutrition . Since, it's roasted, this asparagus is easy to stick in the oven and have it done in time for the rest of your meal, with a minimum of fuss and effort. I always try to find the tiniest asparagus spears I can, since those are the most tender (and the only ones I like). It also helps if you break off the tough ends of the stalks. Just bend the stalk and it will break in the right spot so you can discard the hard end. You don't have to, but those tough ends aren't very good to eat. The balsamic reduction the asparagus is cooked with adds a rich and delicious flavor to it. You can also roast the asparagus (or grill it) and then serve it with the reduction drizzled over the top – it's great both ways.

Add this beautiful asparagus to your meal to make it colorful, delicious and nutritious. The asparagus is roasted with a simple balsamic vinegar reduction. It adds a depth of flavor to the asparagus and to whatever meal you add it to.
Ingredients
1 lb asparagus
Salt & Pepper to taste
2 Tbsp olive oil
1/2 cup balsamic vinegar
Instructions
Preheat the oven to 400 degrees F.
Heat the balsamic vinegar over medium heat in a small saucepan.
Cook until it begins to thicken, about 15 – 20 minutes.
Meanwhile, wash the asparagus and snap off the tough ends of the stalks.
Toss the asparagus in olive oil, salt and pepper.
Place the spears in a baking dish.
Pour the balsamic reduction over the asparagus.
Bake for 15 minutes, or until asparagus is tender.
Serve hot.
Preparation time: 5 minute(s)
Cooking time: 30 minute(s)
Diet type: Vegan
Diet tags: Low calorie, Reduced carbohydrate, Gluten free
Number of servings (yield): 4
Culinary tradition: USA (General)
Calories: 103
Fat: 7
Protein: 1
Entire recipe makes 6 servings
Serving size is about 1 beef patty with gravy
Each serving = 6 Smart Points/6 Points
PER SERVING: 233 calories; 10g fat; 4g saturated fat; 9g carbohydrates; .3g sugar; 25g protein; 1g fiber