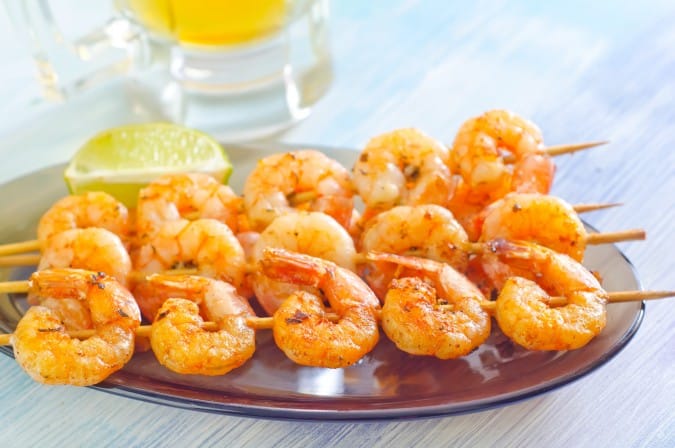 I'm someone who is pretty indifferent to seafood. I typically don't really like seafood – it's a texture thing. But with the right shrimp, and the right recipe, I'll go for it. Chili lime is a great combination, and with a bit of ginger and some white wine, I couldn't resist. The trick was cooking the shrimp a bit before, then making the sauce and finishing them in the sauce. That way the sauce has time to cook down and really meld the flavors together without overcooking the shrimp. Then I just added the shrimp back in and cooked for a couple more minutes, until they were done. I threaded mine on skewers to make it easier to work with. If you've got a big enough skillet, that's an easy way to get all those shrimp to go in and get flipped during cooking without overcrowding or overcooking. It's also a great way to serve them, since they look beautiful on the skewers. Serve these shrimp with some cilantro rice and a side salad, and it's a delicious meal that's low in carbs, high in protein and just plain tasty!
These delicious shrimps are fabulous. They're tender and succulent and flavored with a chili lime sauce that's got just a hint of kick to it. The shrimp are cooked in the sauce, but they can be served with the sauce to dip them in.
Ingredients
1 1/2 lbs shrimp, deveined and peeled
2 Tbsp oil
2 cloves garlic, minced
1 large shallot, finely chopped
1 Tbsp fresh ginger, grated
1/4 cup lime juice
1/4 cup white wine
2 Tbsp sweet chili sauce
Salt & Pepper to taste
Instructions
Heat the olive oil in a large skillet over medium heat.
Saute the shrimp for 30 seconds on each side, then remove from the pan. Be sure not to crowd the shrimp, so work in batches if needed.
Add the garlic, shallot and ginger to the pan. Cook for 2 minutes.
Add the lime juice and white wine to the pan.
Simmer until the sauce has reduced and thickened slightly.
Stir in the chili sauce.
Return the shrimp back to the pan and stir to coat.
Cook for another 2 – 3 minutes, or until the shrimp are opaque.
Serve hot, topped with the sauce, if desired.
Preparation time: 5 minute(s)
Cooking time: 20 minute(s)
Diet type: Vegetarian
Diet tags: Low calorie, Reduced fat, Reduced carbohydrate, High protein, Gluten free
Number of servings (yield): 6
Culinary tradition: USA (General)
Calories: 177
Fat: 6
Protein: 23
Entire recipe makes 6 servings
Serving size is about 5 shrimps
Each serving = 4 Points
PER SERVING: 177 calories; 6g fat; 4g carbohydrates; 23g protein; 0g fiber