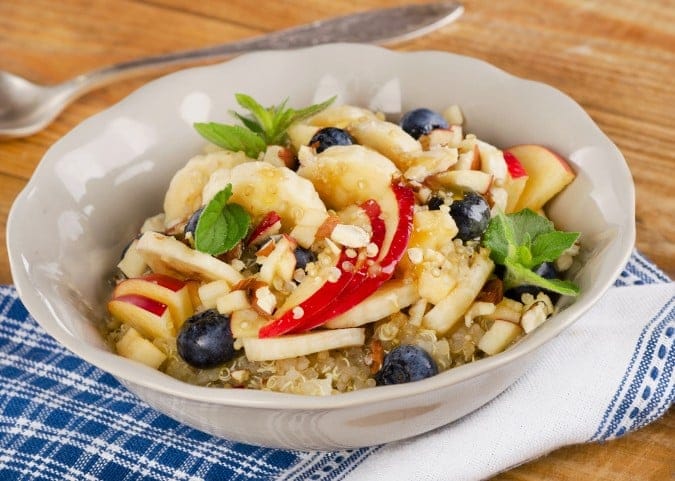 I enjoy breakfast cereals, but I like to have my breakfast cereals a little "spruced up". I like my oatmeal to have plenty of fruit added for sweetness and for flavor. I love to add rhubarb sauce to my oatmeal, bananas, blueberries, strawberries or anything I happen to have on hand. I decided to switch up my breakfast cereals a little bit by making some quinoa. I like quinoa but I usually make it with chicken broth. I made it with milk this time and then sweetened it with a little bit of honey. Add fresh fruit on top and you have a delicious breakfast that is packed with protein, fiber and flavor. I added blueberries, bananas, apples and a few almonds to mine, but you can use any fruit you have on hand. If you like quinoa, make up a couple of cups and then put it in the fridge. Just heat it and add your toppings for a quick breakfast. If you're not a huge fan of quinoa, but like the change from the typical oatmeal, mix the quinoa and rice to make a risotto. It lightens the flavor of the quinoa, but you still get a delicious change from the typical breakfast cereals.

Breakfast Quinoa with Fruit
Change up your breakfast by switching your regular oatmeal with quinoa. Cook the quinoa with milk and top with your favorite fresh fruit. It's delicious and packed with the nutrients to get your day off to a great start!
Ingredients
1/4

cup

quinoa

1/2

cup

skim milk

1

Tbsp

honey

1

cup

fresh fruit
Instructions
Bring the milk and quinoa to a boil in a small saucepan.

Reduce heat to medium low and cover. Cook until the liquid is absorbed.

Stir in the honey.

Serve the quinoa topped with additional milk, if desired, and the fruit of choice.
Entire recipe makes 1 serving
Serving size is about 1 1/2 cups
Each serving = 7 Smart Points/9 Points
PER SERVING: 350 calories; 3g fat; .1g saturated fat; 73.7g carbohydrates; 26g sugar; 11g protein; 6g fiber