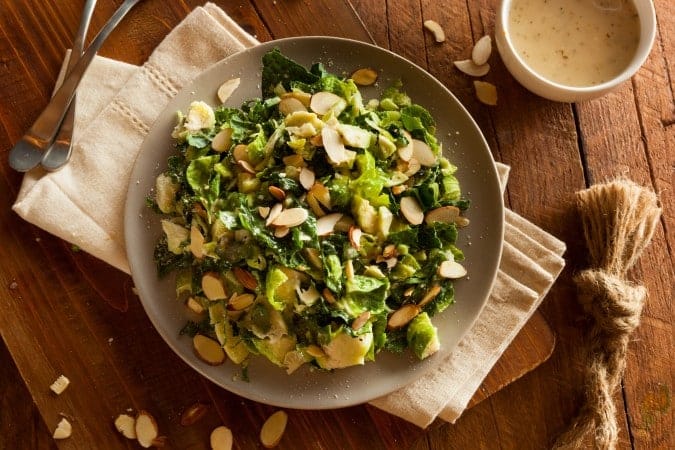 Kale is one of the new "superfoods". It's packed with nutrients including vitamins A, K and C. It's also a great source of fiber and iron. Brussels sprouts are also filled with vitamins and fiber. It's a great side dish to combine the two. They really need something to spruce them up though. I thought I'd do a light poppy seed dressing to add some extra flavor. Sprinkle on a few almonds to add a little more crunch, or add some craisins if you want to add a little color and sweet. I really like the texture and flavor of the salad. One of the keys I've found to kale is making sure you take out the center spine, since it can be bitter and tough. The combination of kale and Brussels sprouts and poppy seed dressing is a light and delicious side dish. I really like to use it to spruce up any meal, to add color and crunch to my meal. And, while it's not great leftover (it tends to get soggy), I've found it's best if I make it first and let it sit in the refrigerator for 20 minutes or so until we're ready to eat. It gives it time to let the dressing soak in a bit and the flavor is even better.
Kale & Brussels Sprouts with Creamy Poppy Seed Dressing
Add color to your meal with this delicious and flavorful salad. It's light, fun and healthy. This salad is a wonderful winter side dish to complement your dinner tonight.
Ingredients
2

cups

kale

chopped

2

cups

Brussels Sprout leaves

chopped

1/4

cup

sliced almonds
Creamy Poppy Seed Dressing
Instructions
In a small jar or bowl, combine the ingredients for the for the dressing and mix until well combined.

In a large bowl, combine the kale, Brussels sprouts and dressing. Mix until well combined.

Sprinkle on the almonds and serve.
Entire recipe makes 4 servings
Serving size is about 1 cup
Each serving = 4 Smart Points/3 Points
PER SERVING: 110 calories; 4g fat; 0g saturated fat; 17g carbohydrates; 9g sugar; 4g protein; 3g fiber