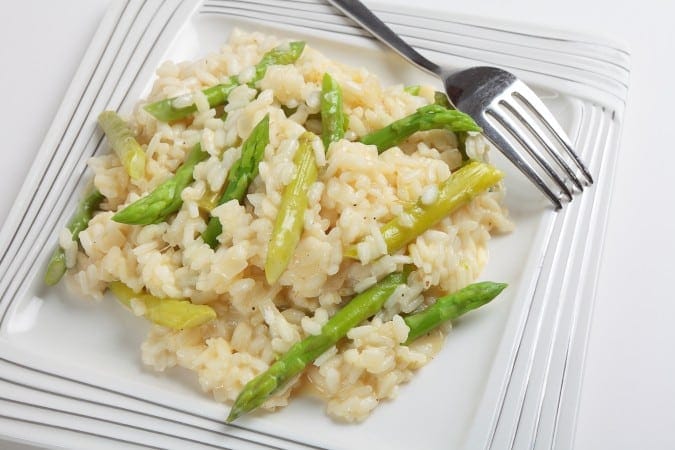 I love rice. I love it in all it's forms, well, except instant. For me, it doesn't matter if it's white or brown, wild, in a dish, by itself, I love it all. One of the things I learned to cook after getting married (getting married made me very adventurous in the kitchen, trying new dishes), was risotto. It turns out it wasn't as hard as I thought it would be. Typically, I use the cheater, easy version of risotto. I just stick all the cold stock and wine in at once and stir it occasionally. It absolutely works that way, but it's better if you do it properly – a ladle of broth at a time and stir it. It helps the rice to become creamier (without adding unhealthy amounts of cheese). However, if you're in a hurry, or lazy, or have other things that you need to do, you can just put all the broth in at once and you'll still get a delicious risotto. Another key to this dish is tender young asparagus. Look for the smallest asparagus shoots you can find – they're more tender and much more delicious. I bend each shoot (holding the ends) and let it snap. Typically, that breaks off the end that is tough and hard, leaving me with tender asparagus shoots. Another thing that is important in this one is the shallots. I'm someone who thought that there isn't much difference between an onion and a shallot. Let me tell you – there is. Shallots are lighter and sweeter than onions. Sautéed with a little butter and some mushrooms and a dash of thyme, they are delicious on top of chicken or beef. Shallots make this a lighter risotto that is a rich and delicious flavor. Onions will have a much more powerful and potent flavor that will change the whole flavor of the dish. Give this one a try – you'll love the creamy risotto with the sweet and savory shallots and the tender asparagus.

Asparagus Risotto
A delicious and elegant side dish. Creamy rice with tender asparagus mixed in. The creamy rice is a perfect way to set off the sweet and savory shallots with the tender asparagus shoots.
Ingredients
1 1/2

cups

arborio rice

1

QT

vegetable or chicken broth

1/2

cup

white wine

2

shallots

chopped

2

cloves

garlic

minced

1

Tbsp

olive oil

1

bunch

asparagus

chopped (about 2 cups)

1/4

cup

Parmesan cheese

shredded

Salt & Pepper

to taste
Instructions
In a saucepan, heat the stock until it begins to simmer. Reduce heat and continue to keep the broth hot.

In a deep skillet or large saucepan, heat the olive oil over medium heat.

Sauté the shallots and garlic in the oil for 2 - 3 minutes.

Add the rice to the pan and cook for an additional 1 minute, stirring frequently. Do not let it burn.

Add the wine and continue to cook, stirring constantly, until the wine is mostly absorbed.

Add a ladle of the hot broth and continue to stir.

Once the broth is nearly completely absorbed, add another ladleful. Continue until about 1/2 cup of broth remains.

Add the asparagus and half of the remaining broth.

Once the broth is nearly absorbed, add the last of the broth.

Add the cheese and season to taste with salt and pepper.
Notes
If desired, omit the white wine and replace with 1/2 cup broth.
Entire recipe makes 6 servings
Serving size is about 1/2 cup
Each serving = 7 Smart Points/6 Points
PER SERVING: 255 calories; 4g fat; 1g saturated fat; 44g carbohydrates; 1g sugar; 8g protein; 1g fiber