One of my favorite ways to make vegetables is to steam or sauté them and then season them. I found a grill seasoning once that was really delicious, but it used dried rosemary and sometimes the twigs would get stuck in your teeth. I decided that since I loved the flavor, but not the rosemary, I would try my own seasoning. I found a perfect combination that I love to use when I want some steamed or sautéed vegetables, but want to add some extra flavor. One of the key ingredients is lemon pepper. It seems to add a little brightness to the flavor that really sets the vegetables off. I love to season steamed cauliflower and carrots this way. It's a healthier way to add some flavor to them without adding cheese or butter and brown sugar. But this time I sautéed some mixed veggies and added my favorite spices. I loved the result. It added a delicious flavor to the vegetables and really spiced them up without adding extra calories. It's quick and easy, and you can even mix up the spices ahead of time in a large batch to make it easier.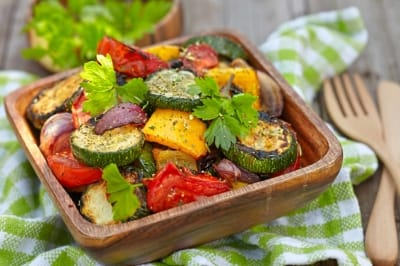 Lemon Pepper Vegetables
These delicious vegetables are full of flavor and not calories! Add flavor to your vegetables with this simple seasoning combination without adding any extra calories. It works with steamed, grilled, baked or sautéed vegetables.
Ingredients
1

Tbsp

olive oil

1

small

red onion

chopped

1

medium

zucchini

sliced

1

large

yellow bell pepper

chopped

2

tomatoes

chopped

1

tsp

lemon pepper

1

tsp

dried oregano

1

tsp

dried parsley

1/2

tsp

garlic powder

Salt to taste
Instructions
Over medium high heat, heat the olive oil in a large skillet.

Sauté the onion for 2 minutes.

Add the zucchini and sauté for another 2-3 minutes.

Add the bell peppers and tomatoes.

Continue to cook until the vegetables are hot and beginning to get tender.

Add the seasonings, and adjust to taste as necessary.

Mix well and serve hot.
Entire recipe makes 4 servings
Serving size is about 1 cup
Each serving = 1 Smart Points/1 Point
PER SERVING: 71 calories; 3.8g fat; .5g saturated fat; 9.4g carbohydrates; 1.5g sugar; 1.6g protein; 2.5g fiber