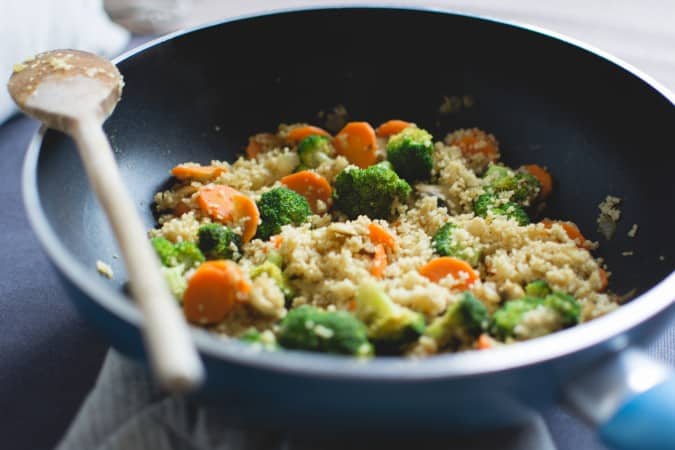 I love rice pilaf with seasonings and vegetables, but sometimes it's nice to have a change. A quick and easy change for pilaf is to use couscous instead of rice. Couscous isn't gluten free like rice, but it's really easy to make and has a delicious flavor. It's originally from North Africa. Couscous is made from durum wheat, and is really easy to make. Once your broth or water is boiling, it just takes 5 minutes to cook the couscous. This particular type of couscous is kind of like grains of sand, it's tiny and has a mild, nutty flavor. If you want your dish to look a little different, use Israeli couscous. While Israeli couscous has a much larger size, it is similar in flavor and works just as well. This couscous pilaf is a great side dish. It's so easy to make. It's a perfect side dish to toss together while you're waiting for the rest of the meal to finish cooking.
Couscous Pilaf
This couscous pilaf goes together in a snap! Seasoned with lemon juice that makes the whole dish come alive with a refreshing and bright flavor, this dish will become a favorite side dish when you're in a hurry.
Ingredients
1

Tbsp

olive oil

2

medium

carrots

chopped

1

head

broccoli florets

chopped

1

cup

couscous

1

cup

vegetable broth

reduced sodium

1/2

tsp

garlic powder

1/2

tsp

onion powder

1

lemon

juiced

salt & pepper

to taste
Instructions
In a large skillet or wok, sauté the carrots and broccoli until the vegetables begin to become tender, about 10 minutes. If needed, add a little water to prevent the vegetables from sticking to the pan.

Add the vegetable broth and bring to a boil.

Add the couscous, turn off the heat and cover.

Let the couscous sit for 5 minutes, then fluff with a fork.

Add the spices, lemon juice and season the couscous to taste with salt and pepper.

Serve hot.
Entire recipe makes 4 servings
Serving size is about 1 1/2 cups
Each serving = 6 Smart Points/6 Points
PER SERVING: 218 calories; 4g fat; 1g saturated fat; 39g carbohydrates; 2g sugar; 7g protein; 3g fiber