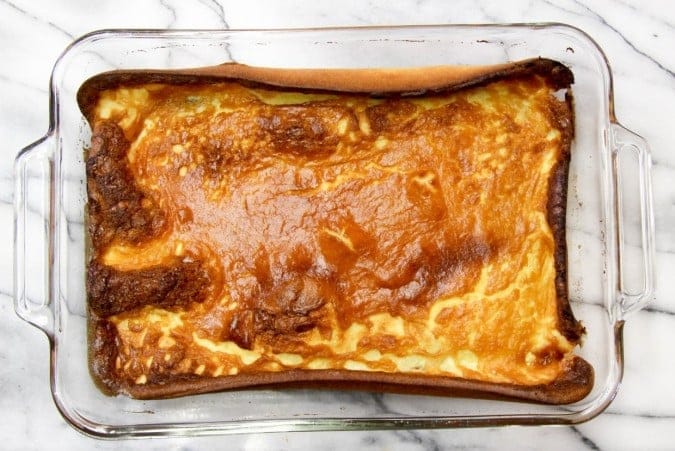 I have a few go-to breakfasts that I make on the weekend, and they're usually a little more involved than my regular breakfasts. I love pancakes and hashbrowns with fried eggs. But probably my all time favorite breakfast is Dutch Babies. Growing up, I'm sure my mom made lots of different breakfasts on Saturday mornings, but the one I remember is Dutch Babies with fruit sauce. I loved it then, and I love it even more now. The part I really love about it now is how simple it is to put together. I like to set my oven to preheat itself about the time I know I need to get up. A hot oven is key to Dutch Babies, so this ensures that I don't have to wait (and wait and wait) for my oven to finally get up to 400 degrees. I usually preheat it to about 425 or 450 degrees, so that when I open the door, there's plenty of heat to ensure proper baking. Once your oven is preheated, they're so easy to make! Just put everything in the blender, and you're good to go! I typically serve mine with fruit sauce and some Greek yogurt.
Dutch Babies
This simple and delicious pancake-style breakfast is perfect for breakfast or brunch. It climbs the sides of the pan and puffs up in the middle. Add your favorite toppings and your day is off to an amazing start!
Ingredients
4

Tbsp

butter

melted and divided

4

eggs

1

cup

skim milk

1

cup

gluten free or all purpose flour

1/2

tsp

salt
Instructions
Preheat the oven to 400 degrees F and place 2 Tbsp of butter in a glass 9x13 inch baking dish.

Put the baking dish in the oven, so the butter will melt while preparing the remaining ingredients.

Blend the eggs in a blender for 30-60 seconds, or until a little fluffy.

Add the remaining ingredients (2 Tbsp melted butter, milk, flour and salt) and blend for about 1 minute, or until well combined.

Pour the batter into the prepared and preheated pan.

Bake for 18-20 minutes and then serve with toppings of choice.
Entire recipe makes 6 servings
Serving size is 1 square, about 3×4 inches
Each serving = 5 Smart Points/5 Points
PER SERVING: 175 calories; 9g fat; 1.3g saturated fat; 16.5g carbohydrates; 3.7g sugar; 7.6g protein; .8g fiber