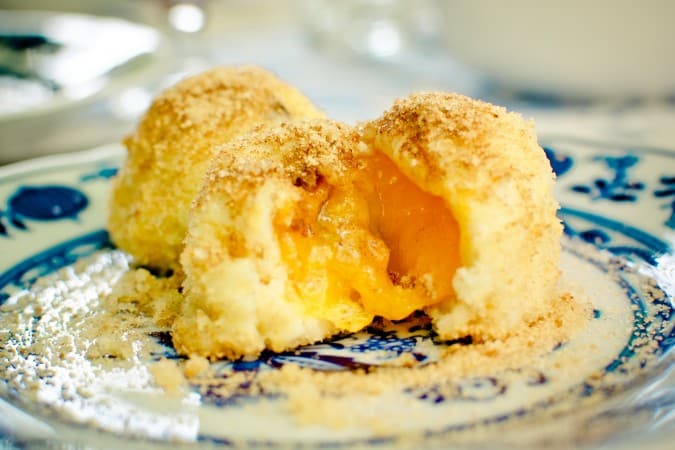 I'll admit I'm kind of addicted to Pinterest. As someone who not only write recipes and meal plans for a living, but also sews, quilts and knits, I can spend hours looking at projects and ideas. When I saw a recipe for peach dumplings, I just had to try it. I ended up combining several recipes, since I wanted to use fresh peaches, not canned peaches. I love how easy these were to make and they were so delicious! They're a cute little dessert that goes so well with ice cream (at least for the family and friends). But they go just as well with a dab of fat free cool whip or a little non fat Greek yogurt. If you're looking for a little twist, these can also be made with wonton wrappers, and be just as cute and delicious. Just be sure to keep an eye on them, since they may not take as long to bake. If using wonton wrappers, you should also brush them with a beaten egg white so they turn that beautiful golden brown. But no matter what you use for the wrapper, these are definitely keepers for my family, they're so simple and elegant but incredibly delicious.
Peach Dumplings
Simple, elegant and utterly delicious peach dumplings. These are a snap to make and filled with a juicy sweet peach. You'll make them over and over.
Ingredients
1

can

reduced fat crescent roll dough

(8 rolls)

2

medium

peaches

peeled and chopped

2

Tbsp

cornstarch

2

Tbsp

brown sugar

(optional, depending on personal perference and sweetness of fruit)

2

Tbsp

cinnamon sugar
Instructions
Preheat the oven to 350 degrees F.

Combine the peaches, cornstarch and brown sugar (if using) in a bowl.

Stir until the peaches are coated.

Roll out the crescent dough and evenly divide the peaches among the rolls.

Fold up the ends of the dough and pinch together to make into a little ball.

Place the rolls into a baking dish.

Sprinkle the cinnamon sugar on the top.

Bake for 30-35 minutes, or until golden brown.

Serve warm.
Entire recipe makes 8 servings
Serving size is about 1 roll with filling
Each serving = 5 Smart Points/4 Points
PER SERVING: 126 calories; 4.6g fat; 2.0g saturated fat; 22.1g carbohydrates; 9.4g sugar; 2.2g protein; .8g fiber