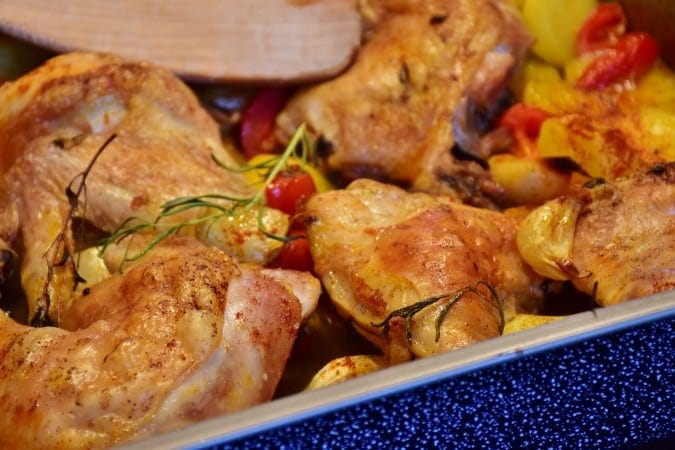 I love baked chicken. It's so easy and simple, a great and healthy way to prepare chicken. As long as I don't overbake it, then it's juicy and moist. I like to check the local grocery ads, and stock up on chicken when it's on sale (legs, thighs and breasts). That way I have some in the freezer and can just stick it in the oven for dinner that night. Citrus and chicken go so well together that I thought I would combine them with a little honey, some garlic and rosemary. I made a basting sauce with broth, lemon juice, honey, garlic and Italian seasoning. I added some extra cloves of garlic and sprigs of rosemary while baking the chicken. The end result was delicious. It was a little tart, garlicy and succulent. I will definitely be doing this again. Browning the chicken before baking it ensured the juices were sealed in during baking. The flavors of the lemon and garlic work so well with the juicy chicken. This is simple and delicious. Serve it with a salad or roasted vegetables to round out this fabulous chicken.
Baked Lemon Chicken
This baked chicken is simple but delicious. It's flavored with bright and tangy lemon and spicy garlic.
Ingredients
4

pieces

chicken

(about 4-5 oz each)

1 1/2

Tbsp

butter

1/3

cup

chicken broth

4

Tbsp

lemon juice

1

Tbsp

honey

2

tsp

minced garlic

4-6

cloves

garlic

3-4

sprigs

rosemary

1

tsp

Italian seasoning

Salt & Pepper to taste
Instructions
Preheat the oven to 400 degrees F and lightly grease a casserole dish with cooking spray.

In a large skillet, melt the butter and brown the chicken on each side.

Place the chicken in the prepared pan.

Whisk together the broth, lemon juice, honey, garlic and seasonings.

Pour the mixture over the chicken.

Add the cloves of garlic and sprigs of rosemary.

Bake for 20-30 minutes, or until the chicken is no longer pink.

If desired, continue to baste the chicken with the sauce while cooking.

Garnish with rosemary and fresh lemon, if desired, and serve hot.
Entire recipe makes 4 servings
Serving size is about 1 piece of chicken (about 3-4 oz)
Each serving = 5 Smart Points
PER SERVING: 205 calories; 7.9g fat; 3.4g saturated fat; 6.1g carbohydrates; 4.8g sugar; 27.2g protein; .14g fiber