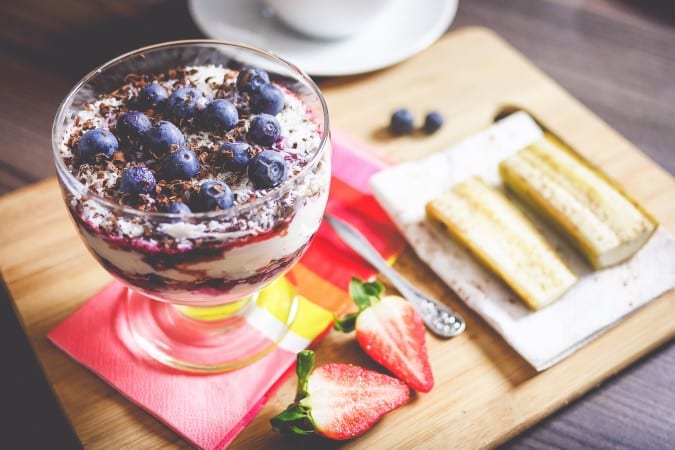 One of my favorite breakfasts is a parfait. I don't always layer it nicely in a pretty glass bowl, but I love to combine fresh fruit, yogurt and granola. It's quick and easy, always delicious and packed with nutrients. I like to have low fat yogurt on hand and a whole grain, low sugar granola as well so I can toss it together. It helps provide me with a great breakfast with minimal effort, so I get a great breakfast even when I'm too lazy to do much for breakfast. With this one, I sprinkled in my favorite granola, as well as some chia seeds and ground flaxseed. This gives me lots of fiber to start the day out with too. The protein and fiber help me to last longer and I don't get the munchies as bad (my munchies are typically cravings for chips, candy, and other things like that). One way that I changed this parfait a little was to mash some fresh blueberries with a mini potato masher so that I had a layer (or two) or fruit sauce. It's a great way to sweeten the low fat plain yogurt without adding any extra sugar to it.

Blueberry Breakfast Parfait
This easy parfait is beautiful and delicious. The fat free yogurt topped with whole grain granola and fresh, juicy blueberries is a perfect way to start your morning. The combination of foods gives you all the nutrients you need to start your day out right.
Ingredients
2/3

cup

non fat plain Greek yogurt

1

cup

fresh blueberries

1/3

cup

whole grain unsweetened granola

1

Tbsp

chia seeds
Instructions
Layer the yogurt, blueberries and granola in a bowl or glass.

Top with the chia seeds.

Serve immediately.
Entire recipe makes 1 servings
Serving size is about 2 cups
Each serving = 10 Smart Points
PER SERVING: 330 calories; 6.6g fat; .9g saturated fat; 49g carbohydrates; 24g sugar; 23.5g protein; 10.8g fiber