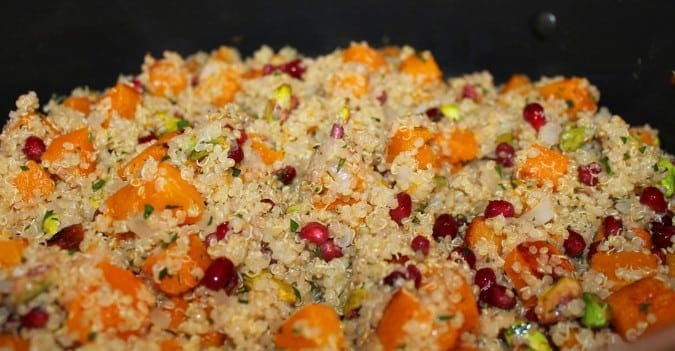 Here is a seriously delicious combination of pomegranate, butternut and orange. It's a simple and easy meal that can be tossed together in no time. I love the fact that I can make it up really quickly. Squash can be sliced in half, and baked for about 10 minutes. It's easier to peel and cube then. It's also easy to freeze it then and I can have it all year. Roasted in the oven with some olive oil, salt and pepper until it's tender. It's a great way to make squash without loading it up with butter and brown sugar. I highly recommend baking it for a few minutes first. I learned last fall with my pumpkins (when I was canning a whole bunch of them, about 30 or 40 quarts) that if you bake the pumpkin (or squash in this case) for about 10-15 minutes at 350 degrees, it looses the skin and seeds enough that they are easy to remove. Then just stick your squash in a ziploc bag and it's ready to be baked when you need it. Since I don't always have quinoa on hand, and it takes longer to cook, couscous is a great alternative to that. It doesn't take long to cook, has a much more mild flavor and is less expensive. It's a great combination with the crunchy and juicy pomegranate seeds. This is a bright, colorful and delicious salad that is simple to put together to complement your meal tonight.
Couscous with Pomegranates & Butternut
Simple, light, easy, beautiful and delicious! This couscous salad is perfect to go with your meal tonight as a side dish. The fluffy couscous, tender squash and crunchy pomegranate seeds combine to make it refreshing for a warm summer night.
Ingredients
1

cup

couscous

cooked

1/2

cup

butternut squash

cubed and cooked

2

Tsbp

pomegranate seeds

1

Tbsp

orange zest

1

Tbsp

olive oil

2

Tbsp

orange juice

Salt & Pepper to taste
Instructions
Combine all ingredients.

Mix well and serve immediately or refrigerate until serving.
Entire recipe makes 2 servings
Serving size is about 1/2 cup
Each serving = 6 Smart Points
PER SERVING: 182 calories; 7g fat; .9g saturated fat; 26.7g carbohydrates; 3.6g sugar; 3.7g protein; 2.6g fiber