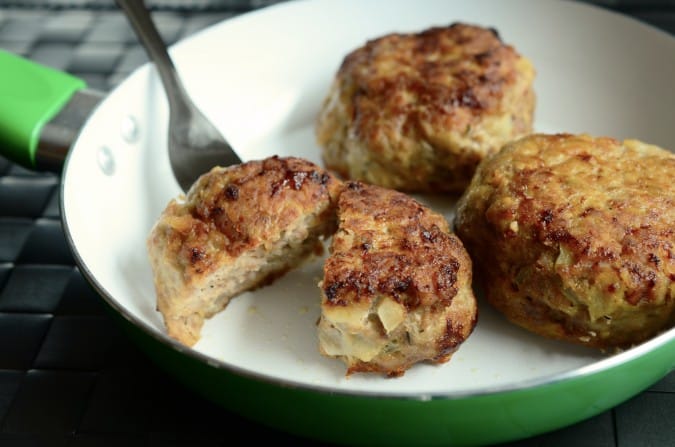 I recently was in Costco and had a sample of a chicken and apple slider. It was delicious, so I set out to make a similar recipe that I could do at home. I'm not sure if these are exactly the same, but they are delicious all the same, so who cares? I like how easy these are to make. I can make them up ahead of time and freeze them. Then I can just cook up a couple of them for lunch or dinner. When I need a quick meal, they're ready to go. All I have to do is broil them for a few minutes. I like to pair these with an Asian coleslaw with a copycat Applebee's salad dressing and some sweet potato fries. It's a delicious, simple and healthy meal that's ready to go in less than 20 minutes. This is perfect for our busy weeknights, or when I simply don't know what else to make! These sliders are definitely keepers in our house!
Chicken & Apple Sliders
Simple and delicious chicken and apple sliders. They're a snap to put together, but so delicious! The low fat ground chicken combines with the tart apples to make a moist and tasty slider. Pair these with some coleslaw and sweet potato fries for a simple, light and satisfying meal.
Ingredients
2

cups

tart apples

peeled and grated

1/4

cup

diced celery

1/2

tsp

poultry seasoning

1/4

tsp

black pepper

1/4

tsp

salt

2

Tbsp

honey

1

lb

ground chicken
Instructions
Combine all ingredients in a food processor.

Process until well combined.

Form the chicken mixture into small patties.

Broil the patties for about 3-4 minutes per side, or until cooked through.

Serve hot.
Entire recipe makes 4 servings
Serving size is about 2 sliders
Each serving = 7 Smart Points
PER SERVING: 236 calories; 9.6g fat; 2.5g saturated fat; 17.7g carbohydrates; 15g sugar; 22g protein; 1.7g fiber