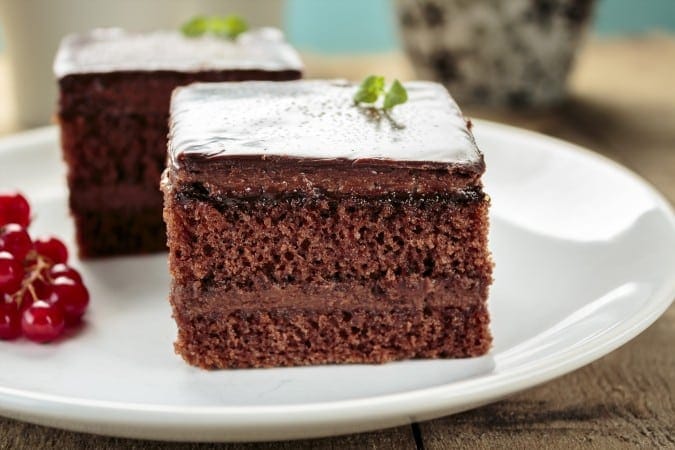 I don't know about you, but our garden is winding down. I love to have the fresh garden vegetables all summer, but there comes a point when I get tired of it (particularly of the 1 billion cherry tomatoes when my husband doesn't eat them). So, I'm always a little bit glad to see the garden slow down and not have to come up with any new recipes for cherry tomatoes, squash, zucchini, eggplant, and whatever else I might have growing like mad. But I wanted to give one last recipe a try. Actually, I wanted to create on last recipe. One of my favorite cakes is the Texas sheet cake. I love the flavor and texture of that cake, it's rich but not too sweet and the frosting is just delicious. There are two problems with it – it's dry when I make it gluten free, and it's not exactly healthy. So, I thought I'd try a gluten free healthy makeover version. And it was definitely a success! Chocolate zucchini cakes are always really nice and moist, and applesauce is a great way to replace oil or butter in a cake (ONLY cakes and quick breads, not everything). So, I got to work. I found a very low sugar frosting recipe (not quite the same, but seriously amazing). I think adding the zucchini and the applesauce really makes a difference when it's gluten free. Quite often, I find that if I'm not really careful, my gluten free cakes tend to turn out a little drier than I like. This one was perfect. And if you don't need gluten free, just substitute a plain wheat flour, cup for cup.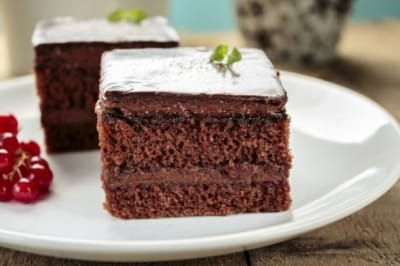 Gluten Free Zucchini Texas Sheet Cake
A great way to add some veggies in your meal! Neither you or the kids will notice the zucchini in this moist and delicious Texas sheet cake. The rich chocolate is the perfect way to round out a delicious meal.
Ingredients
1

cup

unsweetened applesauce

3/4

cup

granulated sugar

2

tsp

vanilla extract

1

tsp

baking soda

1/2

tsp

baking powder

1

tsp

salt

2

eggs

1/2

cup

fat free sour cream

2 3/4

cup

gluten free flour

3/4

cup

cocoa powder

3

cups

grated zucchini

Frosting

1/2

cup

dark chocolate chips

4

Tbsp nonfat milk

1/2

cup

non fat Greek yogurt

4

Tbsp cocoa powder
Instructions
Preheat the oven to 325 degrees F. Lightly grease a 9x13 inch baking dish and set aside.

Beat together the applesauce and sugar.

Add the vanilla, baking soda, baking powder, salt, and eggs.

Alternate the sour cream and flour, mixing well after each addition.

Mix in the cocoa powder until well combined.

Fold in the zucchini.

Spread the batter evenly into the prepared pan.

Bake for 30-40 minutes, or until a toothpick inserted in the middle comes out clean.

Allow the cake to cool before frosting.

While the cake is cooling, prepare the frosting.

Melt the chocolate chips in a microwave safe bowl or double boiler.

Add the milk, yogurt and cocoa powder.

Stir until the frosting is smooth.

Pour the frosting over the cooled cake.

Refrigerate until serving.
Recipe Notes
The cake can be slightly warm still when frosting.
Entire recipe makes 16 servings
Serving size is 1 piece (about 2 inches square)
Each serving = 7 Smart Points
PER SERVING: 195calories; 5.3g fat; 2.3g saturated fat; 33.6g carbohydrate; 16.2g sugar; 7.8g protein; 4.7g fiber