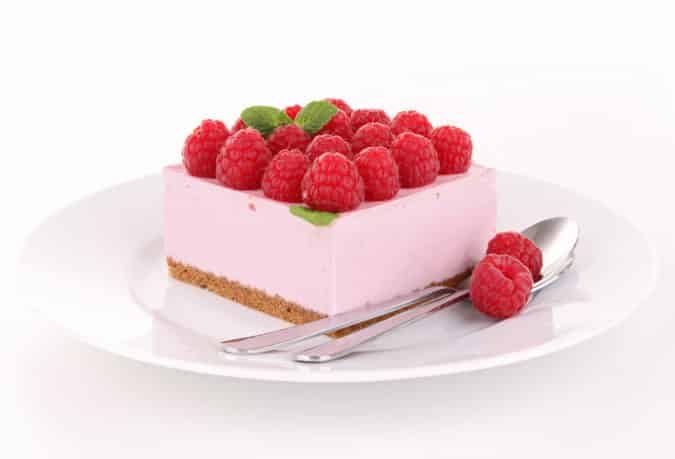 I love a sweet treat. They're something that I frequently like to have around the house. It's absolutely true that you shouldn't overdo it, but I'm a firm believer in treating yourself. Cheesecake is one of those things that my husband and I both love (especially my husband). However, cheesecake isn't something that's great to have around the house. A tiny sliver of cheesecake is full of points, and really just tastes like more. I thought I'd try and find a much lighter version of a cheesecake. Something that is more fluffy, and healthier. I'll admit, my whole motivation for this is being able to have a larger piece but not sacrificing more of my points for it. This recipe is perfect. Since it's so light and fluffy, it's more of a cheesecake mousse. It's delicious. It's so light that it's not nearly as rich and decadent as regular cheesecake – but it's so satisfying. I love the fluffy texture and I really feel like I actually get to have a treat. It's enough that I'm satisfied when I'm done, but I don't have to sacrifice extra points for it. What I found was the solution was just a little bit of gelatin. The gelatin helps it to have the structure that the mousse needs and helps it to hold up. But this also enabled me to use lighter ingredients and not nearly as much cream cheese. The result is a light and fluffy confection that is satisfying but not too rich or overwhelming. This one is definitely a keeper in our house. It's delicious, easy to make, beautiful and I can make it in a large dish or individual serving containers to switch it up.
Raspberry Cheesecake Mousse - 5 Smrt Points
This cheesecake mousse is just as delicious as the old fashioned cheesecake! It's quick and easy to make and is a beautiful finish for a meal. The whole family will love this treat!
Ingredients
1

cup

graham cracker crumbs

1/4

cup

unsalted light butter

melted

3 1/2

cups

fresh or frozen raspberries

2

tsp

unflavored or sugar free raspberry gelatin powder

3

Tbsp hot water

1

container fat free cool whip

12

oz

fat free cream cheese

softened

1 1/4

cups

powdered sugar

1

tsp

vanilla extract

Red food coloring

optional

leaves

Fresh raspberries & mintfor garnish

Topping

leaves

Fresh raspberries & mintfor garnish
Instructions
For the Mousse:
Puree the raspberries in a food processor and then strain to remove most of the seeds. Set the raspberry puree aside.

Beat the cream cheese until fluffy and smooth.

Add the powdered sugar and vanilla, beat until smooth.

Fold in the cool whip and food coloring (if using).

Refrigerate until using.

Sprinkle the gelatin in the water and let it sit for about 5 minutes.

Heat for 30 seconds in the microwave, then whisk for about 1 minute.

Allow the gelatin to cool for 3-4 minutes, or until warm. Be careful not to let it begin to set up.

Fold the gelatin mixture into the cream cheese mixture until well combined.

Refrigerate until using.
For the Crust:
Mix together the graham cracker crumbs and butter.

Press the mixture into the pan or dessert cups.

Pour or pipe the mousse mixture over the top of the crust.

Refrigerate until set, about 3 hours.

Add additional fresh raspberries and mint leaves before serving.
Entire recipe makes 12 servings
Serving size is about 1 piece (about 1/2 cup).
Each serving = 5 Smart Points
PER SERVING: 141calories; 5g fat; 2.6g saturated fat; 18.2g carbohydrate; 9g sugar; 6.7g protein; 2.7g fiber