Print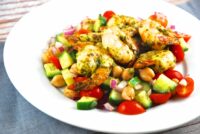 Moroccan Spiced Shrimp Over Garbanzo Bean Salad
Light and flavorful, yet very filling, this shrimp dish is an absolute winner. Perfect for an easy weekend lunch or brunch, or light dinner.
For the shrimp
Combine all ingredients, except the shrimp in a food processor or blender, and puree until well combined. Toss the marinade with shrimp in a large bowl, cover, and let sit about 30 minutes.
For the salad
Grill shrimp on medium high heat, until cooked through, about 2-3 minutes on each side.

Combine the salad ingredients together and toss to coat. Divide salad and shrimp evenly among four plates and serve immediately.
Entire recipe makes 4 servings
Serving size is about 6-7 shrimp and 1 cup salad?Each serving = 4 Smart Points
PER SERVING: 138 calories; 4g fat; 0.5g saturated fat; 16g carbohydrates; 4.5g fiber; 4g sugars; 10g protein