Print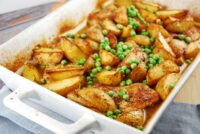 Chicken Vesuvio
A specialty of Chicago, this Italian American dish is a breeze to cook and features golden brown, crispy potatoes covered with garlic and oregano and wine.
Preheat oven to 400.

Heat 1 tbsp oil in a large skillet over medium high heat. Season the chicken generously with salt and pepper, then add chicken and brown on each side.

After chicken is browned, remove from skillet and add the remaining olive oil. Add the potatoes and brown on each side as well, then remove from skillet.

In a small bowl, mix together the oregano, garlic powder, and onion powder. Place chicken and potatoes into a large bowl and season well with oregano spice blend.

Add wine to skillet to deglaze the pan. Let simmer a minute and scrape the bottom of the pan.

Add the garlic cloves and chicken stock. Let simmer about 5-10 minutes until reduced by half.

Add chicken to a large baking dish, and then pour the wine/stock sauce over the chicken. Place the potatoes on top.

Bake for about 30 minutes until chicken and potatoes are well browned and crisp. Add frozen peas during last 5 minutes of baking.
Entire recipe makes 6 servings
Serving size is 1 chicken thigh and about 3/4 cup potatoes
Each serving = 7 Smart Points
PER SERVING: 281 calories; 8g fat; 1.5g saturated fat; 27g carbohydrates; 3.5g fiber; 3g sugar; 19g protein