Print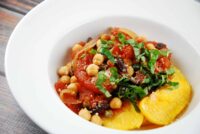 Chickpea Puttanesca Over Polenta
A traditional Italian puttanesca gets a healthy twist with the addition of garbanzo beans. Served over delicious polenta, this satisfying dish is a real treat.
Preheat oven to 375 degrees and line a baking sheet with parchment paper. Mist with cooking spray, and then spread out the polenta slices evenly on the sheet. Mist lightly with the cooking spray and place in oven to cook until golden brown, about 12-15 minutes.

In a large pot, heat the olive oil over medium high heat. Add the onion and saute until soft, about 5 minutes.

Add in the garlic, olives, and capers and cook for 2-3 minutes.

Add tomatoes. Simmer until the sauce is thickened and slightly reduced, about 20 minutes.

Add garbanzo beans, and adjust seasoning to taste.

Divide polenta between 4 plates and top with puttanesca sauce. Garnish with basil if desired.
Entire recipe makes 4 servings
Serving size is 3 slices of polenta with about 1 cup puttanesca sauce
Each serving = 6 Points +
PER SERVING: 204 calories; 7.5g fat; 1g saturated fat; 33g carbohydrates; 8.5g fiber; 3g sugar; 8g protein