Print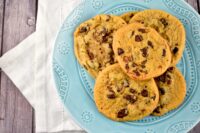 Weight Watchers Chocolate Chip Cookies
Satisfy your sweet tooth with these guilt-free chocolate chip cookies that will melt in your mouth. Light and delicious, they are the perfect end to any meal.
Preheat oven to 375ºF.

In a medium bowl, cream together butter, oil, and sugar. Add vanilla, salt, and egg white; mix thoroughly to combine.

In a small bowl, mix together flour and baking soda; stir into batter. Add chocolate chips to batter; stir to distribute evenly throughout.

Drop rounded half-teaspoons of dough onto one or two large nonstick baking sheets, leaving a small amount of space between each cookie. Bake cookies until golden around edges, about 4 to 6 minutes; cool on a wire rack.
Entire recipe makes 24 servings
Serving size is 2 cookies
Each serving = 3 Points*
*based only ingredients that have an SP Freestyle Value
Nutrition Facts
Weight Watchers Chocolate Chip Cookies
Amount Per Serving
Calories 60
Calories from Fat 21
% Daily Value*
Total Fat 2.3g 4%
Cholesterol 3mg 1%
Sodium 46mg 2%
Potassium 16mg 0%
Total Carbohydrates 9.1g 3%
Protein 0.8g 2%
* Percent Daily Values are based on a 2000 calorie diet.