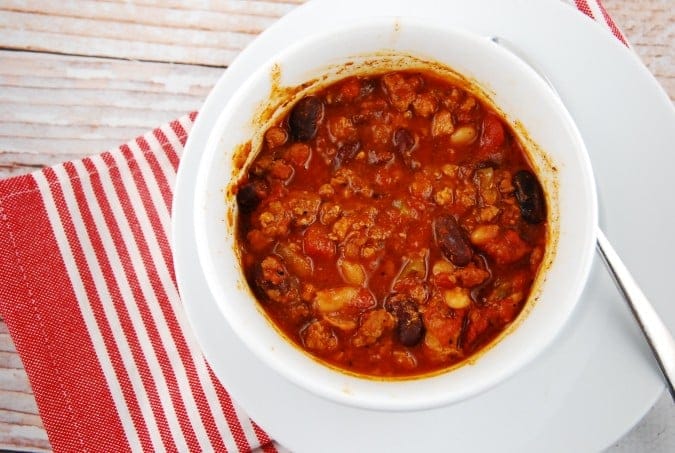 Chili has always been one of my favorite cold weather foods – there's just something so comforting and soul warming about it. And my Chipotle Chicken Chili Recipe has an extra boost of flavor heat to warm you up! Made with crumbled ground chicken and Italian sausage, this chili is packed with protein and is incredibly satisfying. I've made this recipe many times, and it's always well received. It can feed large crowds and is relatively inexpensive to make. And at just 7 Smart Points per serving, this Weight Watchers chili recipe tastes like a splurge, but is absolutely guilt free. If I have the time, I will let this cook for 3-5 hours….because the longer it cooks, the tastier it is. I also love serving it with a dollop of sour cream or shredded cheddar cheese, and some fresh chopped red onions. Soooooo yummy. Need a dish for game day or Super Bowl Sunday? This Chipotle Chicken Chili is it! Enjoy.
Heat a large stock pot over medium heat. Add in oil. When oil is hot, add in ground chicken, and chicken sausage. Cook evenly until browned.

Add in onions and garlic and heat for another minute or two.

Stir in all remaining ingredients and bring to a simmer. Then turn heat to low, cover and let cook for at least 2 hours, stirring occasionally. The longer it cooks, the better it tastes.

Remove from heat and serve with whatever chili toppings you desire.
Entire recipe makes 12 servings
Serving size is about 1 1/2 cups
Each serving = 7 Smart Points
PER SERVING: 332 calories; 5g fat; 1.5g saturated fat; 52g carbohydrates; 15g fiber; 5g sugar; 44g protein