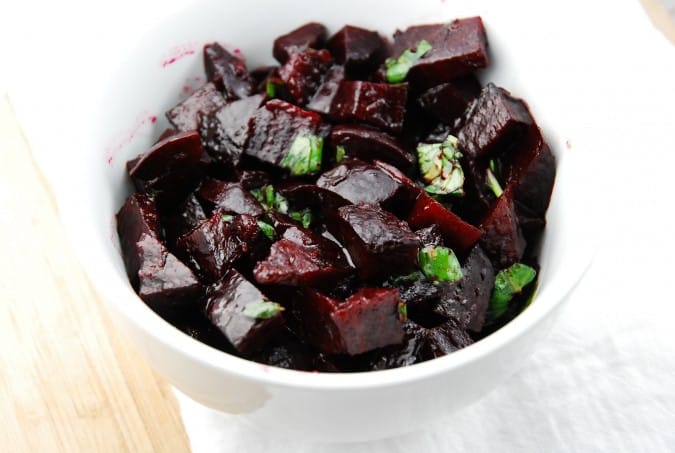 Beets are in abundance right now, and I love finding new and delicious ways to use them. Of course, I've had roasted beets by themselves, and I've added beets to my salads, but today's Weight Watchers recipe is for a very simple roasted beet salad that is just beets, basil and a dressing. And it is divine! I was amazed at how much flavor each bite had packed into it. There's a smoky and sweet taste from the beets, and then the peppery basil and tangy balsamic dressing are the perfect complement. This makes a wonderful and healthy Weight Watchers side dish recipe to serve with just about any meal. Take advantage of all those delicious beets this season and give this Roasted Beet and Basil Salad a try!
Roasted Beet and Basil Salad
Fresh, sweet, smoky and tangy, this delicious beet salad is absolutely bursting with flavor. The tender beets are tossed with fresh basil, and topped with a perfect dressing to enhance their natural flavor.
Ingredients
2 lbs fresh beets, washed and trimmed
1 tbsp olive oil
1/4 cup fresh basil, chopped
1 tbsp brown sugar
3 tbsp balsamic vinegar
Salt and pepper to taste
Instructions
Preheat oven to 450 degrees.
Mist beets with an olive oil mister, wrap in aluminum foil, then place in a roasting pan or dish.
Roast in the oven for about 1 hour or until beets are tender. Allow to cool, then peel off the skins.
Dice beets, and place in a medium sized bowl. Toss in the basil.
In a small bowl, whisk together the oil, vinegar and sugar, then pour over the beets and basil; toss well to coat. Season with salt and pepper as desired.
Preparation time: 15 minute(s)
Cooking time: 1 hour(s)
Diet type: Vegan
Diet tags: Low calorie, Reduced fat, Gluten free
Number of servings (yield): 4
Culinary tradition: USA (General)
Calories: 116
Fat: 3.5g
Protein: 2g
Entire recipe makes 4 servings
Serving size is about 1 cup
Each serving = 5 Smart Points/3 Points
PER SERVING: 116 calories; 3.5g fat; .6g saturated fat; 19g carbohydrates; 4g sugar; 2g protein; 4g fiber