The funny thing about mayonnaise is that I always hated it as a kid. For some reason, I could never get on board with the flavor. Nowadays, as an adult, I am full-fledged, car carrying mayo lover. If it wasn't so high in Points, I'd eat it straight out the jar with a spoon. In fact, my love for mayo has led me to get a little experimental in making my own, homemade mayonnaise recipes. Recently, I tried making a cholesterol free version, using just the egg white instead of the whole egg. And I used less oil.
For an added kick, I added some chopped up chipotle peppers in adobo sauce. This turned out to be the BEST DECISION EVER. I cannot even begin to tell you how good this is. I'm actually eating a grilled ham and cheese sandwich right now, with some if this Homemade Chipotle Cholesterol Free Mayonnaise because just writing about it was driving me mad. I needed to eat it…NOW. Super easy to make, and though it's not as low in Smart Points as I wanted it to be, it is still cholesterol free and absolutely delicious. Totally worth the 3 Points per serving. Treat yo'self!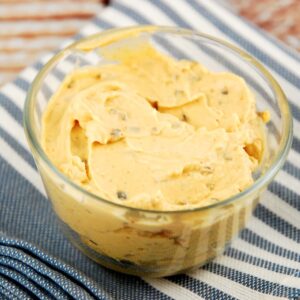 Homemade Chipotle Cholesterol Free Mayonnaise
Creamy, tangy, and with a bit of a kick, this cholesterol free homemade mayo is the perfect sandwich topper or salad dressing base.
Ingredients
1

large

egg white

3

tsp

fresh lemon juice

1

tbsp

chipotle peppers in adobo sauce

chopped

1/4

tsp

salt

(or more to taste)

1/4

tsp

dry mustard

1/2

cup

canola

oil
Instructions
Using an immersion blender, combine all ingredients in a large measuring cup, and blend until smooth, creamy, and well combined.
Notes
Entire recipe makes 12 servings
Serving size is 1 tbsp
Each serving = 3 Smart Points
PER SERVING: 82 calories; 9g fat; 0.7g saturated fat; 0g carbohydrates; 0g sugar; 0g fiber; 0.3g protein