It seems like my kids are like most other kids that I know. They love pasta. It's one of their favorite meals. And so, like a lot of moms, I find myself making it a lot. The problem is that even though I love pasta as much as they do, the carb laden meals always end up high in points.
Because of this, I'm always looking for a great way to still enjoy my favorite pasta dishes, but without the actual pasta. Of course, one of my favorite substitutes is the fabulous "zoodles". I love to spiral slice my zucchini and steam them up. It's a great way to enjoy my favorite pasta sauce with a very "pasta-y" feeling.
Recently, though, I decided to try roasted cauliflower instead of zoodles. And let me tell you, I like it even BETTER! You guys – it's really good!! I was amazed at how much I liked it. While it doesn't have the same spaghetti "feel" as the zoodles, the flavor is perfect.
One of the great things about pasta is that it's so mild. The mild flavor means that it pairs well with all your various pasta sauces. The sauce can shine, and the pasta just compliments the flavor because it's so mild.
That's where the cauliflower really was amazing. The cauliflower is so mild that it works just like the mild flavored pasta. It really allows the sauce to shine. I tried it with one of my favorites, light Bolognese sauce, and it was wonderful. It's a great way to enjoy a guilt free pasta dish.
There's another distinct advantage to roasted cauliflower. It's super easy. Just season the cauliflower with olive oil, salt and pepper. Then roast on a baking sheet while you make the sauce. When the cauliflower is tender, the sauce is done and you're ready for dinner. How great is that?
It does take a little bit of time to chop up the cauliflower into florets, but if you're in a hurry, you can get a bag of cauliflower florets. They're already chopped to the right size and often they're already washed so you can just use them right out of the bag.
I'll tell you what, I'm absolutely loving this Roasted Cauliflower Chicken with Bolognese. The cauliflower is easy and delicious.
The chicken is tender and juicy, and the Bolognese sauce is light and just tastes just delicious. The whole meal is just fabulous. My favorite part is that even though it tastes amazing, with the cauliflower and chicken breast, it's low in Points. That means I can enjoy one of my favorite pasta meals without an ounce of guilt!
Roasting is one of my favorite ways to prepare vegetables. There is something about roasting that really brings out the delicious flavor of the vegetables. They end up tender and delicious every time. I also love roasting them because I don't drain off the nutrients in the water they're steamed or boiled in. And, to top it all off, while the veggies roast, I can make the rest of the meal.
Try swapping out the traditional high calorie pasta for this delicious roasted cauliflower. It makes this Bolognese lighter and healthier, but the roasting gives the dish a special flavor.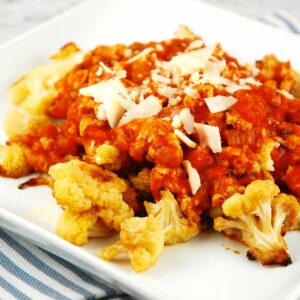 Roasted Cauliflower Chicken Bolognese Recipe
Alternating roasted cauliflower for high calorie pasta noodles not only makes this bolognese recipe lighter and healthier, but the flavor from the roasting gives this dish that extra something special.
Ingredients
2

medium

head of cauliflower

-

(chopped into florets)

1

lb

ground chicken breast

1

25oz

jar of marinara sauce

4

cloves of garlic

-

(minced)

1

small

onion

-

(finely chopped)

1

tsp

dried parsley

1

tsp

dried oregano

3

tsp

olive oil

-

(divided)

Salt and pepper to taste
Instructions
Preheat oven to 425 degrees. Line a late baking sheet with parchment paper and mist with cooking spray.

Place cauliflower florets in a large bowl. Add in 2 tsp olive oil, and salt & pepper. Toss well to coat. Transfer cauliflower to baking sheet, place in oven and roast until golden brown, about 18-20 minutes.

Meanwhile, make bolognese sauce by heating remaining olive oil in a large skillet over medium high heat. Add in onions and garlic, and cook for about 1-2 minutes.

Add in ground chicken, dried oregano and parsley, and cook, whole breaking up with a wooden spoon, until chicken is browned.

Turn heat to low, stir in marinara sauce, cover, and simmer for another 10-15 minutes. Divide roasted cauliflower onto 6 plates, and top with bolognese sauce.
Notes
The entire recipe makes 6 servings
The serving size is about 1 cup cauliflower, 1/2 cup bolognese sauce
Nutrition
Calories:
251
kcal
(13%)
Carbohydrates:
19.6
g
(7%)
Protein:
26.8
g
(54%)
Fat:
6.3
g
(10%)
Saturated Fat:
1.2
g
(8%)
Cholesterol:
18
mg
(6%)
Sodium:
545
mg
(24%)
Potassium:
627
mg
(18%)
Fiber:
5.3
g
(22%)
Sugar:
11
g
(12%)
Calcium:
40
mg
(4%)
Iron:
1.6
mg
(9%)