The holidays are coming up faster than I can believe. It might only be September, but before we know it, it'll be Thanksgiving and then Christmas! With the holidays coming up so soon, I thought I'd share one of my all-time favorite holiday salad recipes.
This Pomegranate, Apple, and Date Salad is one that I've made more times than I can count. It's perfect for the holidays – beautiful, tasty, and very easy. It's a perfect complement to many meals.
Me, I love to have this salad during Rosh Hashanah, because it's full of the symbolic foods of the holiday. Rosh Hashanah is celebrated in the fall each year and there are always delicious and traditional foods. Many of the dishes include symbolic foods – apples (particularly apples dipped in honey), dates, pomegranates, black-eyed peas, leek, spinach, and gourds.
Even though I have it every year for Rosh Hashanah, it's one that I also frequently bring to Christmas dinner parties and Thanksgiving. It's a simple and delicious salad with a refreshing holiday flavor.
One of the great things about this salad is that it's so versatile. It can be used for holiday meals, but it can be added to just about any meal you like. If you want to, you can sprinkle on some cheese – gorgonzola, blue or brie wedges – or swap out the dates with fresh figs or persimmons. I've also made this salad for lunch by adding some sliced, grilled chicken breast on top.
I love how simple this salad is to put together. Simply toss together the salad ingredients and whisk together the dressing ingredients. Dress the salad and you're done. This dressing is one that is simple and incredibly versatile. It's a simple oil and vinegar dressing that's dressed up with some honey, lemon juice, and garlic. It's an easy one to keep in the fridge and just shake up before adding it to any of your favorite salads.
Not only is this salad delicious and simple, but it's packed with amazing food as well. Pomegranates are a great source of antioxidants, but they're also a wonderful source of vitamins A, C, and E. They also have high levels of folic acid.
Dates are rich in calcium, iron, and potassium as well as a number of other vitamins and minerals. They're also a great source of fiber in your diet, so a couple of dates along with a glass of water as a snack can help boost your energy and help you feel satisfied without overeating. Plus, they help satisfy that sweet craving!
And don't be afraid of the walnuts in this salad. While walnuts are typically higher in points, they're also high in potassium, calcium, and magnesium. Not to mention they're a wonderful way to get some omega-3 fats in your diet.
The olive oil in the dressing is also a source of omega-3 fats. But, the dressing can have another potential benefit for you as well. If you're someone who suffers from seasonal allergies, honey is a great way to build your immunity. Make sure to buy pure local honey to help boost your immunity against seasonal environmental allergies.
Give this delicious, nutritious salad a try during this holiday season. You won't be disappointed with its beauty or its incredible flavor.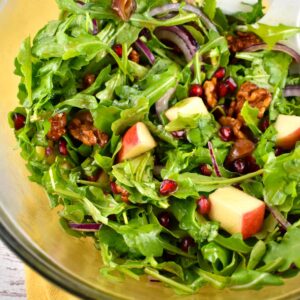 Pomegranate Apple Date Salad Recipe
A beautiful Rosh Hashanah salad that is brimming with symbolism and flavor. This easy salad recipe makes the perfect complement to any holiday feast.
Ingredients
6

oz

arugula

½

red onion

-

(thinly sliced)

1

apple

-

(cored and diced)

6

dried dates

-

(chopped)

½

cup

pomegranate seeds

¼

cup

walnuts

-

(chopped)

1

tbsp

olive oil

2

tbsp

red wine vinegar

1

tbsp

honey

1

tbsp

fresh lemon juice

1

clove of garlic

-

(minced)

Salt and pepper to taste
Instructions
In a small bowl, whisk together the olive oil, lemon juice, red wine vinegar, garlic, honey, and salt & pepper.

Combine remaining ingredients in a large bowl. Pour in dressing and toss to combine.
Nutrition
Serving:
1
cup
Calories:
126
kcal
(6%)
Carbohydrates:
18.6
g
(6%)
Protein:
2.5
g
(5%)
Fat:
5.7
g
(9%)
Saturated Fat:
0.6
g
(4%)
Sodium:
9
mg
Potassium:
245
mg
(7%)
Fiber:
2.6
g
(11%)
Sugar:
14
g
(16%)
Calcium:
40
mg
(4%)
Iron:
0.9
mg
(5%)