Chicken wings are one of the most popular and widely consumed foods in this country. However, the traditional chicken wings that you typically find at your local pub are often deep-fried and loaded with saturated fat, making them a big no-no for those trying to eat clean. Fortunately, with a little help from an air-fryer, you can enjoy these lemon pepper chicken wings, but this time – without the guilt.

How Does an Air-Fryer Work?
Who doesn't love some crispy, crunchy food from time to time? Often, fried food is avoided because of its tendency to not be so healthy. Well, the air-fryer has changed the game when it comes to that savory, fried food texture.
The air-fryer differs greatly from a traditional deep-frier due to one essential component – oil! The air-fryer does not need oil to create crispy food.
This crafty machine works by blowing hot air around the food inside of a perforated basket. It is similar to a convection oven, but the force of air is stronger, which is why the food turns out crispier.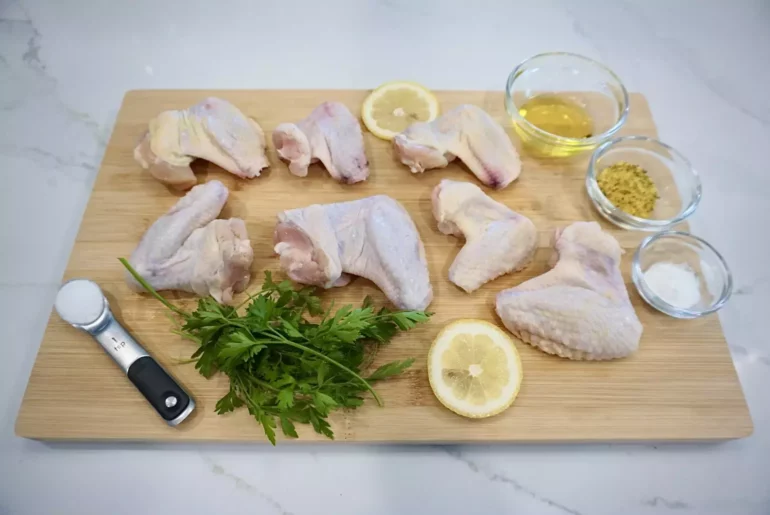 Let's compare the nutritional content of a 4-ounce serving of chicken wings – with one being prepared using the air-fryer and the other being deep-fried. The air fryer wings contain 240 calories and 20 grams of fat, whereas the deep-fried wings contain 400 calories and 35 grams of fat!
Recipe Variations
Although this recipe is for lemon pepper wings, you can modify the flavor of these wings in a number of different ways. Just use the same recipe listed below, but omit the lemon pepper seasoning. Then, try out any of these different variations.
Buffalo wings: Mix together ½ cup of Franks hot sauce, ¼ cup of unsalted butter, 1 tablespoon of white vinegar, and a dash of cayenne and garlic powder. Once the chicken is cooked, toss them in the sauce until they are evenly coated.
BBQ wings: In a saucepan over medium heat, whisk together 1 cup of ketchup, ¼ cup of apple cider vinegar, 2 tablespoons of brown sugar, 1 tablespoon of honey, ½ tablespoon of Worcestershire sauce, and ½ tablespoon of lemon juice. Allow it to simmer and then toss the cooked chicken with the sauce and get ready to dive in! You can also opt for your favorite pre-made BBQ sauce, such as Sweet Baby Rays or Stubbs.
Honey-garlic wings: In a saucepan over medium heat, whisk together ¼ cup of soy sauce, ¼ cup of honey, ⅓ cup of brown sugar, 1 ½ tablespoons of minced garlic, 2 tablespoons of rice vinegar, and 2 teaspoons of cornstarch. Allow the sauce to simmer and thicken and then pour over the cooked wings. Voila!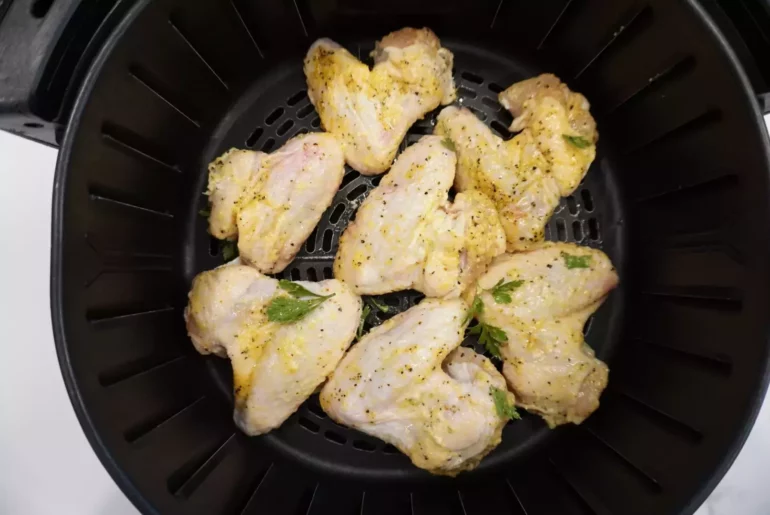 Perfect Pairings
The first thing that comes to my mind when I think of chicken wings, is a side of french fries. But, there are so many other delicious and nutritious options.
If you are looking for some ideas on what would pair well with your scrumptious lemon pepper chicken wings, go ahead and try out any of these sides.
Vegetable crudites: Create a platter with some freshly cut veggies and a side of light ranch. Slice up an array of carrots, bell peppers, celery, grape tomatoes, and broccoli florets.
Baked potato: You can't go wrong with a jumbo-baked potato topped with all of your favorite fixings.
Butternut Squash Macaroni & Cheese: For a true comfort meal, try pairing your wings with this tasty mac n cheese dish.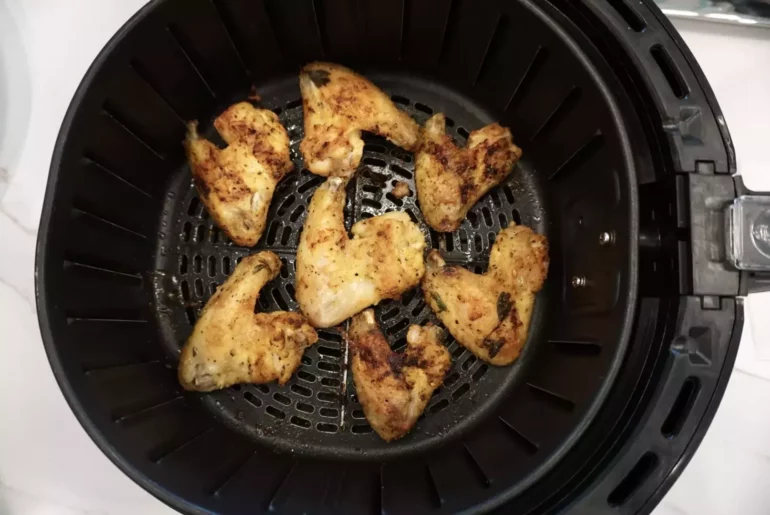 Air-Fryer Lemon Pepper Chicken Wings Recipe
Whether you are looking for a tasty hors-d'oeuvre to bring to your next get-together or an easy weeknight family meal, this delicious air-fryer chicken wing recipe will be your go-to option. These wings contain minimal ingredients and are gluten-free, dairy-free, low-carb, and keto-friendly.
Ingredients
1 ½

pounds

chicken wings

1

tablespoon

olive oil

2

teaspoons

lemon pepper seasoning

1

teaspoon

salt

1

teaspoon

baking powder
Instructions
Preheat the air-fryer basket to 380°F.

Pat the chicken wings with a paper towel until they are dry.

In a large bowl, toss together the wings, olive oil, lemon pepper seasoning, salt, and baking powder.

Place wings in a single layer in the pre-heated air-fryer basket and cook for a total of 20 minutes, flipping the wings halfway through. Cook until golden brown and internal temperatures reach a minimum temperature of 165°F.
Notes
Baking powder is what helps make the wings extra crispy.
For extra crispy skin, increase the temperature to 400°F and cook for an additional 2 minutes.
Storage Instructions:
Air-fryer chicken wings can be stored in the fridge in an air-tight container for up to 3 days. To reheat, either place in preheated air-fryer on 380°F for 3-5 minutes, or microwave in a microwave safe-dish for 2-3 minutes.
Nutrition
Serving:
4
oz
Calories:
240
kcal
(12%)
Carbohydrates:
0
g
Protein:
19
g
(38%)
Fat:
20
g
(31%)
Saturated Fat:
5
g
(31%)
Cholesterol:
80
mg
(27%)
Sodium:
1353
mg
(59%)
Fiber:
0
g
Sugar:
0
g