There is something so satisfying about biting into a freshly baked donut. It is one of the most popular and tasty morning delicacies! Unfortunately, satisfying your sweet tooth can leave you with feelings of guilt. This is because traditional fast-food and store-bought donuts are extremely high in calories, sugar, and saturated fat.
Luckily, there is a better, homemade option for preparing your favorite tasty treat, all with a little help from an air fryer.
This air fryer powdered sugar donut holes recipe is also great for when time may not be on your side! Since this recipe does not use yeast, you don't have to spend countless hours kneading dough and waiting for it to rise. To curate these delicious donut holes, all you need is 20 minutes and a few simple ingredients!


Traditional vs Air Fryer Donuts
Traditional donut holes that you would find at your local coffee shop are usually made with processed sugars, animal fats, artificial flavors, and preservatives. They are then submerged in oils and deep-fried. This deep frying process adds an unnecessary amount of saturated fat.
These unhealthy dietary fats lead to weight gain and also increase the levels of bad cholesterol in the bloodstream.
On the other hand, air fryer donut holes obtain their crispy exterior and soft interior without having to be dipped in a tub of oil. Instead, they get their texture from the circulating heat in the air fryer.
If you compare the nutritional facts of the air fryer donut holes to most alternatives on the market, the air fryer donut has half the amount of calories and fat!
Air Fryer Donut Topping Variations
Traditional Glaze: To create a traditional donut glaze, mix ⅓ cup powdered sugar with 2 tablespoons of milk in a medium bowl. Whisk the two ingredients until an icing consistency develops. For dairy-free, you can use water in place of milk.
Chocolate Glaze: To create a chocolate glaze for your donut holes, simply mix ⅓ cup powdered sugar and 1 tablespoon cocoa powder in a medium bowl. Then, slowly stir in ½ tablespoon of milk or water, and ½ tsp vanilla extract.
Nutty Crunch: For a more savory twist, you can add a layer of some of your favorite mixed nuts. Finely chop up 1 tablespoon of almonds, 1 tablespoon of cashews, and 1 tablespoon of peanuts and combine. Add in ½ teaspoon of almond extract and 1 tablespoon of maple syrup and mix until combined.
Cinnamon sugar: For a classic favorite, all you need to do is combine ½ cup of granulated sugar and 1 tablespoon of cinnamon.
Maple glaze: Stir together ½ cup powdered sugar and 5 Tablespoons of pure maple syrup. Toss donuts in the glaze and voila!
Oven-Baked Donuts
Don't have an air fryer? That is no problem! These donut holes can be baked in your standard convection oven. Just preheat the oven to 375 ℉ and line a large baking sheet with parchment paper. Bake the donut holes for 8 minutes, or until slightly golden in color. Immediately transfer them to a large bowl to toss with the powdered sugar. Place the donut holes on a cooling rack and allow them to cool for 5 minutes before serving.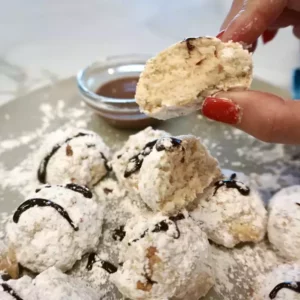 Air Fryer Powdered Sugar Donut Holes Recipe
These air fryer donut holes are sure to satisfy any sweet tooth. And the best part is - you don't need to feel like you are cheating on your diet. They are also dairy-free, cholesterol-free, and low in both sugar and fat. So, next time you are looking for a tasty treat that only takes a few minutes to prepare, I definitely recommend giving these a try!
Ingredients
1

cup

All-Purpose Flour

3

tbsp

Coconut Oil

¾

cup

Unsweetened Apple Sauce

1

tsp

Vanilla Extract

1

tsp

Honey

2

tbsp

Granulated Sugar

1

tsp

Baking Powder

½

tsp

Salt

Nonstick cooking spray
For Powdered Sugar Coating:
Instructions
Preheat the air fryer basket to 370°.

While the air fryer is preheating, take a large bowl and combine the wet ingredients (coconut oil, apple sauce, honey, and vanilla). Mix the ingredients together until mostly combined.

Add all of the dry ingredients to the bowl of wet ingredients (flour, sugar, baking powder, sugar, and salt) and mix until combined.

Once the air fryer is done preheating, spray the basket with nonstick cooking spray. Take about 1 Tablespoon of dough at a time and roll it in your palms until it forms a small donut hole shape. Place donut holes in the air fryer, making sure to leave space in between and not overcrowd the basket. You can always cook it in two batches if necessary.

Air-fry the donut holes for 6 minutes total. After 3 minutes, use tongs to flip each donut hole to the other side and then cook for the remaining 3 minutes.

Take the powdered sugar and place it into a large bowl. Once the donuts are done cooking, use a tong to place them directly into the bowl of powdered sugar and toss until they have been evenly coated. The sugar will stick to the donuts best while they are still warm.

Place on a cooling rack for 5-10 minutes and enjoy!
Notes
The dough can get very sticking while shaping the donut holes! This is normal. To help with this, you can coat your palms with a bit of flour to help prevent your hands from getting too sticky. You can also refrigerate the dough for 30 minutes prior to shaping the donut holes.
Storage Instructions:
These donuts are best enjoyed fresh, but they can be stored in an air-tight container or Ziploc bag at room temperature for up to 3 days. If you prefer them warm, you can heat them up in the microwave for 15 seconds.
Nutrition
Serving:
1
donut hole
Calories:
48
kcal
(2%)
Carbohydrates:
7
g
(2%)
Protein:
1
g
(2%)
Fat:
2
g
(3%)
Saturated Fat:
1
g
(6%)
Cholesterol:
0
mg
Sodium:
84
mg
(4%)
Fiber:
0
g
Sugar:
2
g
(2%)