Chicken salad is the perfect summer dish. Whether it is served at a barbeque, picnic, or Sunday brunch, it is always a hit. Many chicken salad recipes can be loaded with saturated fat and hidden calories, but I am going to share a low-fat curry chicken salad recipe that will leave you feeling light and energized.
This chicken salad recipe only takes a couple of minutes to prepare and requires no cooking. This recipe variation uses already cooked rotisserie chicken from the supermarket to make the preparation process as simple as possible!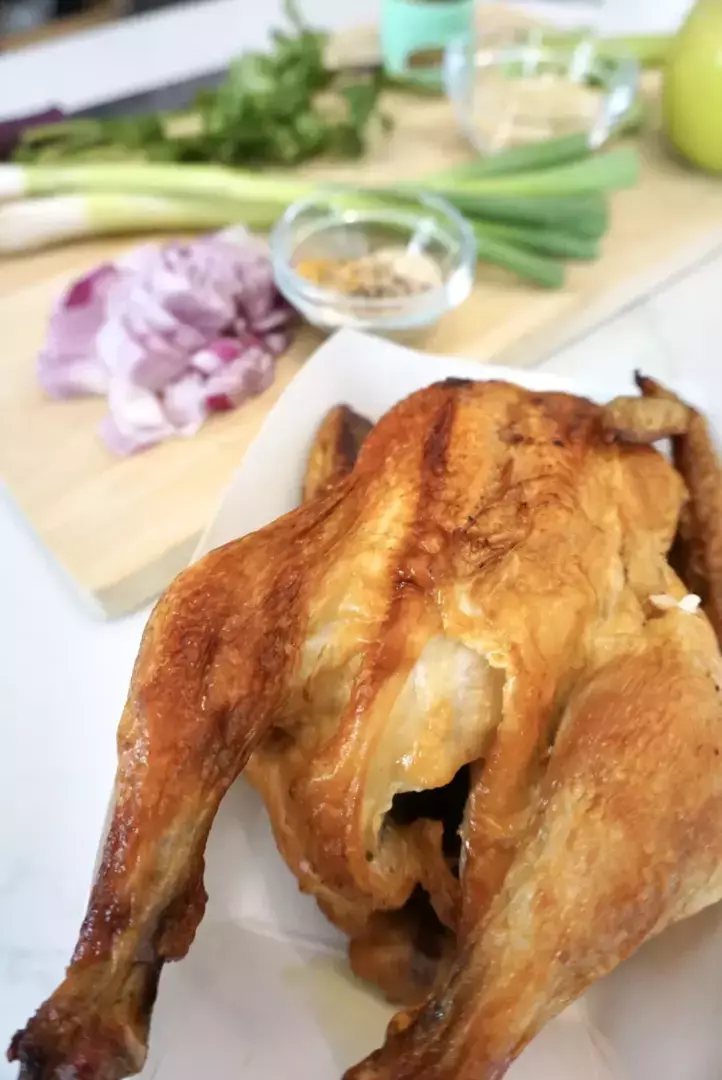 Is Chicken Salad Healthy?
Unfortunately, the traditional chicken salad recipe is drenched in mayonnaise, which results in an abundance of calories, saturated fat, and cholesterol. In moderation, mayonnaise is not so bad, but since the serving size for mayo is so low, the calories add up fast. For instance, one tablespoon of regular mayonnaise contains 90 calories and 10 grams of fat. And – how many tablespoons of mayo do you think end up going into your single scoop of chicken salad? Probably close to 4 or 5! That is almost 500 calories and 50 grams of fat – in JUST mayonnaise!
I know that must sound disappointing, but luckily – there is a solution! You can lighten up your chicken salad, tuna salad, or whichever salad you create by swapping out mayonnaise for non-fat Greek yogurt and/or light sour cream. These are great replacements because they have very similar textures to mayonnaise, but without all of the added calories and fat.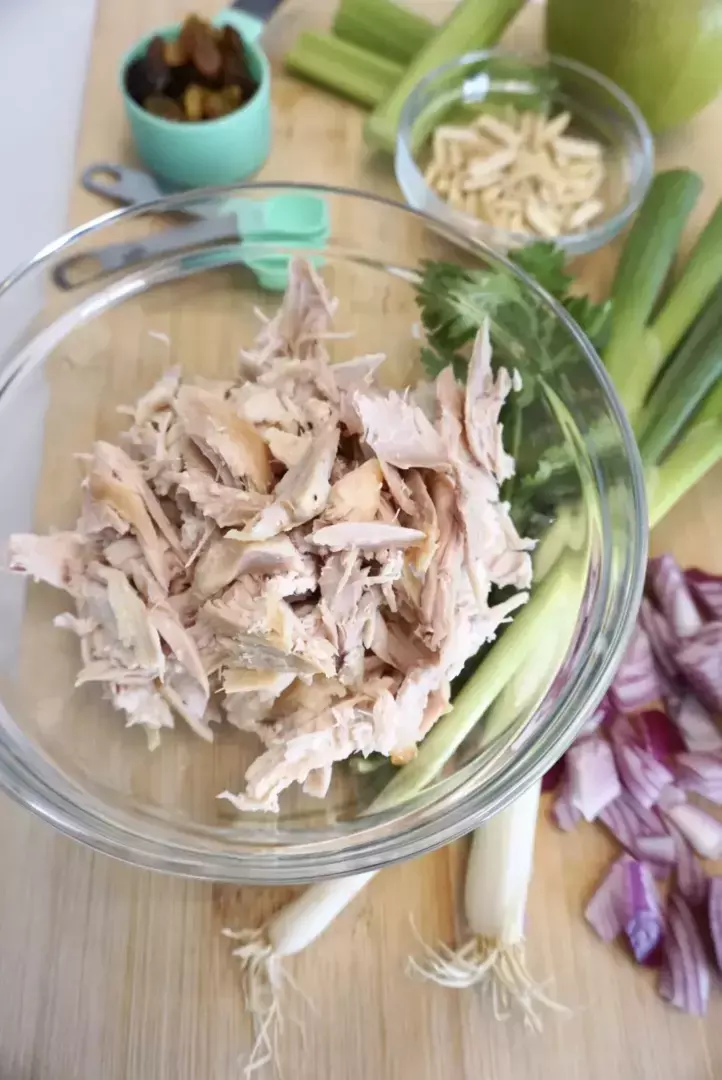 How To Make Chicken Salad
Chicken salad is very simple to prepare, especially if you use already cooked rotisserie chicken. My go-to move is picking up an already fully cooked rotisserie chicken from my local supermarket, shredding it apart, and voila! You just have to mix the ingredients for the dressing, toss it with the shredded chicken, allow it to chill, and the chicken salad is complete.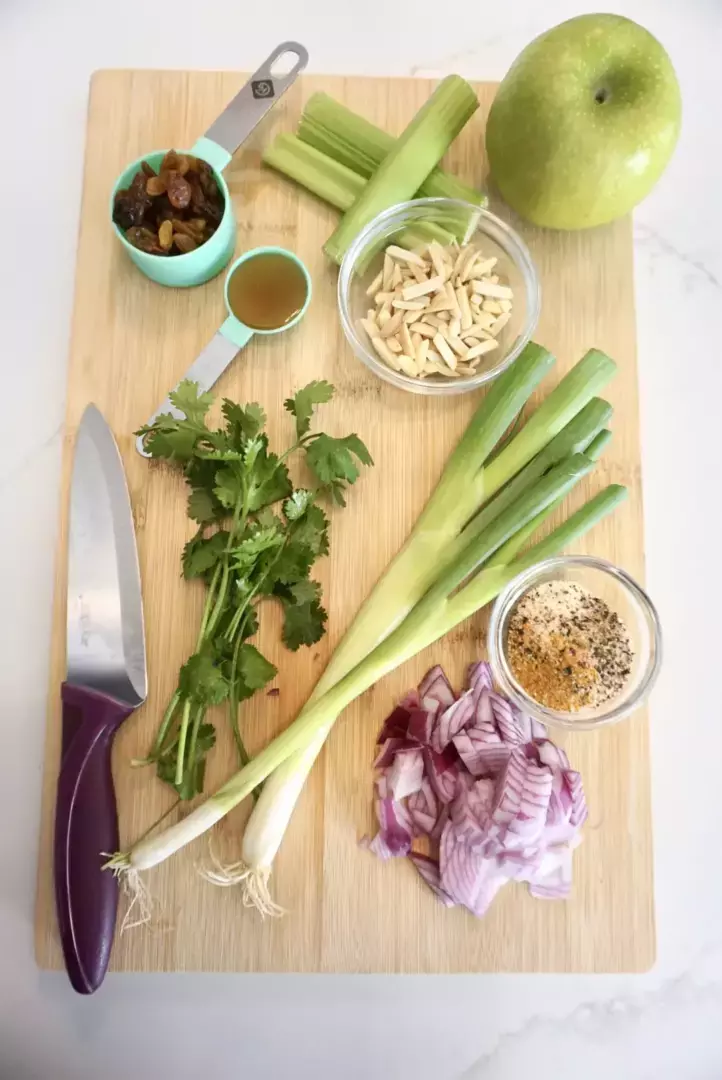 How To Serve Chicken Salad
Chicken salad is always such a fabulous dish because it can be served in a variety of ways.
On a bed of lettuce – For a simple and delicious option, dish out a scoop of chicken salad and place it on top of your favorite mixed greens. Iceberg lettuce, arugula, and spinach are great choices! You can even toss in some balsamic dressing and other fresh vegetables.
As a sandwich or wrap – Place a scoop of chicken salad between two slices of multigrain bread or a whole-wheat tortilla. Adding these complex carbohydrates to your meal will give you an extra boost of fiber.
In a lettuce wrap – If you are looking for a sandwich feel, but are limiting your carbohydrate intake, then ditch the bread and opt for a crispy lettuce wrap! Take a large leaf of Iceberg or Boston lettuce and place the chicken salad inside.
With crackers and fresh-cut vegetables – Another great option is to serve a scoop of chicken salad with a selection of your favorite vegetables and a serving of thin and crispy crackers. Some vegetables that would pair great would be cucumbers, zucchini, cherry tomatoes, and baby carrots.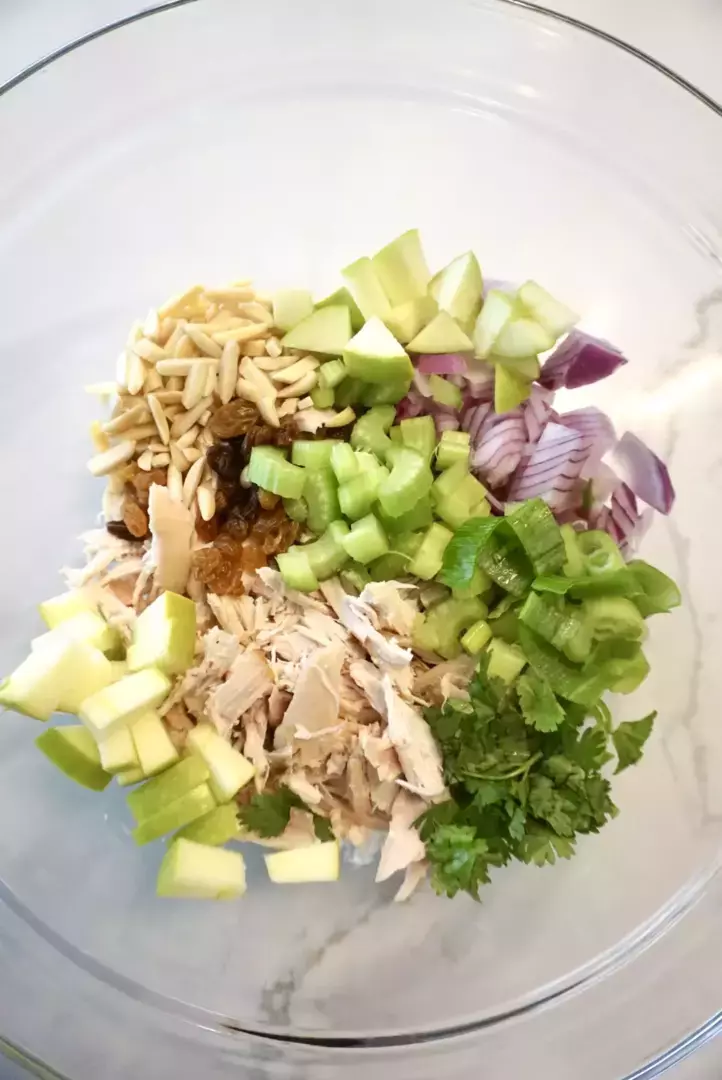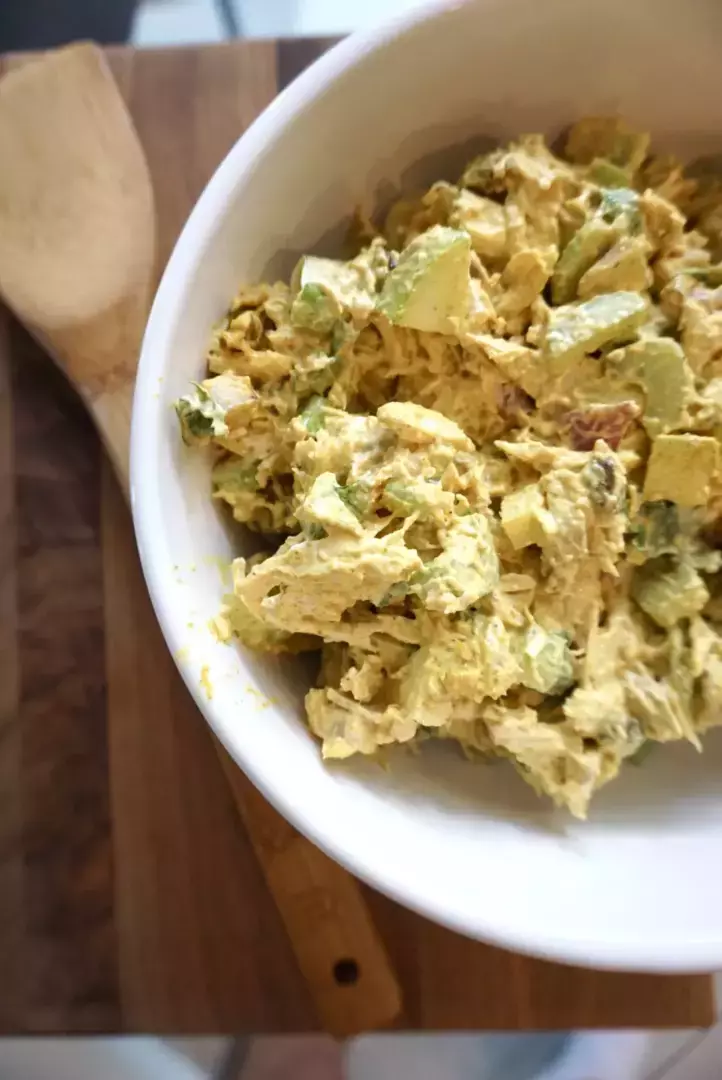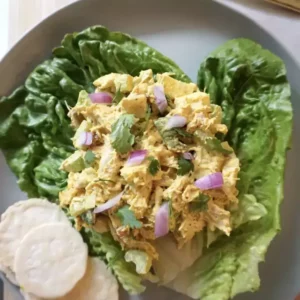 Low-Fat Curry Chicken Salad Recipe
You can't ever go wrong with serving up a platter of chicken salad. Whether you are going to bring it to your next outdoor picnic, or meal prepping it for lunch for the week ahead, you will be satisfied with the abundance of flavors that this salad has to offer. And the best part is - it is gluten-free and low-fat. Enjoy!
Ingredients
For the dressing:
¾

cup

non-fat plain Greekyogurt

¼

cup

light sour cream

2

tbsp

curry powder

1

tbsp

honey

¼

tsp

turmeric

¼

tsp

onion powder

¼

tsp

salt

¼

tsp

black pepper
For the chicken salad:
3

cups

rotisserie chicken meat, white meat, shredded

4

green onions, thinly sliced

2

stalks celery, diced

¼

cup

red onion, diced

1

sweet apple, cored and diced

¼

cup

raisins

¼

cup

slivered almonds

¼

cup

cilantro, chopped
Instructions
In a small bowl, whisk together all of the ingredients for the dressing.

In another medium bowl, add all of the ingredients for the salad and mix until evenly combined.

Pour half of the dressing into the bowl of chicken salad and combine until evenly coated. Continue to add dressing slowly until your desired level of creaminess.

Cover and allow the chicken salad to chill in the refrigerator for at least 30 minutes.
Notes
Storage Instructions:
Place the chicken salad in an air-tight container and store it in the refrigerator for up to 4 days. Chicken salad tastes best when served cold.
Nutrition
Serving:
1
cup
Calories:
274
kcal
(14%)
Carbohydrates:
34
g
(11%)
Protein:
24
g
(48%)
Fat:
8
g
(12%)
Saturated Fat:
2
g
(13%)
Polyunsaturated Fat:
0
g
Monounsaturated Fat:
0
g
Cholesterol:
43
mg
(14%)
Sodium:
424
mg
(18%)
Fiber:
7
g
(29%)
Sugar:
18
g
(20%)