Most people don't get enough fruits and vegetables in their diets. We can make this more achievable by making our vegetables taste irresistible! Fruits and vegetables are an essential part of our diet because they contain important vitamins, minerals, and fiber.
With this pizza stuffed mushrooms recipe, you will be begging for veggies all day! This recipe is the perfect finger food to serve at a party or as a scrumptious side dish for your weeknight family dinner. Not to mention, they are gluten-free, vegetarian, low-carb, and keto-friendly. You can also add your own twist by including some of your favorite pizza toppings in the recipe.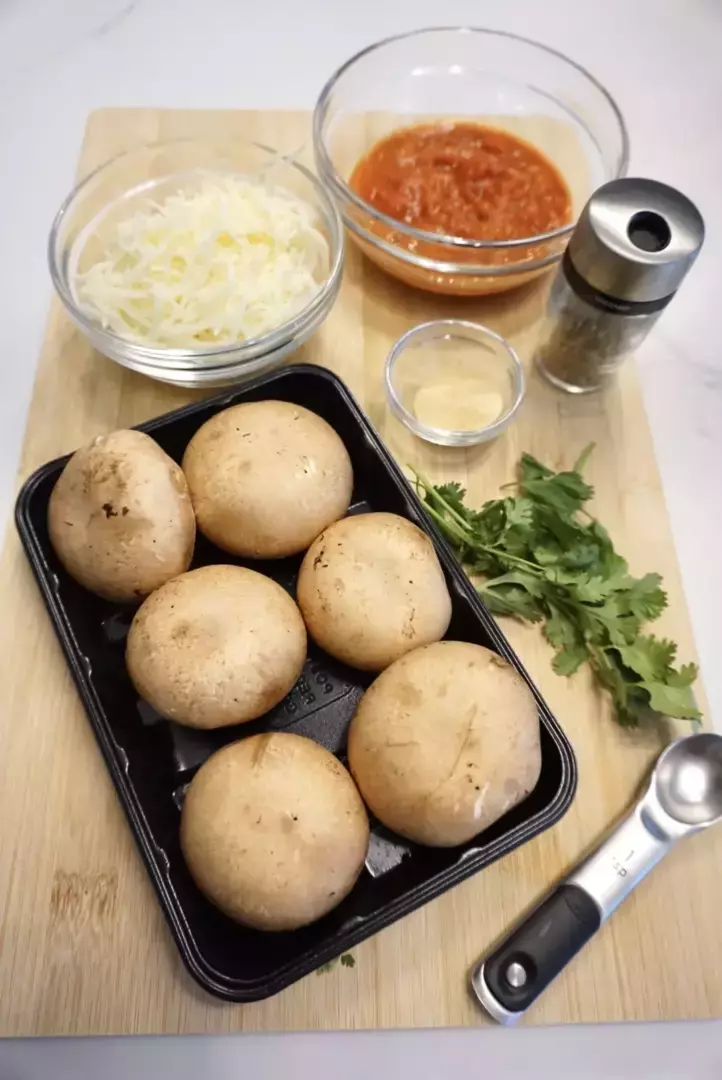 Are Mushrooms Healthy?
Mushrooms are one of the most nutritious foods because they contain a high amount of vitamins and minerals in such few calories. Mushrooms are a great source of selenium, magnesium, phosphorus, copper, thiamin, and vitamin D. Because of their impressive vitamin content, they are known to help support the immune system and fight free radicals.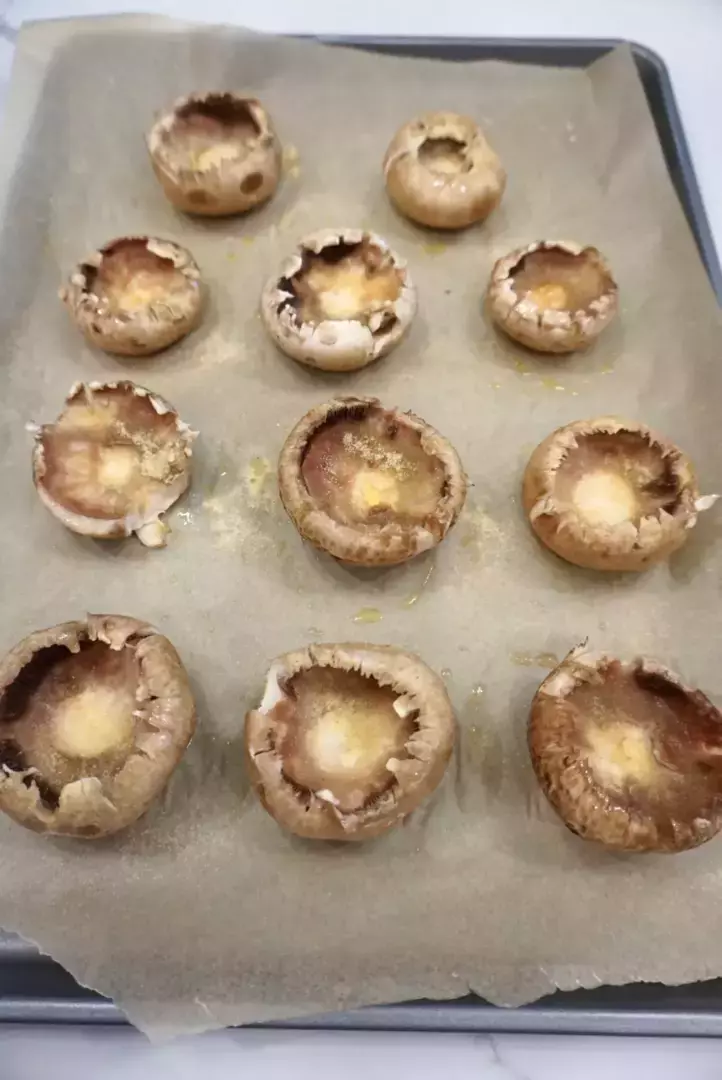 Mushrooms have also been shown to decrease the risk of cancer, prevent Alzheimer's disease, improve gut health, and promote lower cholesterol levels. With all of these health benefits, mushrooms should be an essential component of any balanced diet. A one-cup serving of mushrooms contains around 20 calories, but still packs in a good amount of fiber and protein.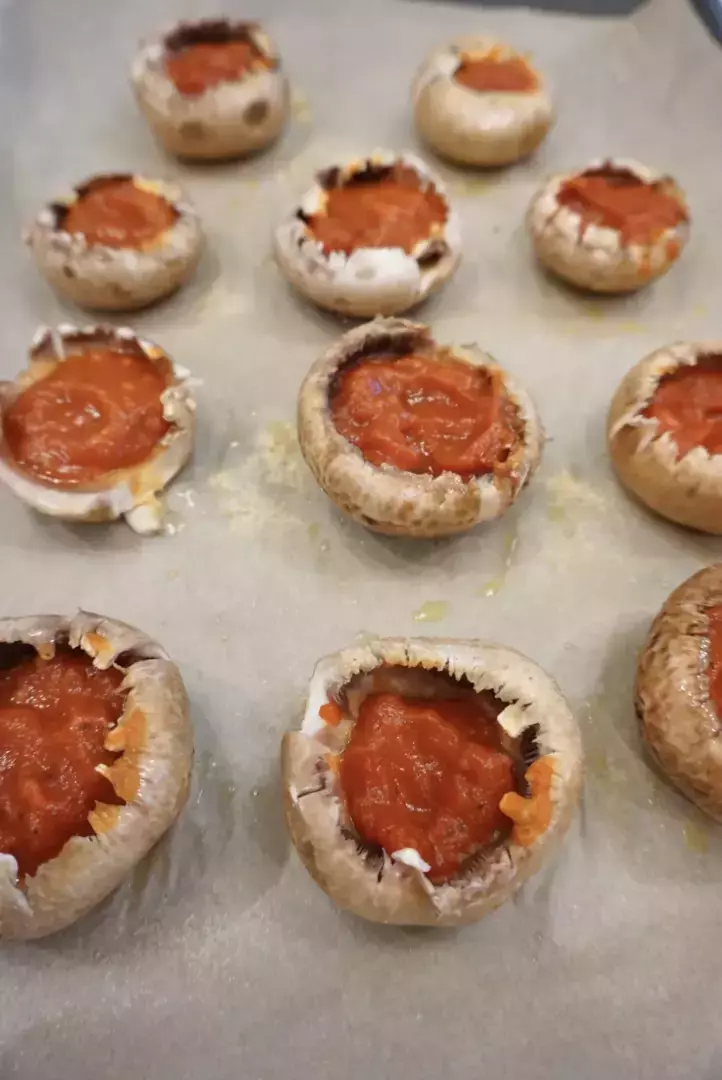 Stuffed Mushroom Recipe Variations
If pizza isn't your jam, try out one of these other stuffed mushroom variations! There are endless ways you can enjoy stuffed mushrooms.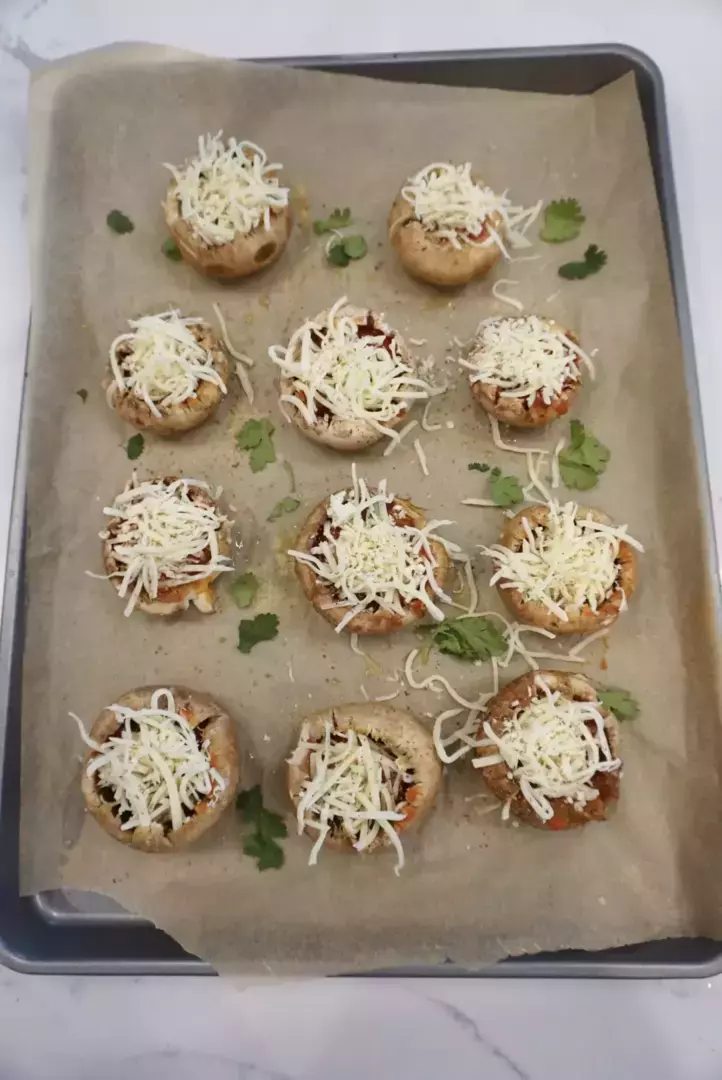 Broccoli cheese: In a saucepan over medium heat, add olive oil and combine grated cheese, grated broccoli, minced garlic, and diced onion. Stir until the mixture is heated and mixed well. Pour a spoonful of the mixture into each mushroom cavity and bake for 18 minutes at 450 F!
Crab: Take fresh crab meat and shred it into smaller pieces. Mix it with softened cream cheese, green onions, parmesan cheese, and parsley. Place mixture into mushroom cavities and top with a dash of breadcrumbs and melted butter before popping it into the oven. Bake for 20 minutes at 375 F.
Three-cheese: In a bowl, combine ricotta cheese, mozzarella cheese, and parmesan cheese with 1 egg. Drop a spoonful of the mixture into each mushroom cavity, sprinkle with breadcrumbs and bake at 400 F for 20 minutes. Broil at the end for two minutes for an extra brown and crispy crust!
Pizza Toppings
The recipe that is provided here is a blank canvas for you to add any other pizza toppings you like! The recipe below is comparable to a regular cheese pizza. If you are someone who enjoys olives, peppers, onions, or some other veggie on your pizza, go ahead and add it! Just make sure to dice up the toppings really well before placing them in the mushroom cavity. If you are a pepperoni fan, there are mini pepperoni slices that you can purchase that taste great on these pizza-stuffed mushrooms.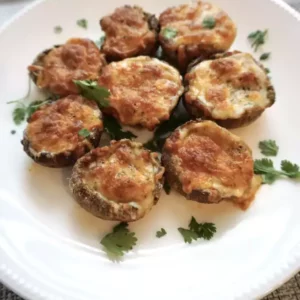 Pizza Stuffed Mushrooms Recipe
Pizza stuffed mushrooms are an easy way to get your daily dose of veggies but in a more exciting and delicious way! These stuffed mushrooms are gluten-free, vegetarian, and keto-friendly. They are a creative hors d'oeuvre to serve at your next party, or as a side dish with your main entree. Your taste buds won't be disappointed!
Ingredients
12

whole, portabella stuffing mushrooms, washed and stems removed

14½

oz

tomato sauce or pizza sauce

-

1 can

1

cup

shredded mozzarella cheese

2

tbsp

olive oil

1

tsp

garlic powder

Dry oregano

-

to taste

Fresh parsley or basil to top
Instructions
Preheat the oven to 450 F. Take a baking sheet and spray with non-stick cooking spray or line it with parchment paper.

Place mushrooms on the baking sheet and brush them with a light coat of olive oil. Sprinkle the mushrooms with garlic powder.

In each mushroom, add 1-2 teaspoons of tomato sauce and 1 tablespoon of mozzarella cheese, and a dash of dry oregano.

Bake for 18-20 minutes or until the cheese is brown and bubbly. Remove from oven and garnish with fresh parsley or basil.

Serve immediately and enjoy!
Notes
Storage Instructions:
Place leftover mushrooms in an air-tight container and store them in the refrigerator for up to 3 days. Simply reheat them in the microwave until fully warmed through.
These mushrooms can also be frozen to cook at a later time. Just prepare the mushrooms and do not bake them. Place them in a single layer in a freezer bag or freezer container. Once you are ready to bake them, transfer them to the refrigerator to defrost, and then bake them using regular instructions.
Nutrition
Serving:
2
stuffed mushrooms
Calories:
143
kcal
(7%)
Carbohydrates:
9
g
(3%)
Protein:
7
g
(14%)
Fat:
9
g
(14%)
Saturated Fat:
3
g
(19%)
Polyunsaturated Fat:
1
g
Monounsaturated Fat:
4
g
Cholesterol:
13
mg
(4%)
Sodium:
405
mg
(18%)
Fiber:
2
g
(8%)
Sugar:
7
g
(8%)