Making a delicious, nutritious, and sweet snack doesn't have to be complicated. Air fryer apple chips are an easy way to make a healthy snack with minimal effort. With this recipe, you can make healthy air fryer apple chips in no time at all. All you need is 15 minutes and a few ingredients!
You can make your own chips at home, just like the ones you find in stores. Air fryer apple chips are a great source of vitamins and minerals and taste amazing.
Whether you are looking for a tasty treat or a nutritious snack, these air fryer apple chips will hit the spot!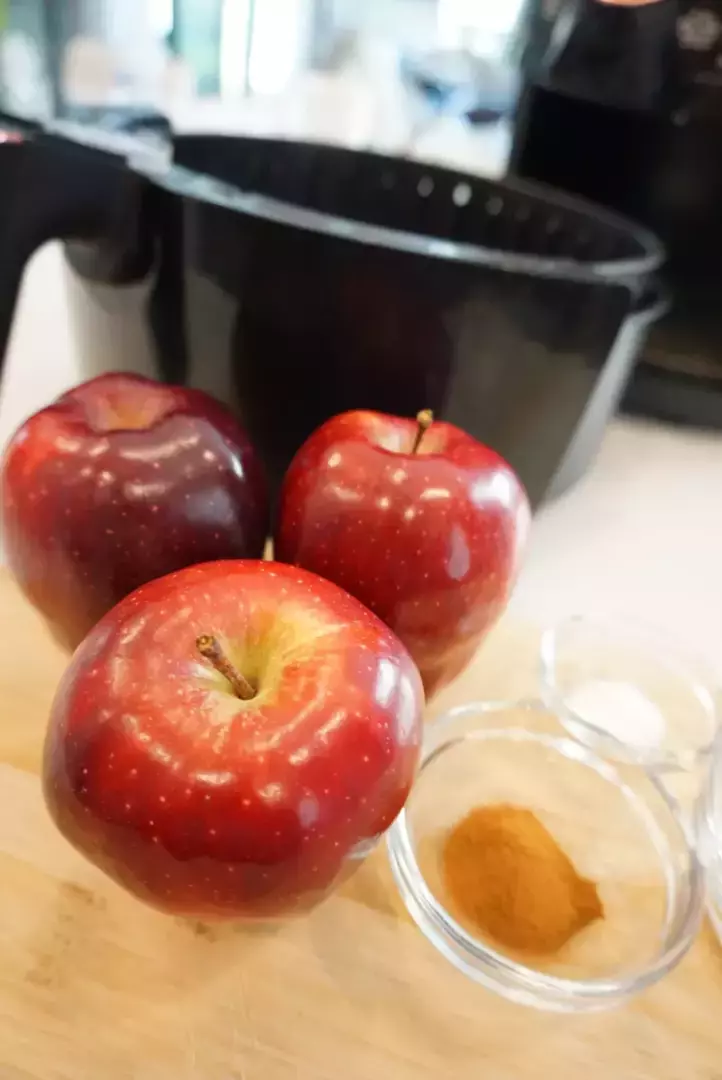 Are Apple Chips Healthy?
Apple chips are a much better alternative for a crispy snack than traditional potato chips. This is because apples are one of the healthiest fruits! Apples are rich in fiber, vitamins A and C, antioxidants, and minerals such as calcium and magnesium.
Eating an apple is a great way to get most of these essential nutrients without consuming too many calories. Additionally, apples contain pectin which helps with digestion, lowers cholesterol, and regulates blood pressure.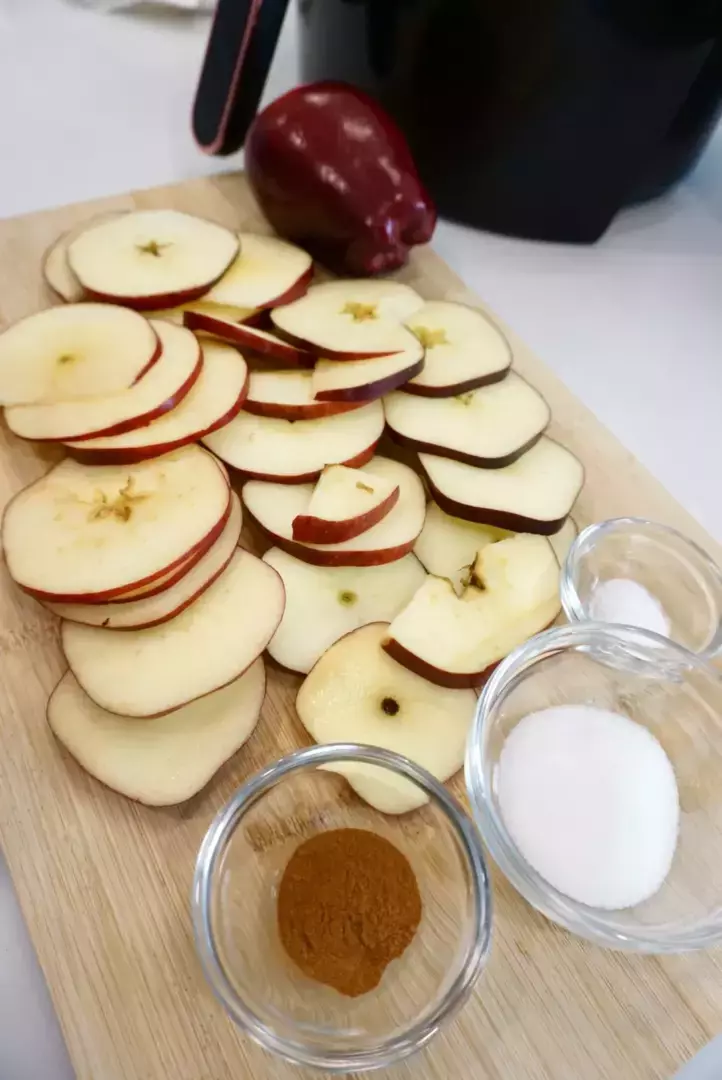 Apple chips provide all the same nutritional benefits as fresh apples with the convenience of a chip-like crunchiness that makes it easier to eat on the go! With far fewer calories than traditional potato chips or other processed snacks, apple chips make for a much better chip alternative while still providing plenty of flavors.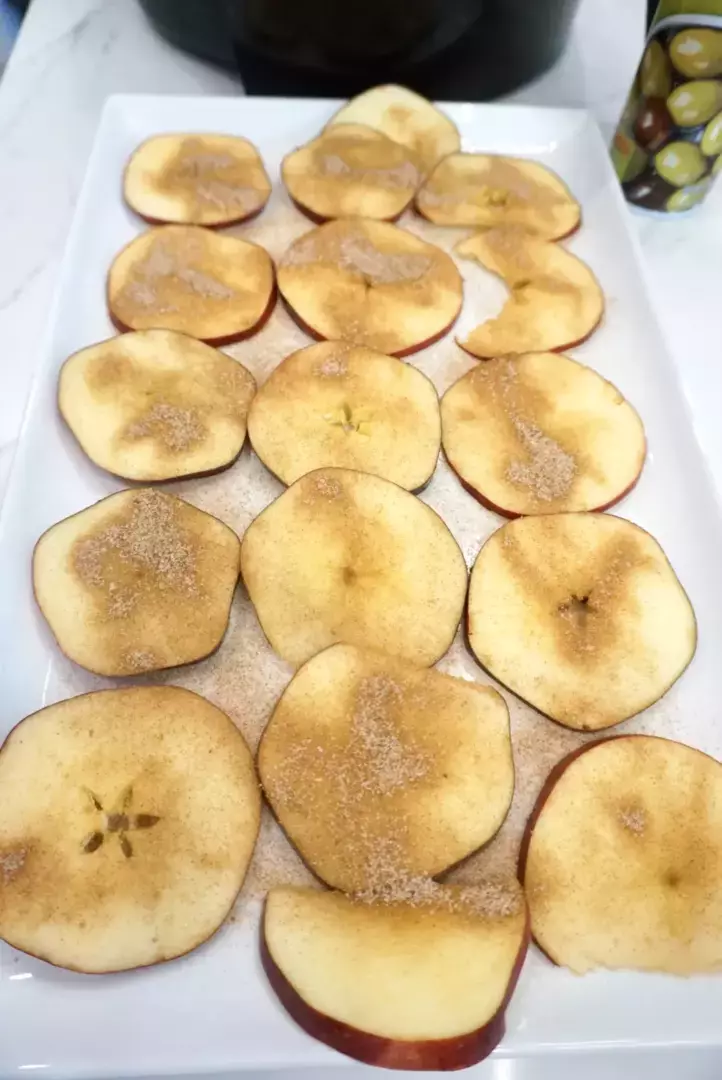 Can I Eat Apple Chips On A Low-Carb Diet?
Many people on low-carb diets may be wondering 'can I eat apple chips?' The answer is yes!
Apple chips only contain 4 grams of carbs per serving, which is only 1% of the daily recommended value for carbohydrates. This makes them an excellent choice for those looking to reduce their carb intake. Not only are they low in carbs, but they are also fat-free.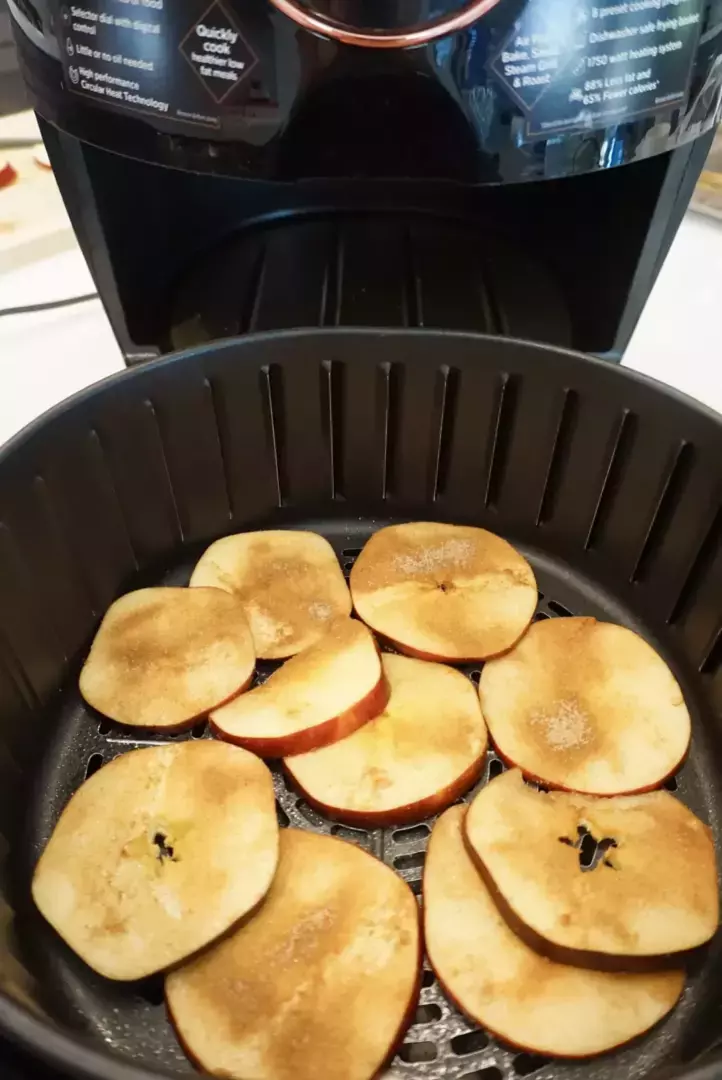 This is why apple chips are far superior to other potato chips. Potato chips are typically always high in saturated fat, sodium, and carbohydrates.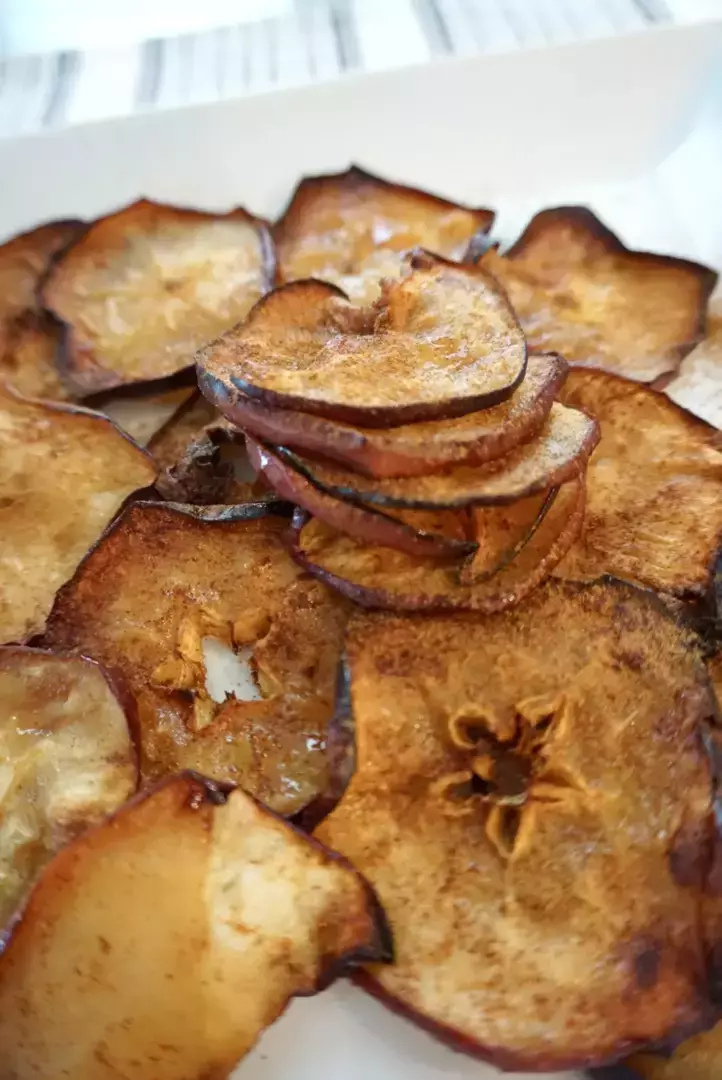 How To Make The Best Apple Chips
The first step to making tasty apple chips is to leave the skin on the apples. This will give your chips more flavor, as well as preserve more nutrients from the fruit. Once all of your apples are washed and dried, cut them into thin slices – about 1/8-inch thick – and remove any seeds or cores that may be in the center of each slice.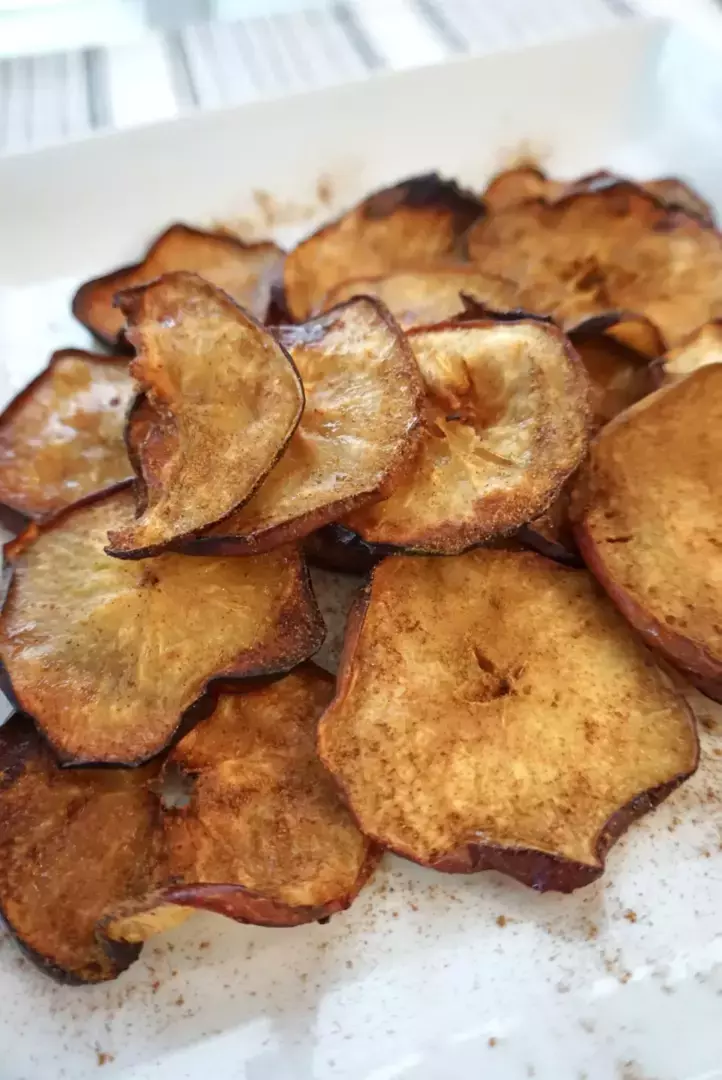 Baking your apple chips in the air fryer is the best way to ensure the most desirable texture and crispness. However, if you do not have an air fryer, you can bake them in the oven. The cooking time may need to be extended by a couple of minutes.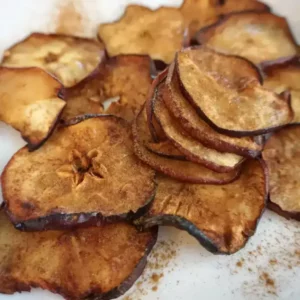 Air Fryer Apple Chips Recipe
Air fryer apple chips are a delicious snack that will be adored by everyone in your household! They are gluten-free, vegan, and nut-free, making them a wonderful option for those with dietary restrictions. These apple chips are made with just apples and some seasoning, making them an incredibly easy and budget-friendly option. So, go ahead and give them a try! You won't be disappointed.
Ingredients
3

large sweet crisp apples

-

(such as Red Delicious, Fuji, or Honeycrisp)

2

tbsp

granulated sugar

¾

tsp

ground cinnamon

Pinch

of salt

Cooking spray
Instructions
Begin by thoroughly rinsing your apples to remove any residues. Then, slice apples evenly into ? inch-thick slices. Remove the seeds and place them in a single layer on a large plate or flat surface. Set aside.

In a small bowl, mix together the sugar, cinnamon, and salt.

Evenly sprinkle the seasoning mixture onto both sides of the apples.

Lightly spray the basket of the air fryer and preheat it to 390?. Arrange slices in air fryer basket in a single layer, do not overlap the slices. (You can always do two batches if they do not all fit)

Cook the apple slices for 10 minutes, flipping them halfway through the cooking time. Remove them from the air fryer and cook any remaining slices.

If you want the apples to be crispier, you can add additional cooking time. Make sure to check on them every minute to ensure they don't burn. Please note that when you first remove them from the air fryer, they will still feel a tad mushy. They turn crispy after cooling for a few minutes. Serve and enjoy!
Notes
Storage Instructions:
Apple chips are a great snack to enjoy on the go. To keep the apple chips crunchy and fresh, make sure they are completely cooled before storing them. You can store them in an air-tight container for up to 5-6 days at room temperature.
Nutrition
Serving:
0.5
cup
Calories:
52
kcal
(3%)
Carbohydrates:
4
g
(1%)
Protein:
0
g
Fat:
0
g
Saturated Fat:
0
g
Polyunsaturated Fat:
0
g
Monounsaturated Fat:
0
g
Cholesterol:
0
mg
Sodium:
24
mg
(1%)
Fiber:
1
g
(4%)
Sugar:
4
g
(4%)