Vegan cooking has come a long way, and the recipe for crispy tofu nuggets proves that eating vegan doesn't have to be boring or time-consuming. Crispy tofu nuggets are a delicious and healthy vegan recipe that your entire family can enjoy. This nutritious meal is made with tofu, making it a great option for vegans, vegetarians, and nonvegetarians alike. The best part? Kids love it! It's the perfect combination of health and taste that everyone in the family can get behind. These tasty nuggets are so simple to make, you can whip up a batch in no time.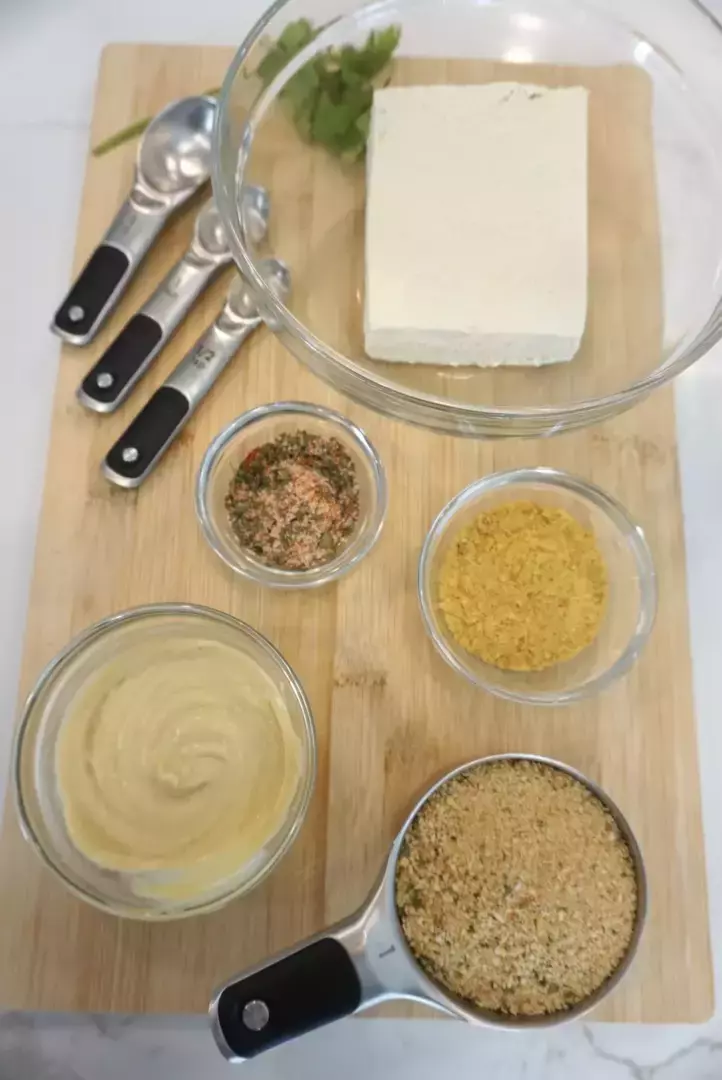 Is Tofu Healthy?
Tofu is an incredibly versatile and nutritious food derived from soybeans that can be used in a variety of dishes. It has been used for centuries as a protein source and is high in many essential vitamins and minerals. Tofu offers numerous health benefits, making it a great choice for any diet.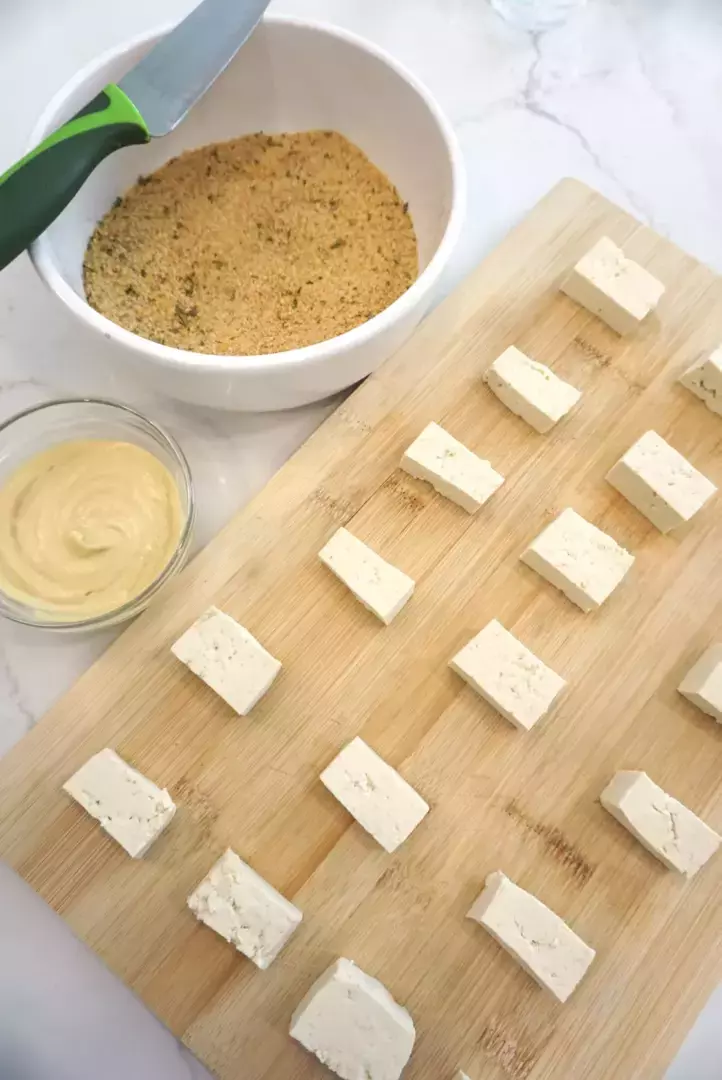 Nutritionally speaking, tofu is rich in B vitamins like folate and riboflavin, phosphorus, magnesium, iron, and calcium. In addition to these important minerals, tofu also contains omega-3 fatty acids which are known to help reduce inflammation throughout the body.
It also provides plant-based protein with little or no saturated fat or cholesterol – making it an ideal choice for those looking to maintain a healthy weight or improve their overall health. Adding more plant-based proteins into the diet can help regulate blood sugar, lower cholesterol levels, and provide the body with protective antioxidants.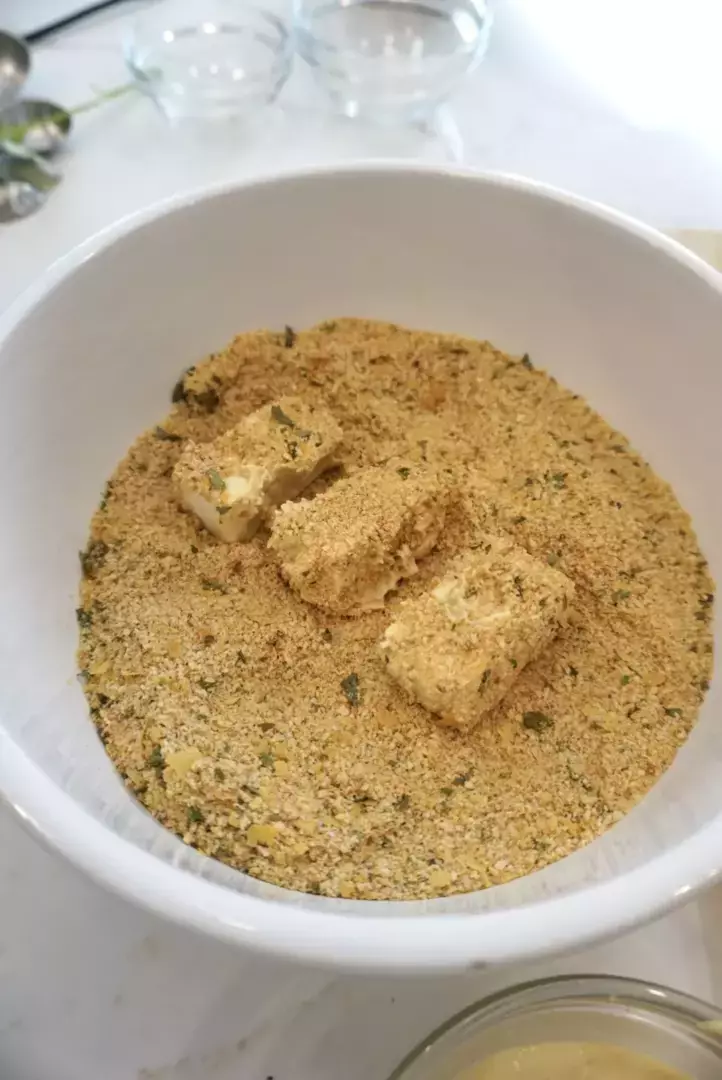 Tofu Press Alternatives
To make sure your tofu is as tasty as possible, draining the excess moisture from the tofu is an essential step. It ensures that the tofu doesn't remain soggy and that your nugget will have a good crunch, A tofu press can be used for this job, but what are some alternatives?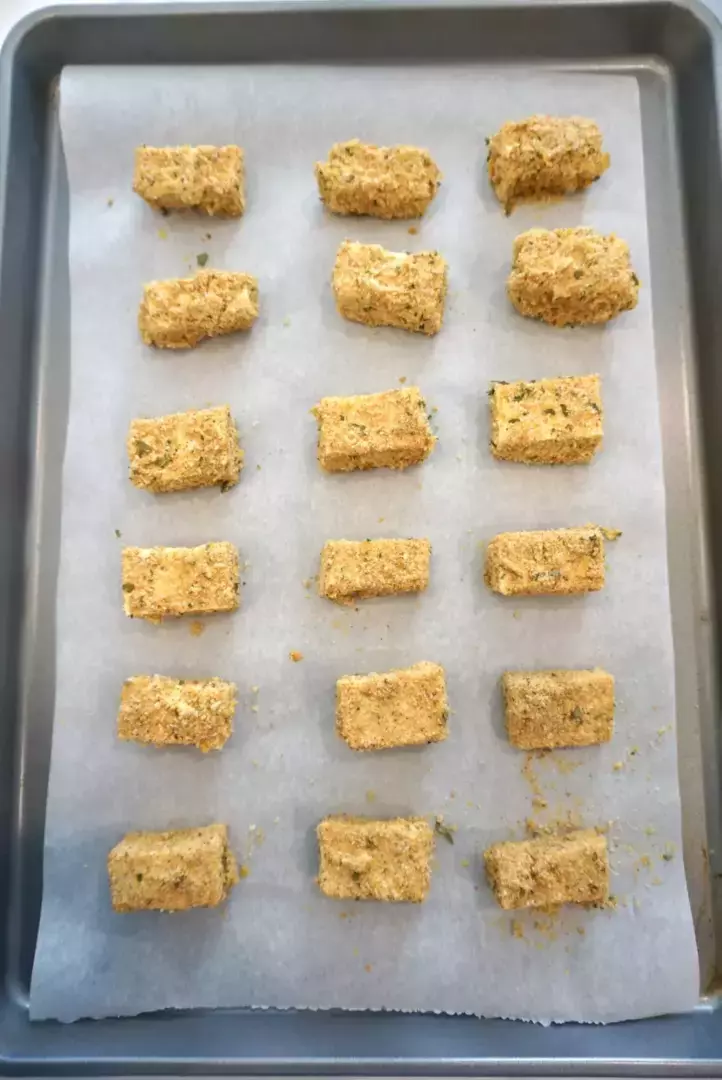 For those who don't have a tofu press in their kitchen arsenal, there are still plenty of options. One option is to use a large saucepan with some absorbent material like paper towels or cheesecloth on the bottom of it. Place the block of tofu in the pan, wrap it in paper towels, and place several heavy objects like cans or books on top of it to press out any remaining liquid. Another alternative is to wrap the block of tofu in a kitchen towel and squeeze out as much moisture as possible before using it in your recipes.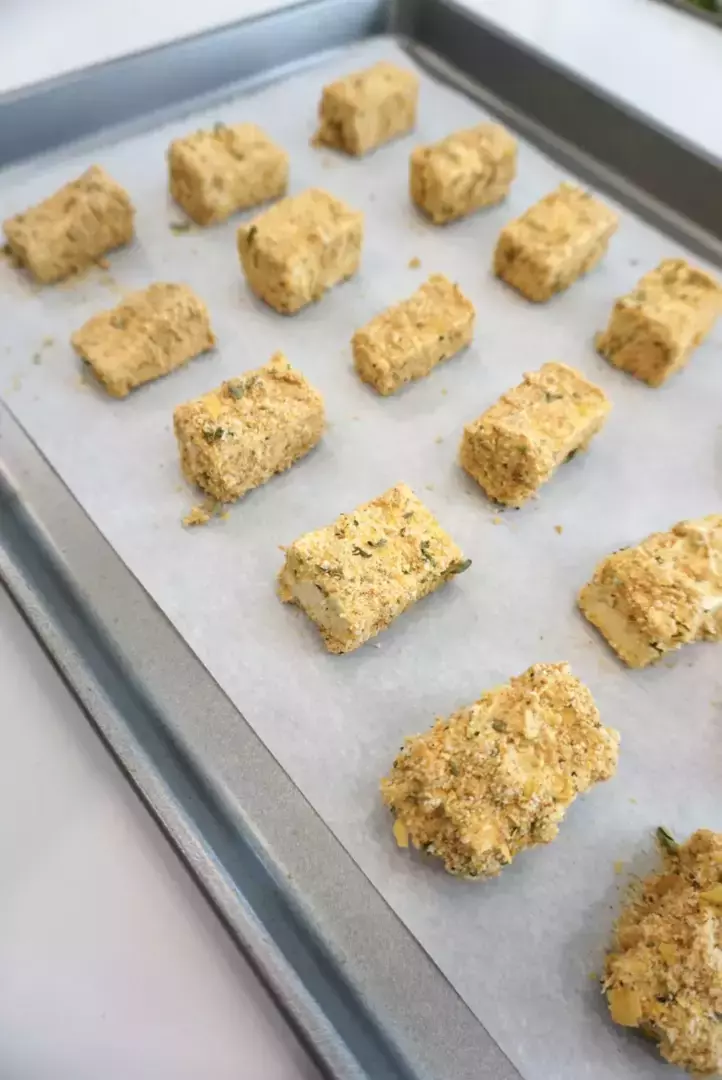 What Sauces Pair Best With Tofu Nuggets?
Tofu nuggets are a delicious and healthy alternative to the traditional deep-fried fast food snack. But what's the best way to enjoy these crispy vegan treats? The answer is with a flavorful and nutritious sauce! Here are some of the best sauces for pairing with your favorite tofu nuggets.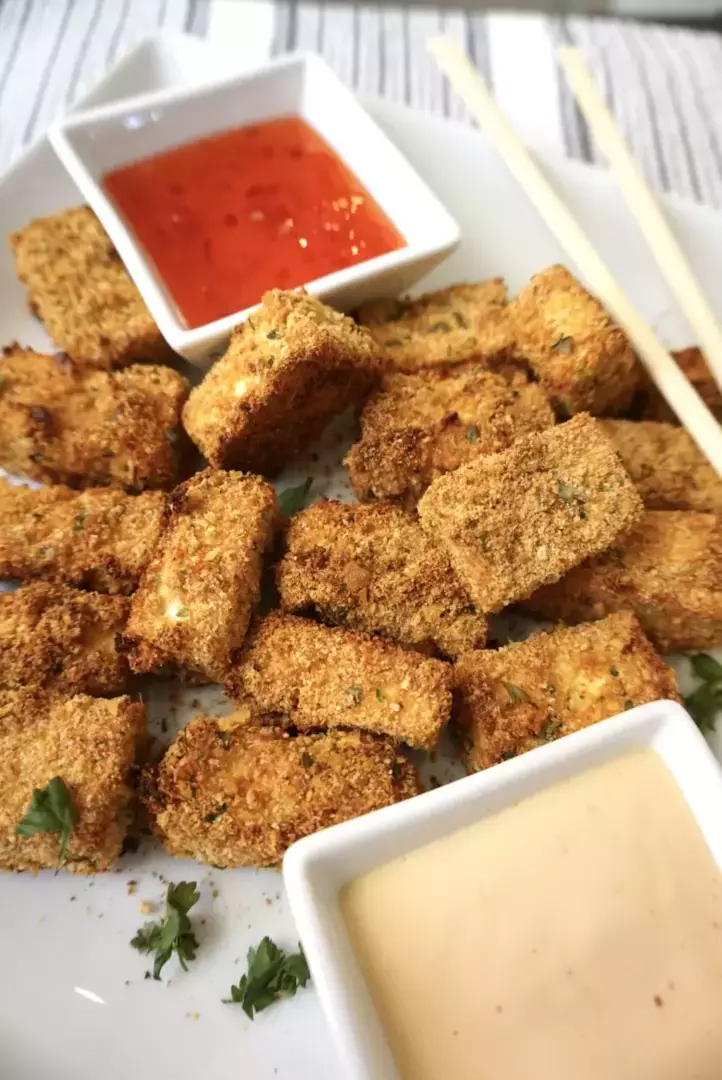 For starters, why not try something as simple as classic tomato ketchup? This tangy condiment adds just enough flavor to take your tofu nuggets up a notch. It also provides essential nutrients like vitamin C, calcium, and iron. But if you're looking for something more unique, consider making your own teriyaki sauce at home with soy sauce, garlic, ginger, brown sugar, and sesame oil. Or whip up an Asian-style peanut sauce by blending together creamy peanut butter with spicy chili garlic sauce or Sriracha.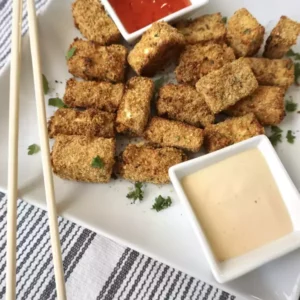 Crispy Tofu Nuggets Recipe
These crispy tofu nuggets are an easy way to implement more plant-based proteins into your and your family's diet. You will be surprised how similar they taste to a traditional chicken nugget! Crispy tofu nuggets are a nutritious snack or meal that is vegan and gluten-free while remaining packed with a handful of vitamins and minerals.
Ingredients
14

ounces

extra firm tofu

3

tablespoons

Dijon mustard

3

tablespoons

mayonnaise

-

or vegan mayonnaise such as Vegenaise

1

cup

panko breadcrumbs

-

or gluten-free breadcrumbs

2 ½

tablespoons

nutritional yeast

1

teaspoon

paprika

1

teaspoon

garlic powder

1

teaspoon

dry parsley

1 ½

teaspoons

salt

½

teaspoon

pepper
Instructions
Preheat the oven to 400ºF and line a large baking sheet with parchment paper.

Place tofu on a plate or a in a bowl and top with a tofu press or other heavy object to drain any excess water. Leave for 15 minutes.

Meanwhile, mix the mayo and Dijon mustard in a small bowl. Set aside.

In a separate medium sized bowl, combine breadcrumbs, nutritional yeast, paprika, garlic powder, dry parsley, salt and pepper.

Drain the tofu and pat it dry with a paper towel to ensure there is no excess liquid. Slice the tofu into 1/2-inch cubes.

Coat the tofu cubes in the mayo/Dijon sauce and then place the cubes in the breadcrumb mixture to coat evenly. The breadcrumbs should stick easily.

Place the tofu cubes on the covered baking sheet.

Bake in the oven for 30 minutes, or until tofu nuggets are golden brown.

Let the nuggets cool for 5 minutes and then serve!
Notes
Storage Instructions:
Tofu nuggets taste best when they are served fresh! However, you can store leftover nuggets in an air-tight container in the refrigerator for up to 3 days. To reheat them, you can bake them for about 10 minutes in the oven at 350ºF.
Nutrition
Serving:
3.5
oz. tofu
Calories:
248
kcal
(12%)
Carbohydrates:
14
g
(5%)
Protein:
14
g
(28%)
Fat:
13
g
(20%)
Saturated Fat:
2
g
(13%)
Polyunsaturated Fat:
6
g
Monounsaturated Fat:
3
g
Cholesterol:
4
mg
(1%)
Sodium:
547
mg
(24%)
Fiber:
2
g
(8%)
Sugar:
0
g